Filipinos love chicharon A LOT. Weave through the history of chicharon through Spain to the Philippines, and through the humorous story of this family's obsession with the crispy snack.
If you could describe your family as a dish, what would it be? For me, it's chicharon—delicious, crunchy, amazing, ingenious, multicultural, and to be quite honest, unhealthy.
From the earliest memories I can remember up to around high school, I used to be afraid of unhealthy food. I barely ate meat. I preferred my spaghetti with just cheese and only ate the vegetables in nilaga and sinigang. Of course, I would avoid fat at all cost, including extremely thin layers of fat on my pork chop or the chunk of it on barbecue. Even then, I made two exemptions to my self-imposed diet: bacon and chicharon—especially hotel breakfast bacon fried to chicharon-like crisp. Chicharon, I justified, was more air than it was fat, anyway.
Then something changed. I think it happened more than a decade ago when my grandparents from Canada were staying with us during their short trip. One morning, my lola made an early trip to the wet market, straight to her suki, Aling Kayang, the local butcher. Later that night, the whole house heat up as kilos and kilos of pork entrails were fried to crisp perfection. My cousin and I, drawn to the meaty, greasy, gamey, but oddly delicious smell, got up from playing on our desktop computer, to see and taste what was happening.
Standing over the large wok, was my lola, up to no good. "Halika, Jannah, Kevin, tikman niyo 'to. (Come and have a taste of this, Jannah, and Kevin.)" She hollered in that unique way of hers. Her face contorted as if sad, eyebrows scrunched, her head shaking in gigil as she said, "Masasarapan kayo dito. (You'll find this delicious.)"
It was from my lola's skinny white hands that I first got a taste of chicharon bituka—perhaps the most evil of all chicharon known to man. Bituka, or the large intestines, as you may have guessed by now, is the cut of meat that is often discarded from the get-go because that's where the pig's poop is stored.  Even though, for certain, my lola, with all the magnanimous love in her heart, cleaned these entrails to the best of her ability, turning them inside out, rinsing them one-by-one, marinating them in pure, strong, white vinegar for hours. It's not hard to guess why, of all the kinds of chicharon in the world, only chicharon bituka has this particular, unique, gamey, and earthy flavor. Delicious.
That specific earthy flavor and where it came from—all was forgotten as I bit into that crunchy piece of chicharon. At that point in time, I've never had anything like it. Today, I can tell you, that its closest flavor relative is isaw (small intestine), which is right beside the bituka.
My lola set aside a bowl for me and my cousin, sprinkled generously with love, salt, and MSG. I was forever changed.
I'd fallen. Can you blame me? It's in my blood.
ADVERTISEMENT - CONTINUE READING BELOW
Recommended Videos
Chicharon is our language of love.
Sometime in the 1940s, in Tondo, my great grandfather, a Chinese matador, Lolo Pedro (grandfather Pedro), the father of my lola, fell in love with his neighbor, my great grandmother who I called Lola Nanay (grandmother mother). By day, Lolo Pedro would be killing cows to make a living. By night, he would be collecting scraps of meat as a courtship gift. The scraps would be cooked into chicharon by Lolo Pedro then it would be peddled by Lola Nanay's sister, Lola Eya for extra money.
It was a different time.
Years later, when Lolo Pedro and Lola Nanay got married, he kept on bringing home the bacon—literally. This time though, not all of it was sold away. My lola says her aunts and her mother were scared of chicharon, all of them prone to spikes in blood pressure. So, instead, it was my lola who got to taste it. In fact, it wasn't just the taste for chicharon he gave her. Lola's father would often bring her along to eat delicious meals outside. In the brief formative years my lola got to enjoy having a father, who she describes as the, "ideal father," he'd imparted in her his voracious appetite.  Sadly, he died before teaching her how to make chicharon.
My family's love affair with chicharon is not something unique to us—rather, it's a Filipino thing. The Filipino's taste for pork began about 4,000 years ago, when the Formosan wild boar, pigs that are endemic to Taiwan, spread to the Philippines. Today, those boars have become endemic to our country with their own unique genetic code.
Trapped By The Spanish Pig
Then, the Spaniards came in the 1500s, bringing a lot of things to the Philippines, the chicharon, included.
For most of Spain's colonies, the Spanish pig was the symbol of colonization. Chicharrón, generally pork belly or pork rind fried, dried, and fried again to achieve that quintessential crisp, though originally from the Spanish city Andalucia, finds itself today all over Latin America. Now, whether the Spanish conquistadors took pigs with them for themselves, bringing them along the ride to have a little taste of home in foreign lands, or as gifts to the people they were to subjugate is left to speculation, or perhaps Spanish text I can't read. What is clear, however, is that everywhere the Spaniards went, as revolts and uprisings came and went, chicharron was embraced.
In the Philippines, with our own indigenous pig, the Spaniards didn't even have to bring their treasured live Iberico pigs onboard to sail for months. All they really needed was "fuego, mucho fuego," (fire, more fire) to set alight our local pigs, and we the Filipinos fanned the flames.
According to Lillian Borromeo, a food historian, chicharon entered our shores during the early Spanish colonial regime. Two kinds of chicharon were eaten at that time and it separated the rich from the poor. For their hors d'oeuvres, the illustrados got "chicharon with lean meat"—which might be familiar to you as chicharon laman—while us, the indios, got the airy plain pork rind—chicharon ampaw.
The Feast of Chicharon
Ironically, chicharon ampaw, a symbol that put us down, is the success story of many Filipinos. In Santa Maria, Bulacan, every February 10, a Chicharon Festival is held. In this municipality, at least a tenth of the profits is because of chicharon. In fact, the demand for chicharon is so great in Bulacan that they have to buy raw, surplus pork skin from Belgium.
Yes, you've been eating "Belgian" chicharon all along.
This isn't unique to Bulacan either. The Filipino's appetite for chicharon is so great that in 1995, when R. Lapid's expanded, renowned for their chicharon, they had to import, "materials from United States, Europe, and other neighboring countries." Cebu's Carcar, which also gets a healthy amount of earnings from chicharon has also been importing its pork rinds—theirs from U.S. and Canada.
If you find the demand for pork skin bewildering, well, so did my lola during the late 1960s when she was selling pork in Divisoria when a Bulaqueña suki kept buying her scrap meat. My inquisitive lola then learned how to make chicharon.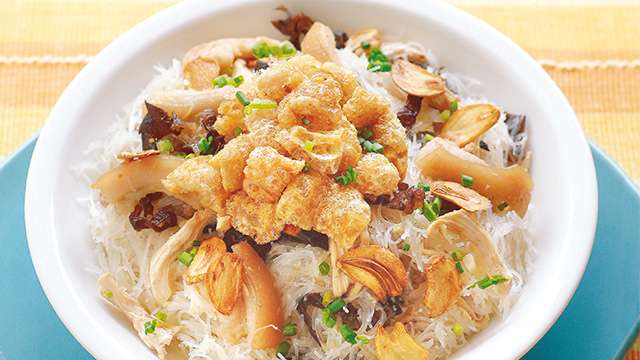 Since then, she began bringing home the scraps, just like her father did when he was alive. They'd top it all over their pancit. It became their routine: ending a tiring day with the symphony of crackling, umami exploding on their palate that contrasts beautifully with the silky noodles, encouraging them to eat, and eat, and eat.
It's a memory that's crystal clear to my lola today. You should have heard her as she spritely told her story, as she described her recipe, and talked about their late night dinner. It's as if she was telling some grand Indiana Jones-level of adventure.
You should know though, exactly why my own mother, who loves chicharon sinfully so, for the longest time, did her best to keep me away from chicharon bituka. You see, we could wax poetic all day about the goodness of chicharon, but we all have to come to terms with its dark side. My lola, and three of her five daughters, have paid for their love of chicharon with the surgical removal of their gall bladders.
Worth it? I'll let you decide.
I mean sure, you can always get vegetarian chicharon. Maybe dip your toes into fish chicharon or mushroom chicharon? Who are we kidding though? "Masarap 'yung bawal." (What's forbidden is delicious.)
I mean we could all fool ourselves that chicharon is healthy—in fact, it has plenty of oleic acid that's also found in olive oil, it's protein-rich, and it's keto-friendly. How about that centenarian who ate bacon regularly? You know what she said?
"Bacon makes everything better." Say it louder for the people in the back! That's OG right there. (She's probably the exemption and not the rule.)
But we have to face the facts that yes, chicharon is not good for your body. It's loaded in salt and calories. You know Lola Nanay and my lola's aunts who were afraid of chicharon? They all died in their 90s. Meanwhile, you don't really need statistics on diet-related deaths.
There's another side to it, though, on why it's not so bad—and not just in the delicious department. Just like our ancestors who ate chicharon ampaw, to Pacencia de la Torre-Tuazon who in the early 1900s butchered a hog and made chicharon with the scraps and turned it into a backyard business, to my great grandfather who used it to win over my great grandmother (I wouldn't have been born without chicharon), to the many Filipinos who eat chicharon as a cheap viand, chicharon is a delicious means to survive, to live.
Did I know years ago that a great change had come upon me at the first bite of that dark brown piece of sinfully delicious chicharon? I probably didn't. I didn't know it would lead to me cleaning the meat and fat off baby back ribs, going for the extra serving of goose fat, or going for seconds, thirds, for that lechon. Nor could I have imagined it leading to having more satisfying meals with my family without them nagging me to try this and that, nor even becoming a food writer.
On a video call, I asked my lola how to make chicharon. "Aling chicharon?" (Which chicharon recipe?)
"Lahat, lola." (All of it.)
I have made peace with it: with the chicharon I eat and the fat on my belly (most days). When you eat chicharon, you pay for it, but for me, at least, it's worth paying; it's the price to living deliciously.
"Paano gawin lola 'yung chicharon bituka?" (How do you cook chicharon intestines?")
"Ay, 'wag na yun! Ang dumi noon! Alam mo bang lalagyanan ng *** 'yun?" ("Don't do that! That's so dirty! Do you know that's where poop is stored?")
"Favorite ko 'yun eh, lola." (That's my favorite, lola.)
My lola showed me the chicharon she just made—or what was left of it. It's a golden brown piece of  chicharong laman fried to perfection. There were only two pieces left. She breaks it in half to show me how perfect it is. The loud crunch is heard from Canada to the Philippines.
So, since I'm going down anyway, I'm taking you with me. Here are my lola's instructions on how to chicharon almost anything:
"How To Chicharon" by my lola
1 Choose the right part.
Get a suki like Aling Kayang and get to her before the sun goes up. Scrap meat is either discarded from the get-go, or bought before you know it.
If you're making chicharon laman—choose the one with a little fat, a little lean meat, and really thin skin. The skin is the outermost layer.
2 Clean it.
Chicharon bulaklak has to be cleaned for a long time. Chicharong bituka has to be washed and turned inside out. Then, it's marinated in white vinegar for hours, even overnight. It's going to stink.
3 Fry it.
Add as much oil as there is meat. Cook on low, low heat. It takes a long, long time, but it's worth it. When it starts to pop, increase your heat. Then, when it starts to bubble a lot, strain out the pork. Reserve the oil and let the pork cool down.
4 Put it in the freezer.
Some recipes would tell you to dry it. My lola instead, freezes it in a plastic bag, or a freezer bag if you want to be fancy. Leave it there two days minimum. The one she just made was in the freezer for four days.
5 Fry it again.
Bring to a boil the reserved oil, which now has the rendered lard. Reduce the heat, and just leave it. Be careful, the oil gets really mad. Use the pot's lid as a shield. In about thirty minutes, when the chicharon looks like chicharon, strain it. She describes the chicharon to look like flowers.
6 Season it.
Only at this stage are you supposed to season it with salt. My lola also adds, in a playful tone with that impish look in her eyes, "onting vetsin," (a little MSG). I mean, you're already making chicharon, just do it. It's good for the soul.
ALSO READ: