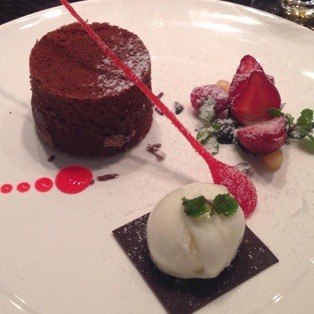 .
When it comes to food and drink pairing, wine is often the beverage you'd think of first. But matching food with spirits, such as brandy and whiskey, is rising in popularity.
A recent collaborative dinner between Sofitel Philippine Plaza Manila and Chateau de Laubade showed how Armagnac, a grape brandy from the Gascony region of France, can enhance the dining experience. Armagnac is as multifaceted and varied in taste, aroma, and body as wine. And the key to a successful pairing is by balancing bouquet, tastes, and textures of both food and drink.
For instance, Chateau de Laubade Bas Armagnac VSOP is fruity in the nose with vanilla and prune notes. It is soft in the mouth and well balanced. As such, it was paired with a light, creamy bisque of Boston lobster, sour cream, and truffle essence.
For a masculine, elegant, and powerful armagnac, such as Chateau de Laubade Intemporel Hors d' Age, a robust-flavored rack of lamb in almond and pistachio crust made for a perfect match.
Brandy is also a classic complement to chocolates. A stellar example is a molten chocolate cake with vanilla gelato and mixed berry compote paired with an older vintage like Chateau de Laubade Intemporel No5, aged from 20 to 30 years and whose bouquet contains chocolate, roasted coffee, and cinnamon aromas among others.
Next time you're up for an exciting, fresh, and unique dining experience, go for something bold and unexpected by teaming up your food with spirits instead of wine.

ALSO READ:
Not Really the Most Unlikely Pairing: Whiskey + Chocolate Cake
For information on food and drink pairing events in Sofitel Philippine Plaza, please call the hotel's Restaurant Reservations at +632 551-5555.
Chateau de Laubade Bas Armagnac is sold in Txanton. 2/F Alegria Alta, 2294 Chino Roces Avenue Extension, Makati City (www.txanton.com.ph).