Steak, Seafood, Ribs + More: The Best Food Trays to Order in Manila
Complete with rice, of course.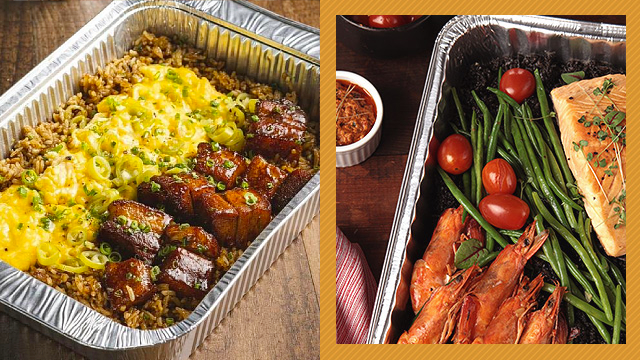 Maybe your family's got a good appetite, or maybe you're just looking for an all-in-one meal option for dinner tonight. Either way, you can always count on a good food platter to please (and fill bellies)-especially when it's got rice! Rice, of course, is a staple at just about any Filipino meal; throw in some protein and veg and you've got yourself a complete meal that you can easily share away. We round up great versions that feature different flavor profiles and cuisines-and you can get them delivered to your doorstep.
ADVERTISEMENT - CONTINUE READING BELOW
These are the best rice platters and trays you can order in Manila:
Shawarma Tray from Musha Shawarma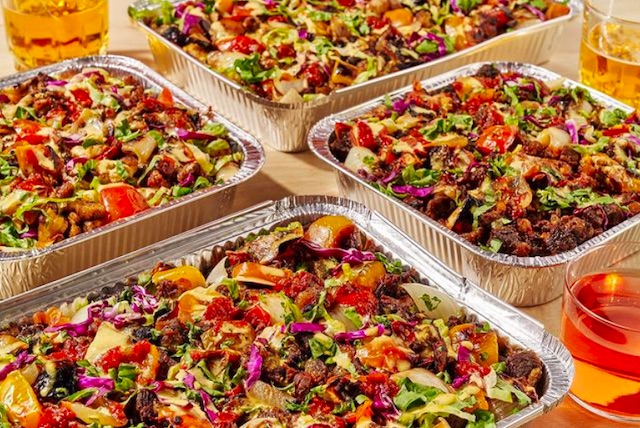 This new online shop makes Shawarma Rice in trays that deliver the same comfort of the streetside versions you likely grew up with-but with the flavors turned up to bold new heights. You can choose between the versions topped with Beef (P880/regular, P1,760/large), Chicken (P800/regular, P1,600/large), and Beef and Chicken (P1,680/large); all have a generous serving of well-seasoned meat (we're especially big fans of the beef as it's charred on the outside and tender on the inside!), crisp lettuce, juicy and naturally-sweet roasted tomatoes and onions, java rice, and two sauces on the side. Just hit up their Instagram DMs or send them a text to order.
ADVERTISEMENT - CONTINUE READING BELOW
For orders, send a message to Musha Shawarma on Instagram or contact 0945-176-1240.
Adobo Fried Rice from Wildflour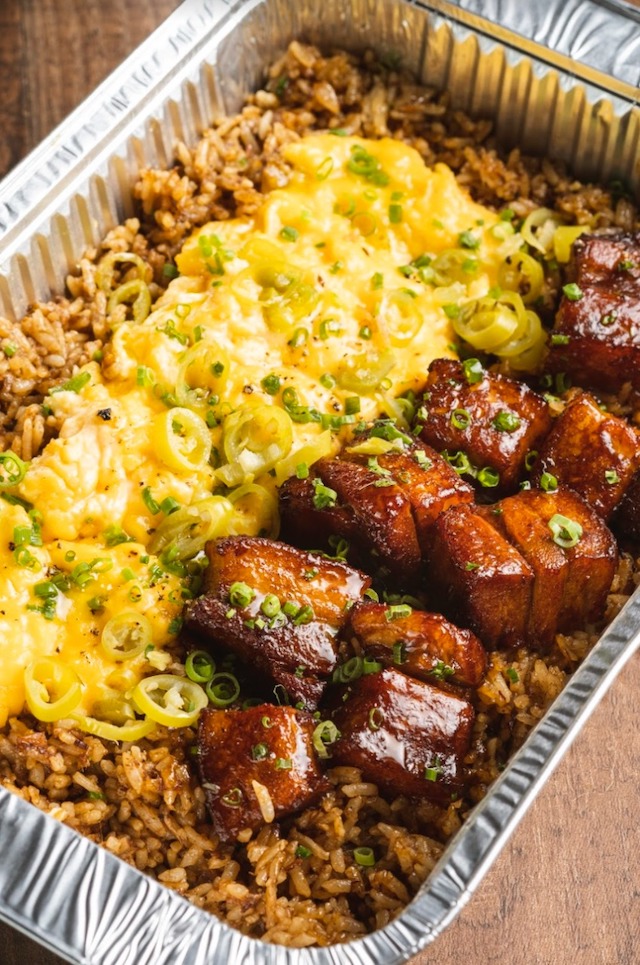 You can't beat a rice dish with Filipino flavors, and Wildflour's Adobo Fried Rice is a top-tier option. It's one of their bestsellers for a reason-namely, the totally harmonious way that it melds together succulent pork belly, a savory-tangy adobo sauce, Dalisay rice, and eggs. Though they're best known for their good-for-one portion served in a bowl, you can also get it in trays (P2,320) that are good for four to five.
ADVERTISEMENT - CONTINUE READING BELOW
For orders, visit Wildflour To-Go. You can also check out Wildflour Restaurant's Facebook page.
Surf & Surf from Slow Burn Manila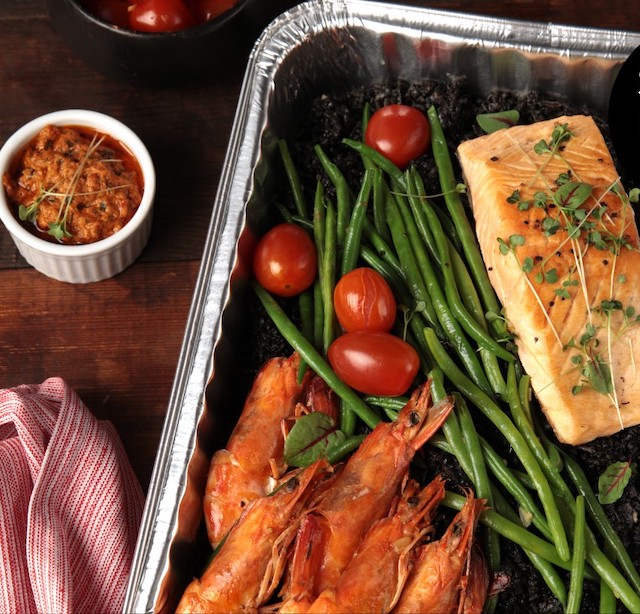 Is seafood your protein of choice? You'll want to have Slow Burn's Surf & Surf (P999/half tray, P1,599/whole tray) on your dining table. You get the best of the sea and the earth here, as it's got toppings of a rich seared salmon fillet, garlicky shrimps, crisp-tender French beans and juicy cherry tomatoes for balance. You've got the choice between squid-ink and truffle-umami flavors for the rice part of the equation; we recommend the former not just for its umami profile that well suits the seafood, but also for how its glossy black appearance really lets the colorful toppings pop. You can message them on social media or text to get your fix.
ADVERTISEMENT - CONTINUE READING BELOW
For orders, send a message to Slow Burn Manila on Facebook or Instagram. You can also contact 0956-027-0730.
Steak, Rice, and Eggs from The Food Trip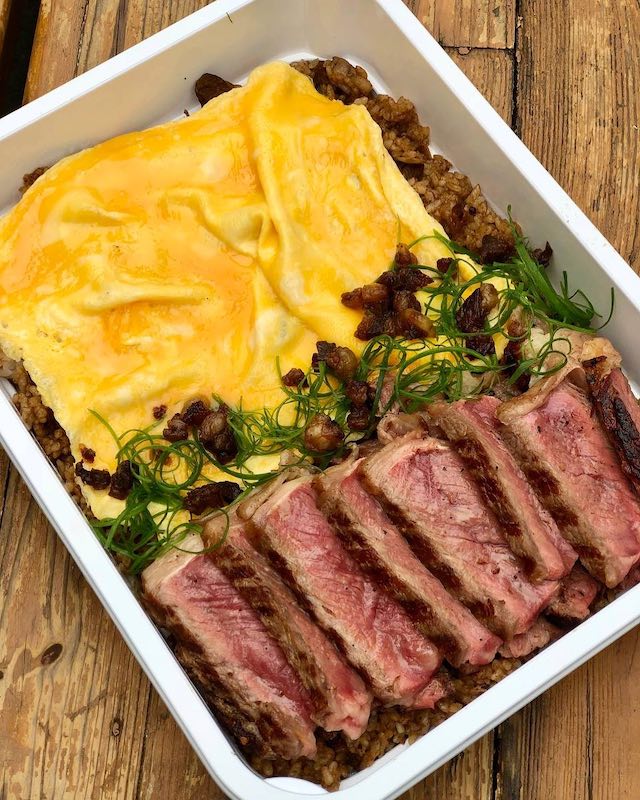 This tray (P1,350/Duo, P2,450/Family) from The Food Trip is exactly what it says, and more. It's an exceptional version of the classic comfort combo, with USDA Prime Ribeye Steak that are seasoned just a tad to highlight the beef's natural flavor (pro tip: you can get double the beef sices for an additional P800), a silky scrambled-egg crepe, crisp bits of steak-fat chicharon, and earthy leeks on umami Japanese rice. Grab yourself a plate (make sure to get a little of each ingredient!), pour on some of the steak sauce served on the side (for an added savory punch, though the tray is flavorful as it is), take a big spoonful, and savor how everything comes together.
ADVERTISEMENT - CONTINUE READING BELOW
For orders, send a message to The Food Trip on Facebook or Instagram.
Hainanese Chicken Tray from Babu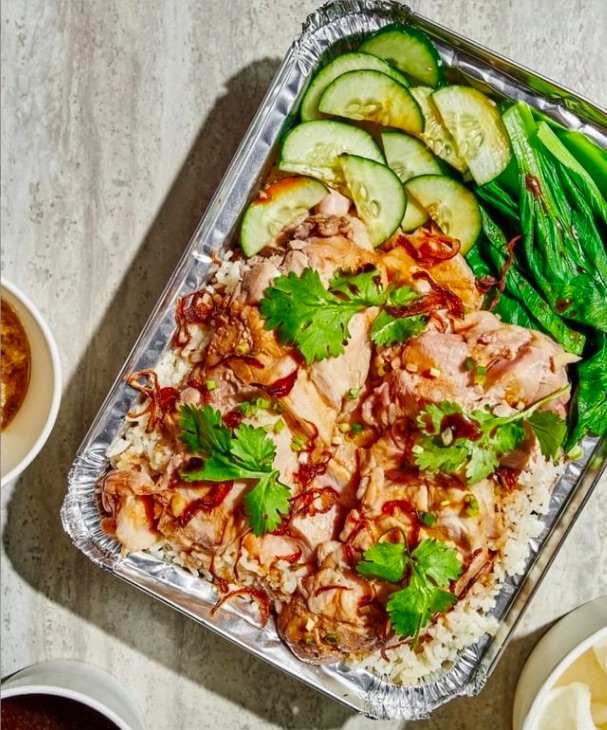 Hainanese chicken rice is a Singaporean favorite for its subtle but aromatic profile that highlights the telltale flavor of chicken. Babu makes a great version that you can get in a tray (P1,400), with the prerequisite chicken and Hainanese rice plus bok choy and cucumbers that contribute earthiness and crispness to refresh your palate in between bites. Just head to The Grid's website to place an order.
ADVERTISEMENT - CONTINUE READING BELOW
For orders, visit The Grid Food Market's website. You can also check out Babu's Instagram page.
Shroomdon Tray from Kodawari
Kodawari is best known for their gyudon trays, but Shroomdon (P1,100/half tray, P2,200/full tray) shouldn't be missed, either. This is essentially a mushroom version of the Japanese beef bowl, with an naturally umami mix of enoki, shimeji, shiitake, and king oyster mushrooms-plus eggs cooked sous-vide (with runny yolks!) and fried talbos ng kamote-on Japanese rice that wonderfully absorbs the mushrooms' flavors.
ADVERTISEMENT - CONTINUE READING BELOW
For orders, send a message to Kodawari on Facebook or Instagram.
Kimpung from Chef Among the Bons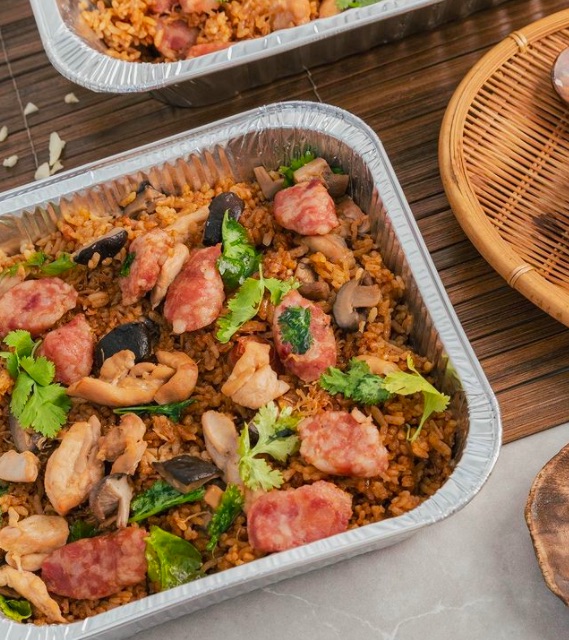 This small shop's take on kiampung is dubbed Kimpung (starts at P595/small) not as a typo, but as a play on owner Kim Syiaco's name. It's an excellent take on the Chinese-Filipino classic rice dish, with a sweet-savory Japanese-rice base cooked and topped with tender chicken, earthy mushrooms, sweet-spiced Chinese sausage, and scallops. You can also get it with a welcome spicy kick in the Hot version (starts at P645/small), or with nutty brown rice in the Skinny version (starts at P695/small).
ADVERTISEMENT - CONTINUE READING BELOW
For orders, send a message to Chef Among the Bons on Instagram.
This story originally appeared on Spot.ph.
* Minor edits have been made by the Yummy.ph editors.
*****
Thinking about what to cook next? Join our Facebook group, Yummy Pinoy Cooking Club, to get more recipe ideas, share your own dishes, and find out what the rest of the community are making and eating!
Got your own version of the classic dishes? Pa-share naman! Get your recipe published on Yummy.ph by submitting your recipe here.
Yummy.ph is now on Quento! Click here to download the app on Android and IOS, and enjoy more articles and videos from us and your other favorite websites!
Get
Recipes Right In Your Inbox
Trending in Summit Network