People have remained indoors and have been dependent on delivery apps more than ever. From ordering food, doing groceries, and even staying productive for work, people are maximizing their use of technology and have pivoted to online platforms.
As the country's on-demand food delivery service, foodpanda now offers a wide variety of food and groceries as Filipinos are slowly adjusting their lifestyles and daily routines to this "new normal."
Concerns such as "what's for lunch?" and "I ran out of seasoning" feel less daunting during this period of adjustment when there's an easy and reliable way to get things done. Life doesn't have to feel uncertain when there's an all-in-one app to fulfill these needs with just a few taps.
Whether it's sushi, pizza, milk tea, and now, even groceries, foodpanda is here to deliver what you need. And with foodpanda, you won't have to worry about the following concerns any longer:
Inconvenience
When you're working at home, you're often interrupted by the day-to-day things that normally pull your attention away from your job: the kids, your partner, chores. These daily demands that used to be physically separated from you during work hours are now very close by, making your plate feel more full nowadays.
With foodpanda, you can opt to order both food and grocery essentials you need for the day. Leave the task to foodpanda's reliable riders who'll come rushing to you with everything you want and need in one go.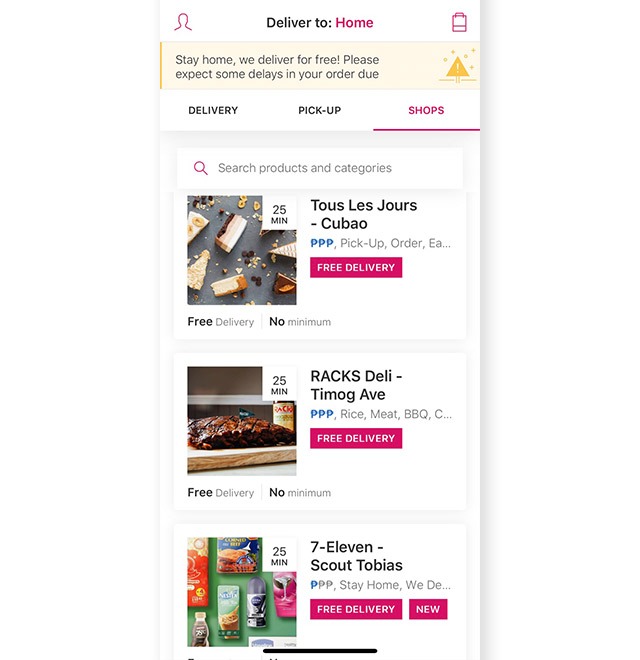 Missing Your Favorite Food
Getting a hold of your favorite food, which you miss pre-GCQ days, can sometimes mean the difference between a good day and a not-so-good one. That's why foodpanda is committed to bringing you all the food that you love, right when you want it.
Now that foodpanda is open in more cities like Zamboanga, Palo, Tarlac, Sta. Rosa, Kabankalan, and Tagum, expect that you can try more curated and local dishes whenever, wherever.
The Anxiety Of Going Out
With the continuous spread of COVID-19, do yourselves and your community a favor and refrain from going out. Instead, allow foodpanda to help you get things done. This way you can still have your favorite food and get your important food supplies safely without having to leave your home.
You can even send care packages to the people you love. All you need to do is type in the address of the recipient for special delivery, whether it's food, drink, or groceries.
"The unprecedented times have caused disruption in our lives, but we at foodpanda believe that there's a solution for us to live worry-free," said Daniel Marogy, foodpanda managing director.
"As we have broadened our scope beyond food delivery services, our partnership with select retailers will also [help our customers get their] pantry essentials, medicines, pet supplies, and anything necessary delivered securely at home."
Keeping up with the times is challenging as the world now enters the era of the new normal. It makes you miss the simple things, like going out for a quick bite with your family and friends. And foodpanda is here to recreate those special moments.
From getting deals on your favorite restaurants and budget bites to bringing your favorite shops' products to your home, trust that foodpanda is here to get the job done safely and securely.
Follow @foodpandaphilippines on Facebook and @foodpanda_ph on Instagram for more updates. Visit www.foodpanda.ph or download the app here: https://bit.ly/2Y8Ioap.
About foodpanda:
foodpanda is dedicated to bringing food lovers around the world their favorite meals from curated local restaurants. Since its creation, the on-demand food delivery service has grown to more than 100,000 partner restaurants in more than 325 cities across 13 Asian and Central European countries globally. foodpanda is active in Bangladesh, Cambodia, Hong Kong, Laos, Malaysia, Myanmar, Pakistan, the Philippines, Singapore, Taiwan, Thailand, Romania, and Bulgaria. It belongs to Delivery Hero, a worldwide leader in the food delivery industry. For more information visit www.foodpanda.ph.
How it works:
Through the foodpanda website or via the new iOS and Android apps, customers can enter their address and view a curated list of restaurants serving their neighborhood. Once they have found their meal of choice, they can place an order in the comfort of their home or office, paying online through foodpanda's secure platform. The order is then carefully prepared by the restaurant, picked up by the foodpanda rider, and delivered straight to customers' doorstep.