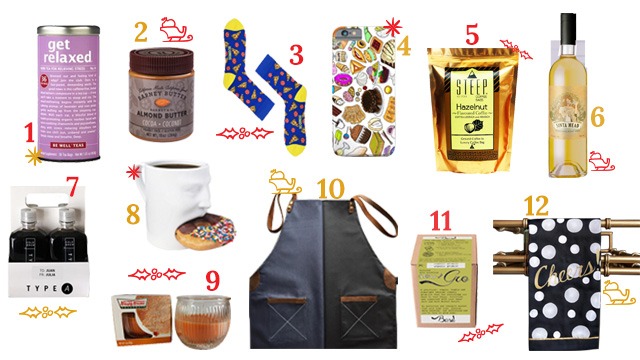 Got foodie friends on your list? Gift them with fun finds that celebrate their passion for all things food and drinks! 
1 Get Relaxed Tea from The Republic of Tea (P575)
It may not be a spa session but this tea blend made of lavender, rose petals, chamomile, and passionflower is guaranteed to help loved ones get their Zen on.
Available at Healthy Options; photo from Republic of Tea
2 Almond Butter Cocoa + Coconut from Barney & Co. (P575)
Your favorite persons deserve this indulgent spread of coconut, almonds, and chocolate.
Available at Healthy Options; photo from Barney Butter & Co. website
3 Iconic Socks (starts at P130 each)
Wear your love for pizza (or sushi, or coffee) on your feet!
Available at TriNoma Mall; photo from www.iconicsocks.com
4 Desserts iPhone case (starts at P1,500)
Phone cases to show the world just how much you love sweets!
Available online via Society 6
5 Steep Coffee Bags (P900)
Make a homebrewed cup with less hassle (you steep it like you would steep tea!)
Available online via the Steep Coffee Bags website 
6 Ilustrado Brews' Honey Wine (P625)
When you can, support local enterprises. This honey wine is super good you wouldn't want to give it away.
Bottles available at Roots, Katipunan, Quezon City and orders available online.
7 Type A Cold Brew Holiday Pack (P999)
For your hip friend/sibling/significant other who is addicted to caffeine.

Available online via Type A's website
8 Face Mug (P964)
Not all mugs are created equal: this one has a special cubby to hold your cookies, doughnuts, and other treats.
Available online at Uncommon Goods
9 Krispy Kreme Donut-Scented Candles (starts at P150 each)
Bring home the scent of your fave donuts with these fun candles: choose from glazed, raspberry-filled or dulce de leche donut scents.

Available at TrueValue, TriNoma Mall; image from amazon.com
10 Dr. Chefy Aprons (P1,049)
Your fave chef deserves a cool apron. This one is made from stretched denim and has adjustable snaps and cow leather neck straps.
11 Basil Grow Kit (P155)
For that awesome cook who loves to grow her own herbs, too!
12 Cheers Bar Towel  (P236)

This is a fun addition to any bar cart.
Available online at SeektheUniq