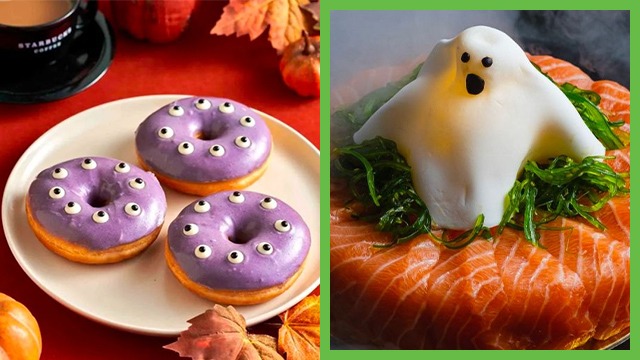 Tricks or treats? Well, if your answer is a resounding "Treats!" with emphasis on the 's', then you most likely have your eyes trained to catch all the new Halloween sweets and other eats on your feed—still fresh and/or seasonal goodies, sporting a spooky look or autumnal colors. In this list, we will fill up your jack-o-lantern bucket with all the Halloween-special sweets, treats, and other eats.
Here's a guide to new Halloween-special desserts and drinks:
Bizu Patisserie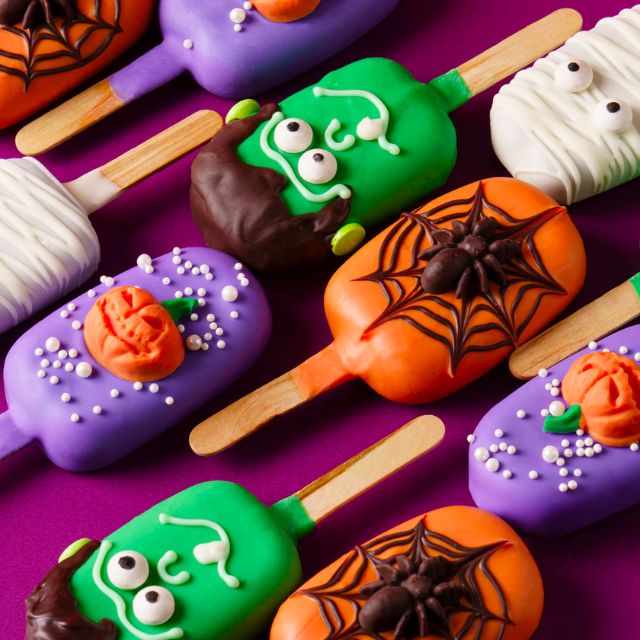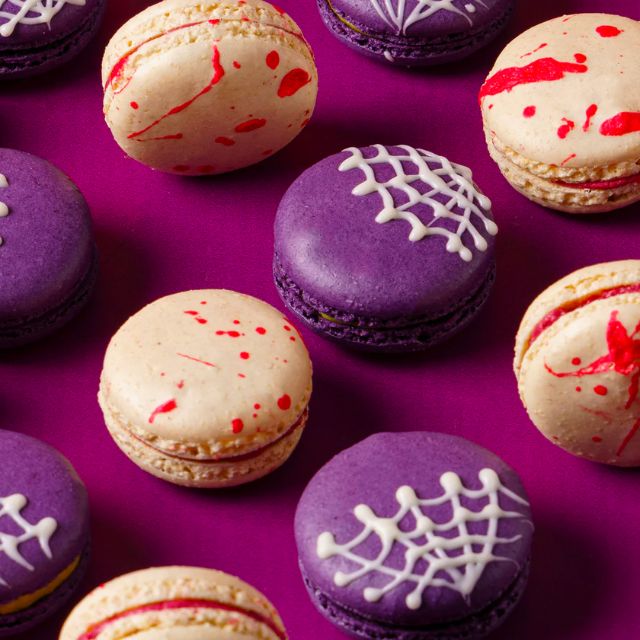 Bizu is not one to shy away from launching seasonal items—especially when it comes to the spookiest and sweetest time of the year. For Halloween, they released Halloween-decorated macarons (prices start at P600) in Raspberry and Belgian Chocolate; Chocolate Cakesicles (prices start at P195) in different classic Halloween designs; Halloween Truffles (prices start at P260) which are bite-sized chocolates filled with pistachio and mixed berries; Pumpkin Cake (P285) which is a pumpkin cake with creamy cheese mousse designed to looks look like the top-half of a pumpkin; and then there's the DIY Fuzzy Monster Cake Story Kit (P3,540) which is great for an interactive activity where you can design your own one-eyed green monster cake.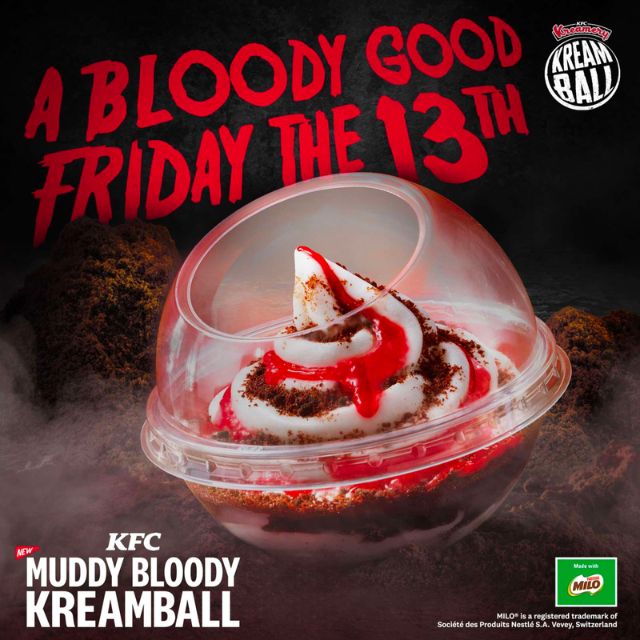 KFC came out with an unexpected Halloween special dessert on Friday the 13th (October 13). Meet the Muddy Bloody Kreamball, a vanilla soft serve served with a drizzle of berry sauce that looks like blood, plus a sprinkle of MILO, and is served in a plastic ball container. This dessert will be available on the menu until November 28 in all KFC Kreamery Stores.
If IKEA has Halloween decor inside their stores, they also have Halloween items on the menu too. Two of their Halloween specials are the Ninja Hotdog (P35) which sports an all-black bun and the hotdog that gets its color from charcoal, and then for the sweets, there's the Honeydew Ice Cream (P10) which has a black wafer cone topped with a bright, almost-neon green ice cream.
IKEA is located at Mall of Asia Square, Mall of Asia Complex, Zone 10 CBP-IA, Marina Way, Pasay. For more information, check out IKEA's Facebook page.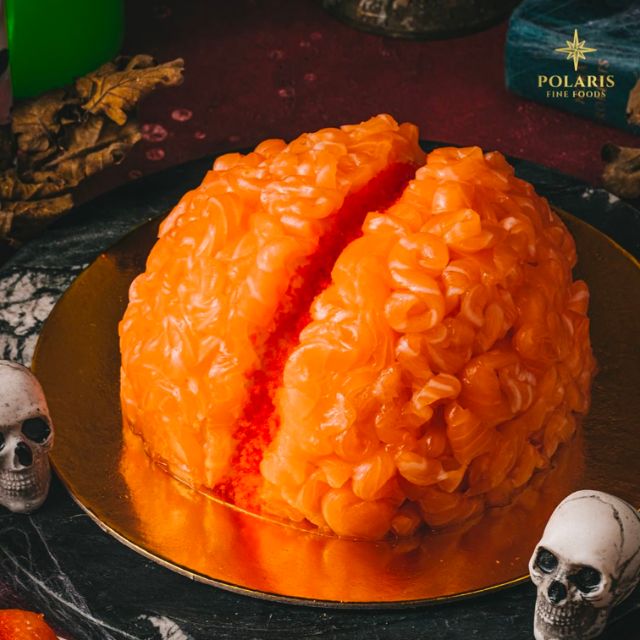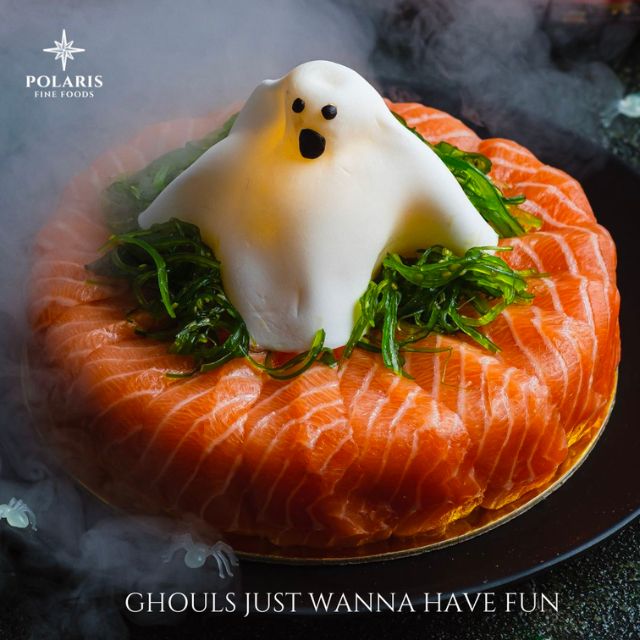 Although not in any way a sweet treat, Polaris Fine Foods has launched its line of sashimi sets designed for Halloween. They have the Onigiri Box Sets (P588) and Sushi Brain Rolls (P399) that are shaped like ghosts; the Spooktacular Garden Cake (P1,688) which has a paper-white ghost sitting on top of the salmon cake; the Salmon Sashimi Brain Cake (P1,288) which can either be filled with Avo-cream or Kani Mango that's topped with airflown chilled salmon sashimi.
ADVERTISEMENT - CONTINUE READING BELOW
Recommended Videos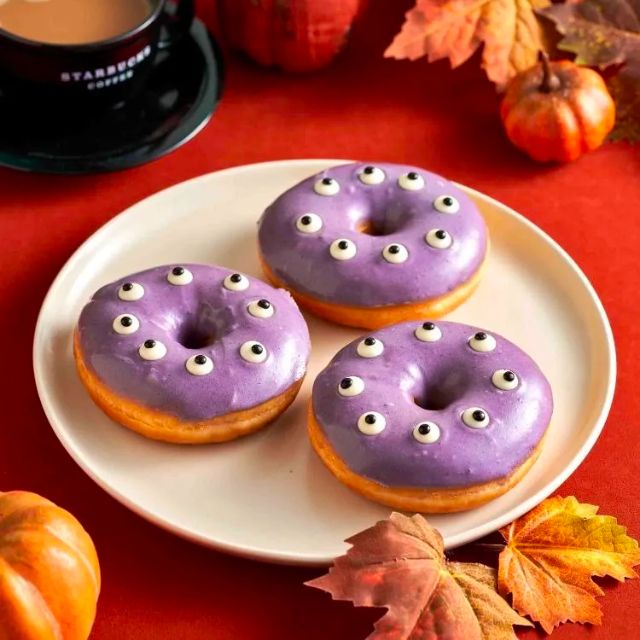 Aside from the seasonal Pumpkin Spice Latte line, which is more an autumn thing than it is Halloween, Starbucks does have Halloween-themed food items. There's the Purple Monster Doughnut (P105 on GrabFood), a doughnut topped with purple yam glaze and designed with multiple eyes, and there's the Screamy Cherry Licious Fritter (P95 on GrabFood), a gigantic deep-fried fritter filled with cherries, and then coated in sugar glaze.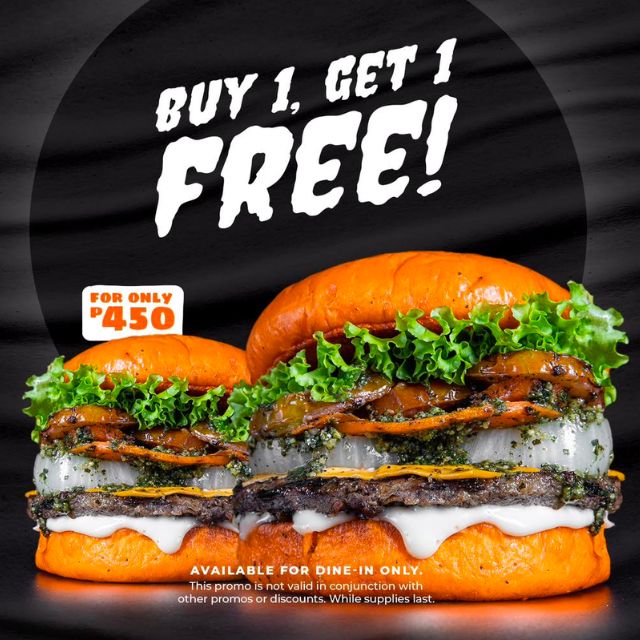 Brothers Burger brings back its Jack-O burger, a burger that uses the classic smokey burger patty topped with slices (emphasis on the 's'), fresh lettuce, grilled tomatoes, carrots, red onions, homemade mayonnaise, and pesto sauce, all sandwiched in a buttery pumpkin bun.
PSA: Brothers Burger has a buy one, take one promo on the Jack-O' burger priced at P450. This promo is available until November 15 and is strictly for dine-in transactions only.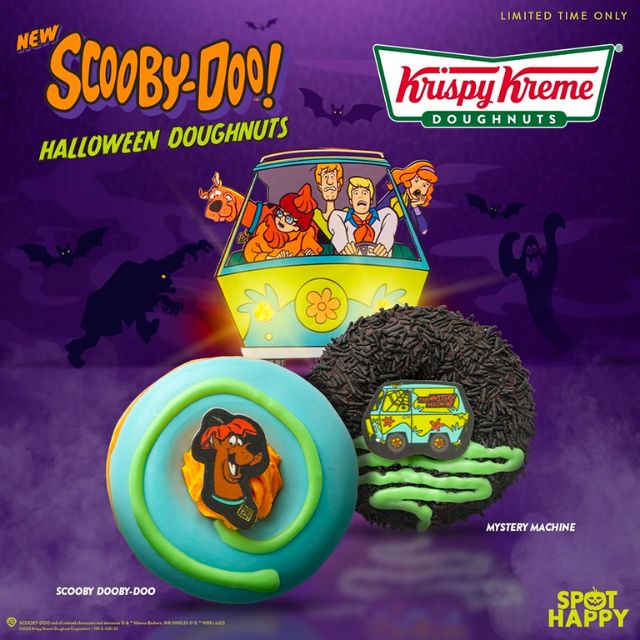 Krispy Kreme's Halloween doughnuts are inspired by the peeps of Mystery Incorporated—a.k.a. the Scooby-Doo gang. There are two doughnut designs available: the Scooby Dooby Doo doughnut which has an image of the famous Great Dane, and then there's the Mystery Machine doughnut which is designed after the gang's iconic vehicle, a mid-1960s Chevrolet G-Body panel van or a Dodge A10.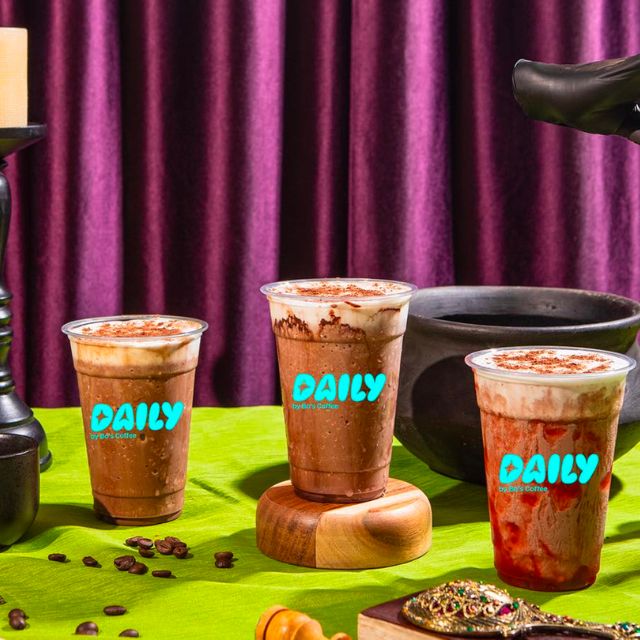 Halloween or autumn drinks aren't all about using pumpkin spice—at Daily by Bo's Coffee,  two of their Halloween dranks use cinnamon instead. There's the Wicked Cinnamon Mocha Shake which is a mocha drink blended with cinnamon, and the Cinnamon Chocolate Spooy Shake which is a cinnamon-y chocolate shake. Completing the line of the Halloween collection is the Choco-berry Mystic Shake which is a chocolate-strawberry shake that looks berry Halloween-y.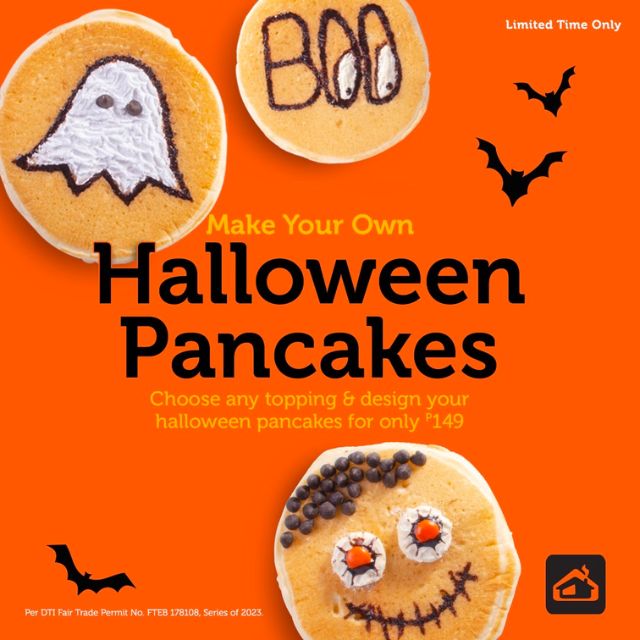 Pancake art is one of the easiest and fun things you can do for a Halloween treat. At Pancake House, you can decorate your own Halloween Pancakes (P149) with their do-it-yourself set including three mini classic pancakes, peanut butter, chocolate chip, choco-coated bites, chocolate syrup, powdered sugar, and whipped cream. With these toppings options, you can create classic Halloween icons such as Frankenstein or a white ghost.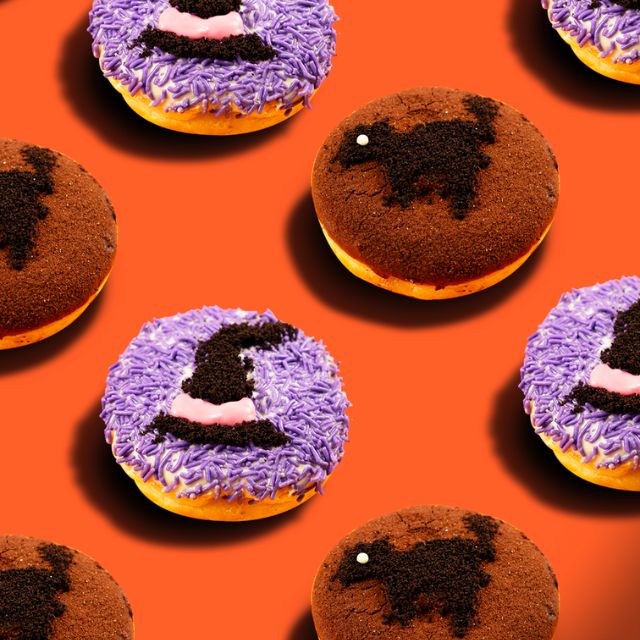 J.CO went the more universal approach and stuck with a witch's hat and a black cat for their  Halloween doughnuts. The Bewitched doughnut is filled with whipped cream and dipped in white chocolate, decorated with purple sprinkles, cookie powder, and strawberry chocolate, while the Black Cat doughnut is filled with chocolate malt whipped cream and dipped in milk chocolate, and decorated with more chocolate malt powder, cookie powder, and white chocolate.
This story originally appeared on Spot.ph. Minor edits have been made by Yummy.ph editors.