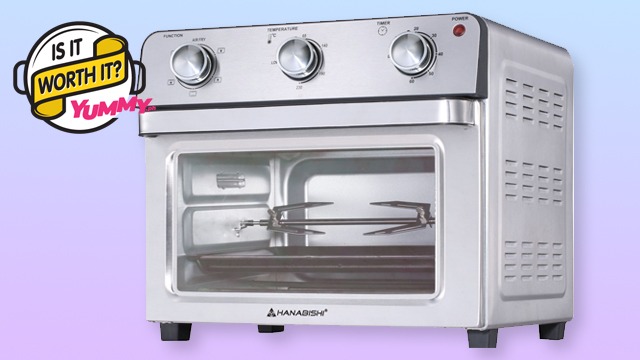 Has the thought of buying an air fryer ever crossed your mind? We don't blame you, it's been all over social media for the past few months. People continue to post their newly bought air fryers, accompanied by photos of air-fried dishes like liempo, fried chicken, and French fries. 
READ THESE: MORE ARTICLES ON AIR FRYER
One of the more popular air fryers out there is the Hanabishi Air Fryer HAFEO23SS, which isn't your typical basket-type air fryer. This multifunctional appliance is a convection oven and an air fryer in one that has six functions: air fry, boil, bake, toast, convection broil, and convection bake.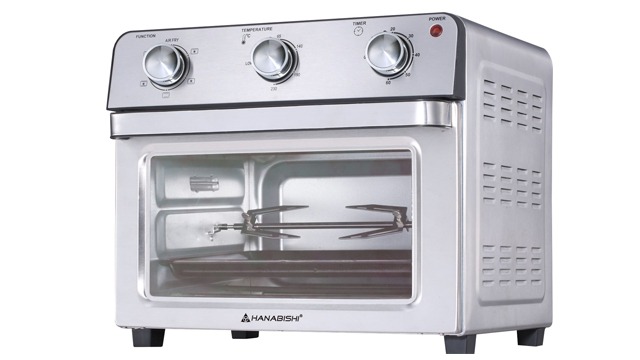 It may seem tempting to buy one right now, especially given its functions and its affordable P6,315-price tag, but it's better to hear it from home cooks who actually bought and tried the kitchen appliance if it is worth buying.
So, we got in touch with Karla Apuan (of 5×7 Kitchen), Dulce Mendoza, and Czjai Reyes-Ocampo (of The Rebel Sweetheart) who bought the Hanabishi air fryer and asked them all the things they liked and disliked about the air fryer and the whole experience of using the Hanabishi Air Fryer HAFEO23SS at home.
All three home cooks had a different reason for buying the air fryer. Karla bought it because of its features (especially because it cooks fast!), Dulce purchased the appliance because there aren't a lot of takeout options in the province, and Czjai bought it for health reasons. 
They all have no issues with its price, considering its functions and its 23-liter capacity. Czjai adds, "It's more of like a box and it's bulky so it really takes up space in the kitchen. Like when this arrived, talagang kalahati ng countertop ko, yun lang yung laman." (It's more of like a box and it's bulky so it really takes up space in the kitchen. Like when this arrived, almost half of my countertop was occupied by the appliance).
The one and only thing they did not like about the Hanabishi Air Fryer HAFEO 23SS is cleaning it—not because cleaning is often seen as nakakatamad and an exhausting chore, but because cleaning the insides is not as easy as cleaning other common kitchen appliances.
According to Czjai, the insides aren't made of stainless steel and is made with a galvanized iron sheet. She adds, "You have to be careful when cleaning it like meron mga oven sprays na hindi pala pwede dito sa air fryer and I sort of made the mistake of cleaning it with baking soda and water. I think kaya nagkaroon ng medyo kaunting puti-puti yung loob ng air fryer ko." (You have to be careful when cleaning it because not all oven sprays can be used to clean it. I sort of made the mistake of cleaning it with baking soda and water, which is why I think there are now white spots inside the air fryer).
ADVERTISEMENT - CONTINUE READING BELOW
Recommended Videos
Besides the cleaning part, Dulce adds a "minor" dislike with the air fryer.  She says, "Yung rotisserie function parang feeling ko lang mababa masyado yung kung saan sinasabit yung rod so sumasayad yung chicken kapag medyo malaki." (The placement of the rod for the rotisserie function is too low, so larger chickens tend to touch the base of the appliance). Dulce advises that this can easily be fixed if you use a 1-kilo whole chicken!
The final verdict: All three home cooks said the Hanabishi Air Fryer HAFEO23SS is worth it. The price is right for its size, you can do so many dishes with its six functions, and it saves you gas. But Karla did point out an important thing:
She says, "I think if you don't have an oven yet, it's a good investment, you can get more flexibility for your money with this kitchen appliance. But if you already own an oven, especially a convection oven, you might not really get blown away by the output of this air fryer because it's so similar to convection ovens. At the end of the day, I think the best appliance for anyone is something that you will need and use the most."
Interested in buying the Hanabishi Air Fryer HAFEO23SS? You can purchase the product for P6,315 via Hanabishi's official website.
IS IT WORTH IT? is a new video series on Yummy.ph where we review and find people who tested and tried a new appliance, a new food item, or a food trend. All food items and appliances are reviewed independently without sponsorship.
***
Thinking about what to cook next? Join our Facebook group, Yummy Pinoy Cooking Club, to get more recipe ideas, share your own dishes, and find out what the rest of the community are making and eating!
Got your own version of the classic dishes? Pa-share naman! Get your recipe published on Yummy.ph by submitting your recipe here.