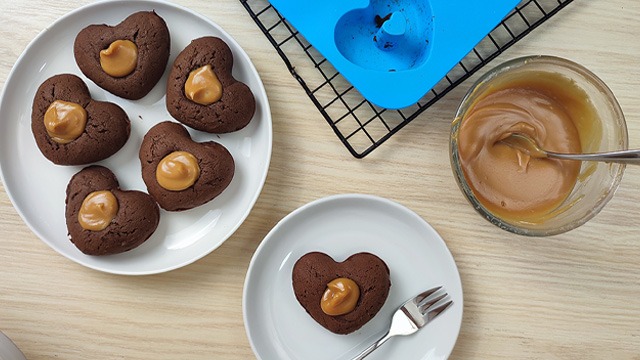 Products recommended on our website are independently selected by editors. If you buy something through our links, Summit may earn an affiliate commission at no extra cost to you.
Love is in the air, and even if you don't have someone special to share the love season, there is little reason to not feel it, especially if you're presented with food that is heart-shaped!
That's what we did when we found this silicone mold in the shape of hearts. What makes this silicone mold different from other silicone molds is that it has a tube in the center. These make doughnuts easy to bake instead of deep frying. Plus, this makes making anything heart-shaped easier, too!
We made a chocolate cake batter and dropped tablespoons of it into this silicone mold to make these adorable cupcakes. We finished off the cupcakes with a peanut butter filling made with milk, sugar, and a touch of salt.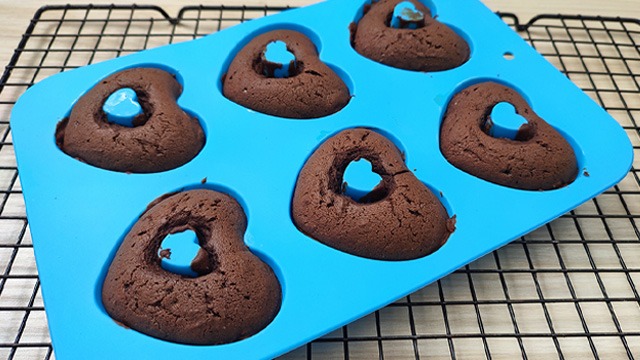 What We Like About This Silicone Mold
It's not hard to find this heart-shaped silicone mold adorable but there are more reasons beyond cuteness that make us like it.
1 It's heat resistant.
Silicone, in case you didn't know, is heat resistant up to 400 degrees F or 200 degrees C. This is pretty hot and unless you're making something that needs to be baked at a higher heat that this, most baked goods will be safely baked in silicone molds.
Silicone is heat resistant, yes, but it doesn't heat up as hot as metal baking pans do. This doesn't mean it doesn't get hot! You can still burn your fingers if you don't use oven mitts or a kitchen towel to grab hold of it when removing it from the oven.
One more thing to remember is that because this mold is made of silicone, it is going to be flimsy. Unlike metal or plastic pans, which have more structural integrity, silicone pans tend to flop down it would be a good idea to always use two hands when holding this. An even better idea is to use a baking pan underneath it so you're sure no batter comes tumbling out of it when you lift the pan to place into or out of the oven.
2 You can use it to bake savory food, too.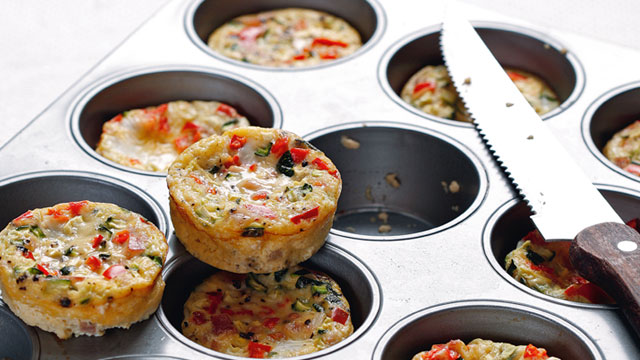 Not only do you get to make heart-shaped food but you really can do so much more than make heart-shaped cupcakes in them! I can see myself making heart-shaped savory food, too, in these such as frittatas, Kenny Rogers-style corn muffins, quiche, ube mamon, puto made with muscovado sugar, and yes, doughnuts and fritters that you can bake instead of frying.
3 No need for cupcake liners!
Since these are made with silicone, you don't need cupcake liners! We doubt anything you bake will stick to the pan. That also makes it super easy to pop these cupcakes out once cooled enough.
4 It is not expensive.
This silicone mold is affordable, too. At only P126 (at the time of writing), you know you won't need to save up too long to gift yourself with this specialized mold.
BUY: Heart Doughnut Silicone Molder, random color, P126, Shopee
Here are other heart-shaped recipes you can make in this silicone mold:
1 Fudgy Heart Brownies Recipe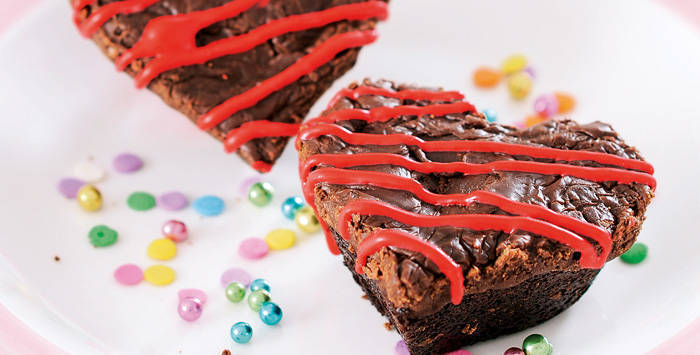 How can you not feel the love when your favorite dessert is baked in the shape of a heart? These fudgy heart-shaped brownies are easy to make especially if you grab a box of brownie mix that we have already tried and found delicious, and bake them into hearts with this silicone mold. You just need melted chocolate in a lovely red color to jazz it up with!
ADVERTISEMENT - CONTINUE READING BELOW
Recommended Videos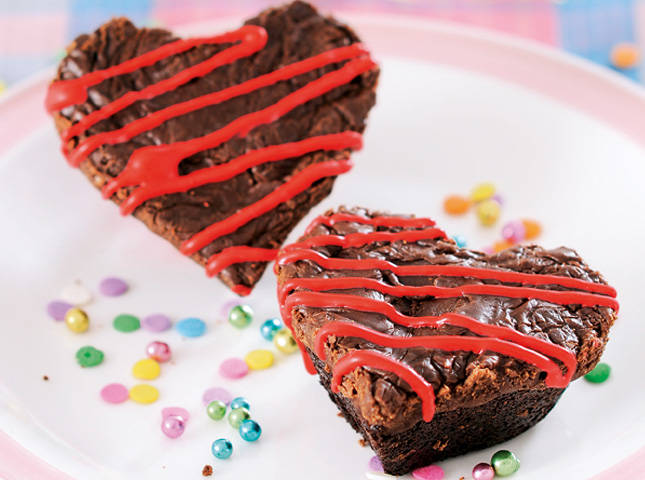 Fudgy Heart Brownies
Posted in:
Recipe
2 Chocolate-Dipped Palmiers Recipe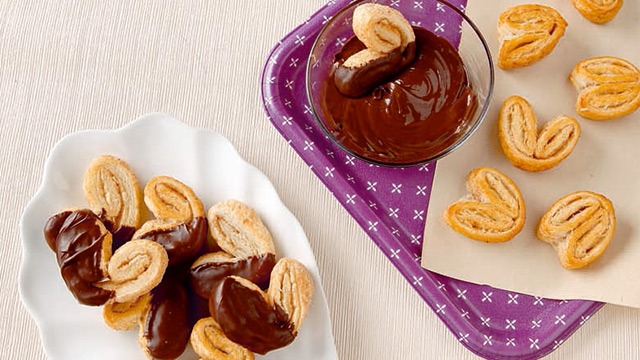 These chocolate-dipped palmiers may look like it naturally makes the heart shape but you can ensure it by wrapping the dough around the center tube of this silicone mold. You can bake these until firm and then dip these in melted chocolate. You can even add sprinkles before the chocolate hardens for that touch of pizzazz.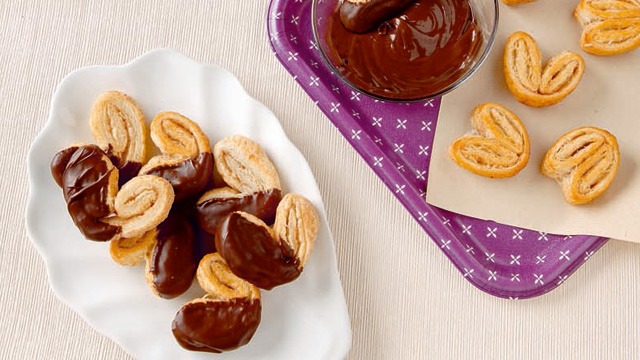 Chocolate-Dipped Palmiers
Posted in:
Recipe
3 White Chocolate Cupcakes Recipe with Strawberry Frosting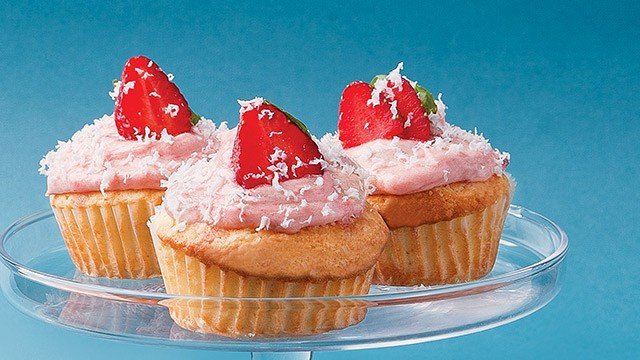 Any cupcake recipe would be more adorable then baked in this mold! Not only will these white chocolate cupcakes look great but they can be filled without you needing to cut out the centers. Just remember to fill them on a plate just before presenting these to your loved ones so the filling doesn't fall out. Isn't that a sweet thought?
4 Caramel-filled Chocolate Cupcakes Recipe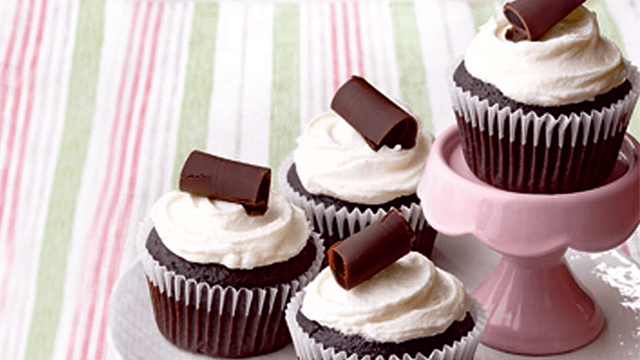 Remember the heart cakes we mentioned before? We used this chocolate cupcake recipe to make our them! These moist chocolate cupcakes don't need to be filled with caramel but you can definitely add it afterward for that surprise bite.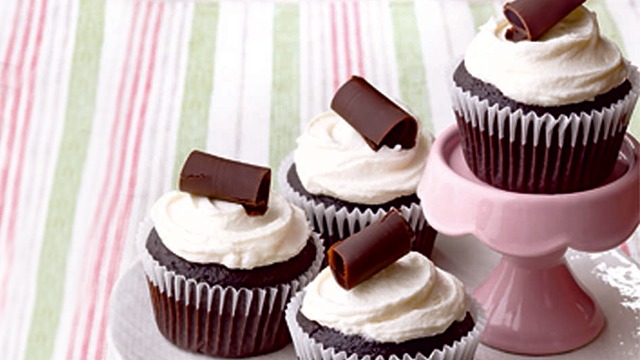 Caramel-filled Chocolate Cupcakes
Posted in:
Recipe
What recipe will you be making this Valentine's day? Whatever dessert you make, use this heart-shaped silicone mold to make it look extra special.
Links are updated regularly and as much as possible, but note that products can run out of stock, discounts can expire, and listed prices can change without prior notice.
***