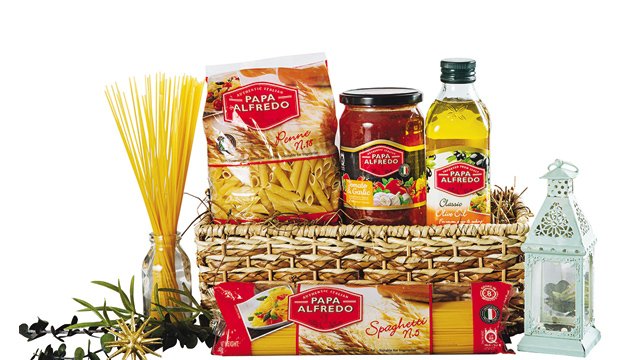 Holiday baskets make wonderful gifts. It's a mix of many of the ingredients your friends and family will probably use this holiday season. Best part is, most can be customized to suit the recipient, their favorite items, or if you have a particular budget.
Here are your best options from our local supermarkets: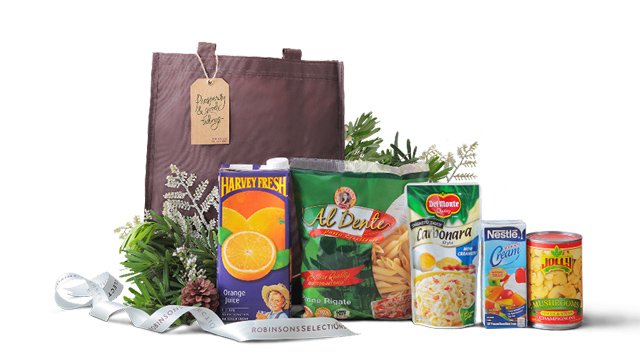 Budget: Under P500

Where to go: Robinsons Selections
For those who want to go basic, Robinsons Selections has two P300-bags you can choose from: give the one with ingredients to make an awesome gelatin dessert using juice, gulaman, and canned lychees to a family who love their dessert while the second fulfills the cravings of those who love a creamy mushroom pasta for Noche Buena.
Do you have friends who love wine? These gift duos from Robinsons Selections are your best bet! Choose from those who love either a bold red wine or a light fruity white with a snack of your choice for P500.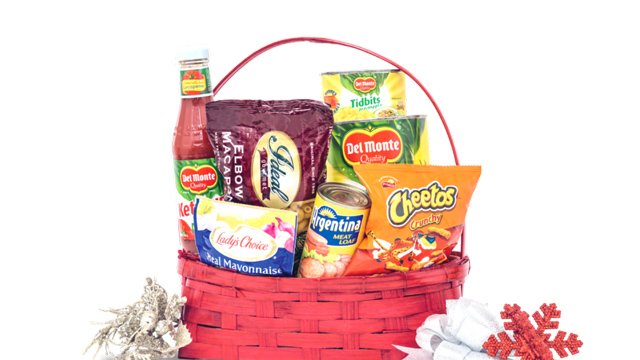 Where to go: SM Supermarket
The basic Christmas baskets of SM are highly affordable. For P300, choose from either a basket that has ingredients for either a macaroni or a spaghetti meal with fruit salad ingredients. For P500, the basket includes ingredients for a refrigerator cake and a spaghetti in a tomato cream sauce with luncheon meat. If your gift will be received at the end of the month, SM's fruit baskets meanwhile contains a mix of round shapes perfect for welcoming the New Year: red grapes; red, green, and Fuji apples; mandarin oranges; and pears for P295. For P495, you include ponkans, lemons, and kiwi fruit.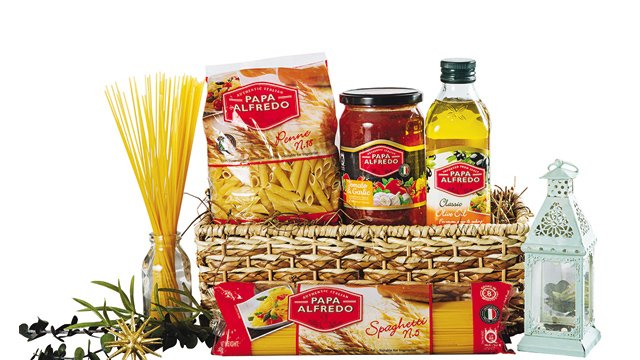 ADVERTISEMENT - CONTINUE READING BELOW
Recommended Videos
Budget: Under P1,000

Where to go: Rustan's Supermarket

Pasta lovers will love the Buon Cibo hamper (P899) from Rustan's. It has everything you need to cook up two pasta dishes—spaghetti and ziti—in either a tomato or olive oil-based sauce while its Flavors of France hamper (P999) has ingredients for a pasta meal served with wine and chocolate-covered biscuits for post-dinner cravings.
Where to go: SM Supermarket
If you have friends known for loving their vino, gift them with one of these wine bundles from SM: a trio of Carlo Rossi reds for P741, two bottles of Fortunella Reds for P512, or three variants of Arbor Mist for P810.
Where to go: Robinsons Selections
Robinsons Selections meanwhile takes this wine pairing to another level with its wine baskets (P1,000 each). Does your loved one fancy a sparkling Asti Spurnante or a Cabernet Sauvignon? Either way, each is paired with savory options that should make for a delicious snack.
Budget: P1,500 and up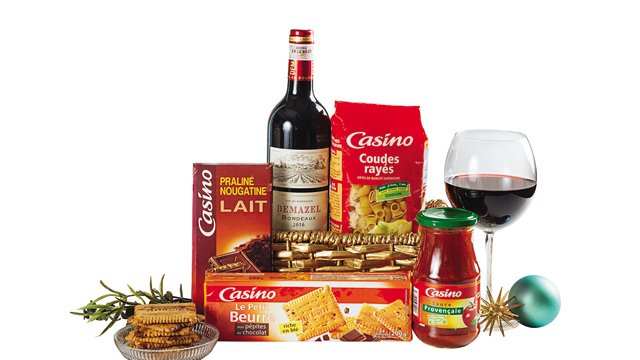 Where to go: Rustan's Supermarket
Rustan's has a basket that any French cuisine lover will adore. It's packed with pasta and 2 sauces, a salad dressing, chocolate bars, and biscuits from France for P1,699.
Where to go: Robinsons Selections
Robinsons Selections has a thoughtful basket that has your holiday evenings covered: your gift makes enough for a savory pasta dish plus several after-dinner options: a non-alchoholic sparkling juice or coffee to pair with cheese or biscuits.