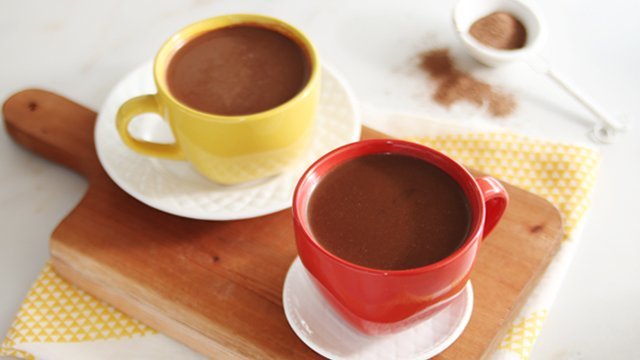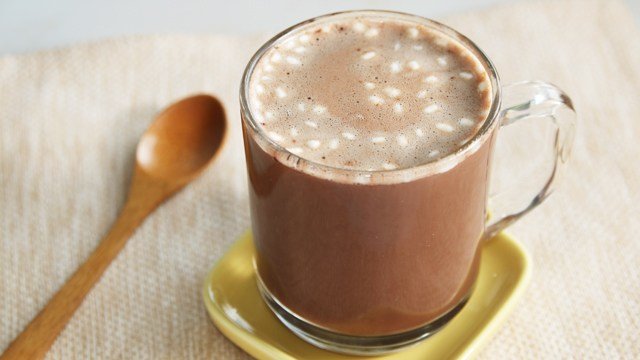 There's nothing more relaxing than going for some DIY hot chocolate on a gloomy, rainy day. What's easier than a just-add-water mix, right? Powdered hot chocolate has to be one of the cheapest supermarket buys that satisfy that self-care ethos the gloomy weather tends to bring about.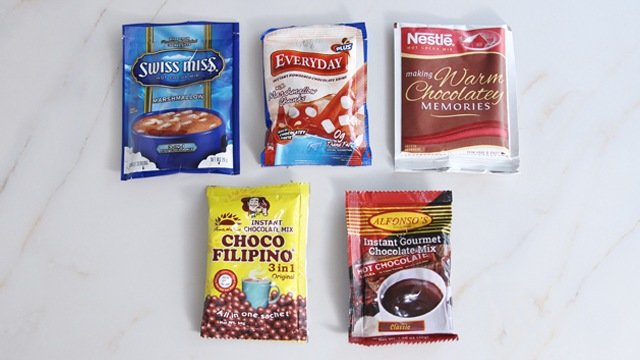 Grab your favorite book, a large mug, and snuggle up on the comfiest spot on the couch—here's our monthly Yummy.ph Taste Test on powdered hot chocolate mixes you can buy in the grocery!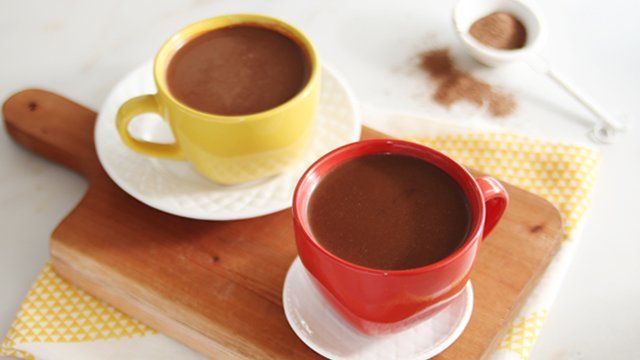 In the yellow cup: Choco Filipino; in the red cup: Alfonso's
1 Alfonso's
Alfonso's Instant Gourmet Chocolate Mix will be very appealing to all the tablea chocolate fans out there: its earthy dark chocolate flavor is both comforting and delicious. There are only three listed ingredients in the package: sugar, cacao, and whey powder. There are no other added starches, stabilizers, or artificial flavors. Our only tip is mix boiling hot water into the powder so that the cacao dissolves properly. It'll also be delicious with a touch of hot milk.
Price: P13.50 per packet; available in all major supermarkets.
2 Choco Filipino
Choco Filipino's Instant Chocolate Mix turned out to be a pleasant surprise! It's "3 in 1" feature means that it's a mix of cocoa, non-dairy creamer, and sugar, which blends into a smooth drink once mixed with hot water. Keep a small spoon in your mug while you drink it—it needs a little mix every once in a while because the cacao tends to sink to the bottom of the mug. It's a lightly sweet and thick drink that'll remind you of your favorite bowl of champorado.
Price: P7.50 per packet; available in all major supermarkets.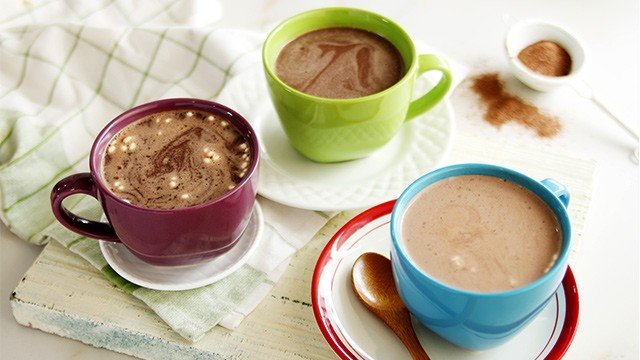 In the purple cup: Goya; in the green cup: Nestle; in the blue cup: Swiss Miss.
3 Goya
We were thrilled to find out that Goya's Instant Powdered Chocolate Drink had marshmallow chunks! While Goya's mix didn't have much of a distinct chocolate taste, its marshmallows don't melt fast in hot water. This drink is perfect for people who love whole marshmallows in their hot chocolate drinks.
Price: P10.45 per packet; available in all major supermarkets.
4 Nestle
Nestle's hot chocolate mix is, overall, a good-quality product: its marshmallows are tasty (but melt quickly!), the cocoa taste is a highlight, and everything mixes together smoothly and effortlessly. Our only recommendation is to use a little less water than its recommended 6 fluid ounces so that you get to taste more of its chocolate goodness.
Price: P121.95 per box, 6 packets total; available in all major supermarkets.
ADVERTISEMENT - CONTINUE READING BELOW
Recommended Videos
5 Swiss Miss
Swiss Miss is a favorite hot cocoa mix in many households—and for good reason! Its chocolate taste is unparalleled, the marshmallows melt into fluffy foam, and its sweetness level is just right. While you can mix it with hot milk, hot water will also give you great results. For us, Swiss Miss still wins the powdered hot chocolate mix game!
Price: P12.25 per packet; available in all major supermarkets.
ALSO READ: