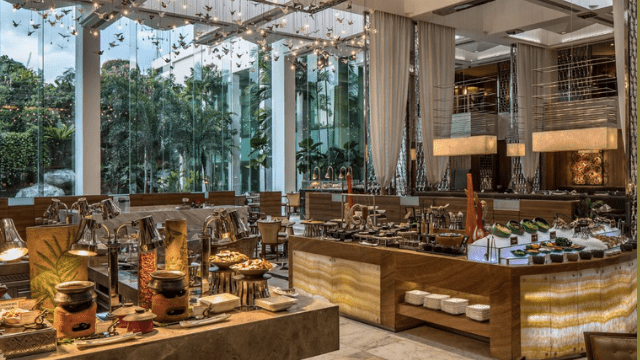 If you're looking for a gastronomic experience that's worth the big bucks, you can't go wrong with hotel buffets. With every single hotel restaurant on this list at such a high caliber, all helmed by the prowess of seasoned, sophisticated executive chefs, how do you choose one that best fits you? 
You get into the nitty-gritty, of course! Lucky for you, we've compiled each buffet's cuisines offered, location, and of course, price point.
Manila Hotel's Cafe Ilang Ilang
Manila Hotel Address: 1 Rizal Park, Ermita, Manila
You shouldn't miss Cafe Ilang-Ilang's churrasco where you can have your food freshly grilled just for you. Thursdays are themed for Surf & Turf, Fridays for seafood, and Saturdays feature American cuisine. Cafe Ilang-Ilang is also one of the first buffets to offer Halal dishes!
Cafe Ilang Ilang's Buffet Prices: 
Breakfast (Daily): P1,550 (limited offerings) 
Lunch (Monday to Saturday): P2,795
Lunch (Sundays): P2,945
Dinner (Sunday to Wednesday): P2,945

Dinner (Thursday to 

Saturday): P3,590
Half price for kids 5-12 years old 
How to Reserve: For inquiries and reservations, call 8527-0011 or  5301-5500, local 1262-1264. You may also shoot them an email or access their website's reservation form.
Sofitel's Spiral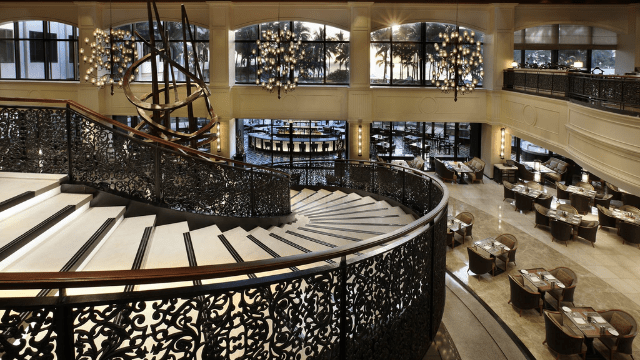 Sofitel Address: Sofitel Philippine Plaza Manila CCP Complex, Roxas Boulevard, Pasay City
Known as the most extravagant hotel available locally, you've probably also heard of their famous "Cheese Room" where they put to shame most charcuterie boards. That is just the tip of the iceberg though, as Spiral Buffet boasts 21 dining ateliers which feature popular dishes from popular cuisines. Another to look out for you won't find anywhere else: their chocolaterie!
ADVERTISEMENT - CONTINUE READING BELOW
Recommended Videos
The Spiral serves Asian (Korean, Japanese, North Indian, Chinese, Filipino, Thai), and Western (French, Italian, Swiss, German) dishes.
Sofitel Spiral Buffet Prices:
Lunch (Monday to Thursday): P3,100

Lunch (Friday to Saturday): 

P3,500
Sunday Brunch: P5,900 (

with free-flowing Moët & Chandon Champagne) 

and P4,500 (without champagne)
Dinner (Daily): P3,900
How To Reserve: Party must be at least two, and a maximum of 10 in order to book a table.  Make your reservation through this link where you will also find available time slots.
Diamond Hotel's Corniche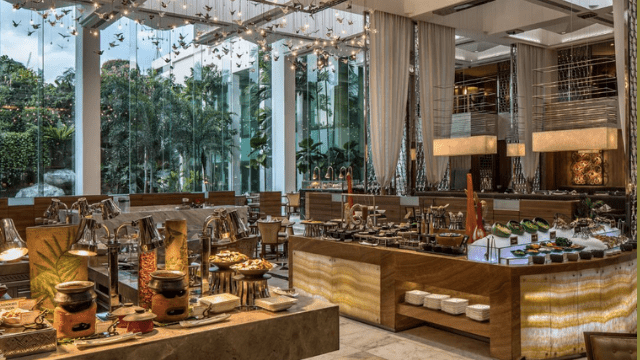 Diamond Hotel Address: Roxas Boulevard corner Dr. J. Quintos Street, Manila
Not all buffets are created equal. The possible drawback to buffets is often the less-than-optimal temperature of the dishes being served, but those that know what they're doing have of course solved that problem. If you're not yet buffet eating-savvy, the restaurant's "Corniche A la Minute" hype up their live cooking stations where you can choose from an array of seafood (such as shrimp, crab, and salmon) and meat (from beef, chicken to even lamb) to cook with a choice of a curated mix of spices in the manner of your choosing. Get your dishes hot and freshly prepared!
Diamond Hotel Corniche Buffet Prices:
P2,880 for lunch or dinner
How To Reserve: Diamond Hotel accepts walk-in guests but you may also book your tables through (632) 8-528-3000 or (0975) 792-1473, from 9 a.m. to 5 p.m. only.
Marriott Hotel's Marriott Cafe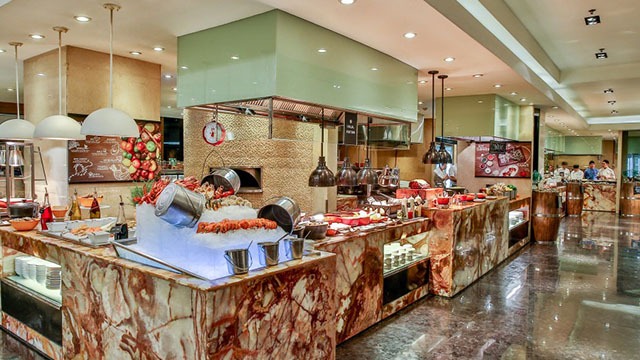 Marriot Hotel Address: 2 Resort Drive, Pasay City
Looking to load up on your protein? Head over to Marriott Cafe for their themed buffets. Friday dinners feature a smorgasbord that keenly pays attention to the whole pig, from "Nose to Tail," while Sunday lunches meanwhile are for surf and turf! 
Marriot Hotel's Marriott Cafe Buffet Prices:
Breakfast: P1,500
Lunch (Mondays – Saturdays): P2,888

Lunch 

(Sunday Crossover Buffet): P
Dinner (Mondays – Sundays): P2,888

Dinner (

Friday Nose to Tail Buffet): P3,188 
How To Reserve: You may contact Marriott Cafe at 8988 9999 or book them here.
Marco Polo's Cucina
Marco Polo Address: Meralco Avenue and Sapphire Street, Ortigas Centre, Pasig City
This buffet restaurant sitting on the 24th floor of Marco Polo boasts exquisite food enjoyed with a breathtaking view of the city. The star of the buffet has to be seafood which includes blue crabs, curachas, prawns, and meaty mussels. The paella, too, is a stunning mix of seafood, meat, and saffron-infused rice. It has the usual soccarat or the toasted rice crust that you expect from the paella, but if you're not a fan of that, scoop it up while it's still a moist rice dish so that is more Italian risotto than paella but still delivers on the flavor. 
Marco Polo's Cucina Buffet Prices:
Breakfast: P1,380
Lunch (Thursday to Sunday): P1,980
Dinner (Thursday to Sunday): P2,180
Half price for kids 9-12 years old
How To Reserve: Reservations for Cucina may be placed via (632) 7720 7777, through our official social media accounts, or [email protected].
EDSA Shangri-La's HEAT
EDSA Shangri-La Address: 1 Garden Way, Ortigas Center, Mandaluyong City
EDSA Shangri-La's restaurant Heat offers a myriad of Eastern and Western dishes. They also offer for lunch and dinner a buffet with an intense focus on Wagyu beef which is served with a variety of creative ways to enjoy the premium cut. Of course, this beef is the star of the buffet. 
What else is on the buffet menu? Heat also serves a vast array of seafood as well as a diverse and delicious selection of Asian, Filipino, Indian, Italian, Japanese, and American dishes.
EDSA Shangri-La's Heat Buffet Price:
Lunch or dinner (Wednesdays to Sundays): P3,500
How To Reserve: You can reserve a table at Shangri-La's Heat via their website.
Fairmont's Spectrum
Fairmont Address: 1 Raffles Drive, Makati Avenue, Makati City
They have a teppanyaki grill where you can request an assortment of meats and veggies to be stir-fried in front of you. Nothing beats the heat of dishes straight off the grill! If you are a fan of the cuisines of the Asian continent, you'll be delighted to find that you have some tough decisions to make since you have a choice among Indian, Middle Eastern, European, and other Asian dishes to choose from. 
Fairmont's Spectrum Buffet Prices:
Lunch: P2,500
Dinner (Wednesdays to Fridays): P2,700
Dinner (Saturdays and Sundays): P2,900
How To Reserve: You can contact them at 8555 984 or fill in the form through this link.
Crowne Plaza's 7 Corners
Crowne Plaza Address: Crowne Plaza Galleria Manila, Ortigas Avenue corner Asian Development Bank Avenue, Quezon City 
7 Corners' name hinges on the seven curated stations at the buffet with each following a theme. The dishes they serve are Tandoori, Japanese, Western, Salad, Pizza Station, Dessert, and Asian Noodle. As with many buffets, the seafood selection is always a highlight for those who like to eat their fill of the bounties from our seas, from clams and mussels to lobsters and prawns.
For the carnivores. however, the US ribeye steak has to be the pièce de résistance. Tender and juicy, you can have it grilled again if rare is not your choice of doneness. 
Crowne Plaza's 7 Corners prices: 
Dinner (Friday to Saturday): P2,500
Dinner (Sundays to Thursdays): P2,400 
Lunch (Mondays to Saturdays) P2,200
Lunch (Sundays): P2,400 
Half price for kids 6-12 years old. Free of charge for children 5 years old and below
How To Reserve: Fill out the form via the Crowne Plaza Manila website or contact them directly through 8790-3100, or their Viber at (0927) 163-0128.
The Peninsula's Escolta
The Peninsula Address: Corner Ayala and Makati Avenue, Makati City
You can't go wrong with Filipino food! Aside from the mix of international dishes to enjoy that are expected of every buffet, Escolta boasts of the freshest produce used for their "'farm-to-table" concept for their popular Filipino dishes. Don't leave without trying their artisanal ice creams! 
The Peninsula's Escolta prices: 
Daily Breakfast: P1,700
Lunch (Tuesdays to Saturdays): P2,600 
Dinner: P3,000
Brunch: P3,500
Half price for kids 6-12 years old
How To Reserve: You may call them at 8887-2888 or e-mail them. You may also message them on Facebook Messenger and WhatsApp.
Have you found that perfect fit? Give your date or your family a heads up because you'll want to ready your stomach for one delicious, extravagant experience.
Before you head out, remember a few general rules for these hotel buffets: 
1 Rates may differ during holidays and other special occasions. 
2 It's always best to reserve a table. 
3 Reservations are usually for a minimum of two diners. 
4 Check the dress code! To be safe, stick with smart casual. 
*****