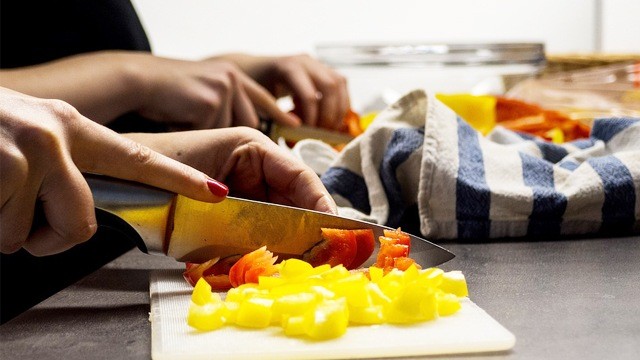 It might not seem like such a huge feat to some, but learning how to cook is one of my greatest accomplishments at 35. I know, how late in life, right? But let me explain. Growing up, I always woke up to food ready on the table and I never felt the need to turn on the stove. In grade school, I was obsessed with baking and spent many summers and Christmases making cookies, bars, brownies, cupcakes, and muffins. But baking was something that felt like an exact science—all I had to do was follow the recipe to a T and I was bound to end up with something edible.
I was jealous of people who could cook, people who could tell what was missing just by tasting the broth. I found that when following a recipe, it doesn't always turn out as forgiving as it does when baking. Walang lasa! Masyadong maalat! Then I can never figure out if I should add pepper or salt or something else. But I was determined that one day, I would acquire this skill somehow. I didn't know how yet, but I knew I wanted to do it.
Here's how I learned how to cook and the lessons I learned along the way.
1 Go with what you know.
A month before I turned 35, I tried to learn how to cook among other things (baking bread being one of them). The very first thing I cooked was an old family favorite, Tuna Corn Casserole. I started with this because it involved baking, something I was already comfortable with. I didn't have a recipe so I tried to remember what my mom used to put in it: butter, all-purpose cream, cream of mushroom, tuna, corn, and pasta. From there, I figured I could saute some red onion in the butter; mix everything else together; and then, add some cheese (I used Quickmelt because that was the only thing in our fridge). Added salt and pepper before mixing it with the cooked pasta and topping everything with more cheese and baking until bubbling. It wasn't perfect but it was a start. I finally cooked something!
2 Everything can be multipurpose.
I don't like using more than one pan when cooking because I get lazy when it's time to clean up. So sometimes, I'll look for recipes that can be cooked in one pan. Or I'll use the rice cooker to steam fish to go with the rice. If I can cook meat and vegetables in one baking sheet, I'll do it. I told myself that if I made cooking easier by eliminating additional steps that somehow made it complicated, maybe I'll learn how to do it better.
3 Make do with what you have.
Sometimes I'll just plug the ingredients I have on stock into Google and add "easy recipe" at the end. I'll go through the different ones that come up and find something that I feel I can make on my own. Keywords: steam, roast, one-pan. Cooking can be simple if you want it to be! One of my favorite things to make is a super easy Honey Garlic Cauliflower that I "bake" in an oven toaster. I've made it a few times that I don't even need to look at the recipe anymore. I also discovered that if I do it in small batches, I can roast vegetables in a small baking sheet in the oven toaster, too.
4 Making anything from scratch just sounds hard but it usually isn't.
I felt particularly adventurous when I decided to make enchiladas. The recipe called for ready-made enchilada sauce but I didn't have any on hand, so I searched for a recipe for enchilada sauce. Turns out you only need vegetable stock, some spices, and tomato paste/sauce to make some. My brother and I collect veg trimmings in our fridge so by then, I had enough for fresh vegetable stock. In under an hour, we had enchiladas from scratch made with canned chicken, cheese, spices, and my homemade enchilada sauce. After that, I would try to assess if I can make something by scratch before resorting to its store-bought counterpart.
5 The best thing about cooking is enjoying what you make.
Meal times can easily be taken for granted when you don't know the kind of work that goes into it. These days, I relish in the joy I see in my dad's eyes when he bites into a dish I made. Something about seeing people happy with the food you cook just makes me feel good! And I can't wait to do it more. Got any recipes for me to try?
ALSO READ: