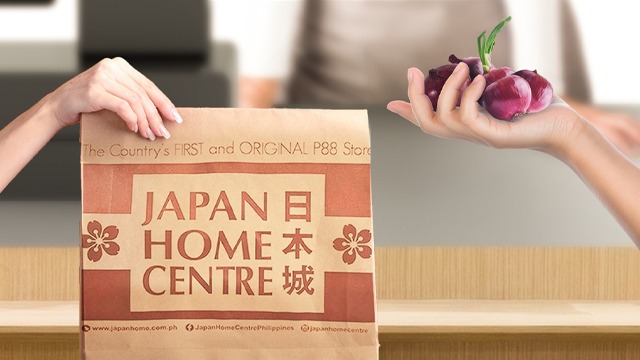 Products recommended on our website are independently selected by editors. If you buy something through our links, Summit may earn an affiliate commission at no extra cost to you.
Are you still seeing community pantries in your area? If you are, you know there are still people who still need help with managing their food budget. If you too want to help in your little way, Japan Home Centre along Panay Avenue shows you one way to do it with its Pay with Sibuyas promo.
You read that right, and we think it's brilliant! You can get your fix of Japan Home Centre (or JHC for short) items, including some of the most adorable selections of Hello Kitty items, these chic golden knives, and an assortment of practical and super useful kitchen items that you want in your hands as you make your daily ulam recipes.
While we don't know as of press time what the selection of items for this promo will include, you know they have more than just kitchen items on their shelves. Just note that the shop has a maximum of 3 onions per customer limit, so that means you can choose any three JHC items among its selected items for the promo and literally pay for them using onions. Plus, this is exclusive to the Panay Avenue branch only.
In case you find yourself wondering what Japan Home Centre has to offer before setting foot in their stores, you can find their Flagship stores online at both Lazada as well as Shopee.
If these are not reasons enough to go over there and peruse their curated stock of items, know that you'll be stocking their community pantry as well.
Here are the 1-day only mechanics of Japan Home Centre's Pay With Sibuyas promo:
• Japan Home Centre – Panay Avenue will accept an onion in exchange for your chosen product.
• 1 onion = 1 JHC item on selected items
• Every customer has a limit of 3 item purchases only. All collected onions will be used in our community pantry.
• This promo is valid only on February 4, 2023 (Saturday).
Japan Home Centre is located at 84 Panay Avenue, Quezon City (near Victoria Towers). Visit its official Facebook page for more details.
Links are updated regularly and as much as possible, but note that products can run out of stock, discounts can expire, and listed prices can change without prior notice.
***
ADVERTISEMENT - CONTINUE READING BELOW
Recommended Videos