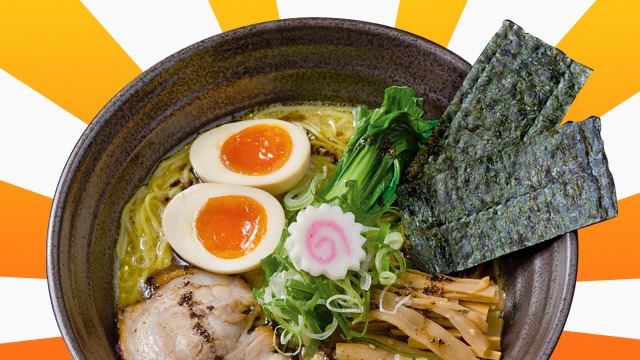 When did the Filipino ramen craving begin? Was it when Japanese animation flooded our TV screens? Was it when we first tasted our own La Paz Batchoy? A testament to this love for Ramen is the continuous support local ramen shops have continued to enjoy. Think of the long lines that Ippudo and Mendokoro inspire!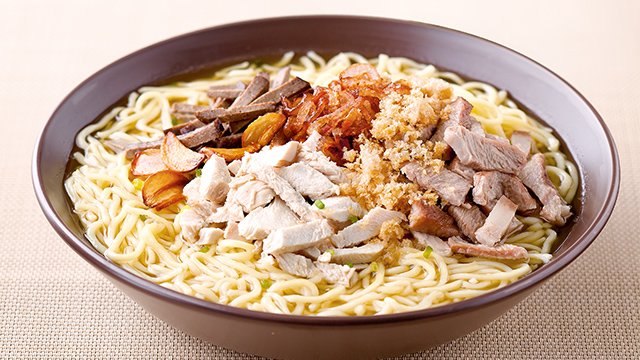 La Paz-Style Batchoy Recipe
Posted in:
Recipe
With all the different ramen shops around the Philippines, each ramen offered differs from bowl to bowl, and from shop to shop, just like it does in Japan. Ramen isn't just one uniform bowl as every one bowl reflects the local it originates from. So, if you're up to sample the best ramen you can find, going so far as planning a ramen pilgrimage around Japan, then you need to note these down! Even if you aren't flying to Japan though, this informative article will give you an idea of what you'll get every time you order from a ramen joint.
Here are the 3 components of ramen that get changed up: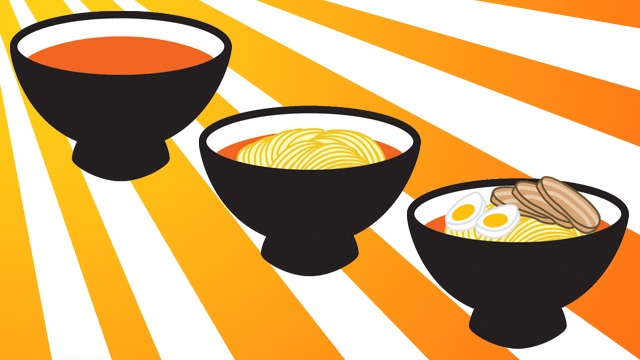 The Soup
The stock is derived from the slow cooking of the bones and meat of pork, chicken, or beef, or fish stock from sardines, mackerel, and dried bonito leaves. This takes at least 14 to 18 hours, though the process can take as long as a few days. A flavoring sauce called tare is then added to the stock. The tare is often made up of fried garlic, chili peppers, ground sesame seeds, other spices, and even sake. The three main flavors of tare are shoyu (soy sauce), miso (fermented soybean and kojikin ) and shio (salt). Tonkotsu broth (made with pork bones) can have tare added to it or left unadulterated, as most prefer.
The Noodles
The type of noodles used is a decision made carefully by the shop, based on what will best complement their broth, so it varies from region to region. Some regional variations, like those in Hokkaido, use thicker noodles (1.8 millimeters), while the southern varieties such as Hakata use thin (1.0 millimeter), straight noodles. Timing is the key to a perfect bowl. Depending on their composition, noodles will need to be boiled for a few seconds to a minute. Soft, overcooked noodles are a cardinal sin that no chef or ramen lover will tolerate.  In order to get personal preferences right, many restaurants will ask customers to specify the hardness of their noodles when they order.
The Toppings
Toppings vary depending on the region and shop, but there are some standards which can be found in any bowl. These include: chashu (fatty pork shoulder or belly), ground pork, ajitsuke tamago (parboiled egg, sometimes referred to as ajitama), nori (seaweed), moyashi (bean sprouts), menma or shinachiku (fermented bamboo shoots), negi (chopped green onions), shiitake mushrooms, kikurage (chopped wood ear mushrooms), kamaboko or naruto (fish cake slices), takana (spiced pickled vegetables), goma (sesame seeds, usually ground), and ninniku (garlic).
Yokohama's Ramen Museum acknowledges the existence of 26 unique varieties of ramen in the land of the rising sun.
Here, we zero in on 10 bowls from all over the Japanese archipelago.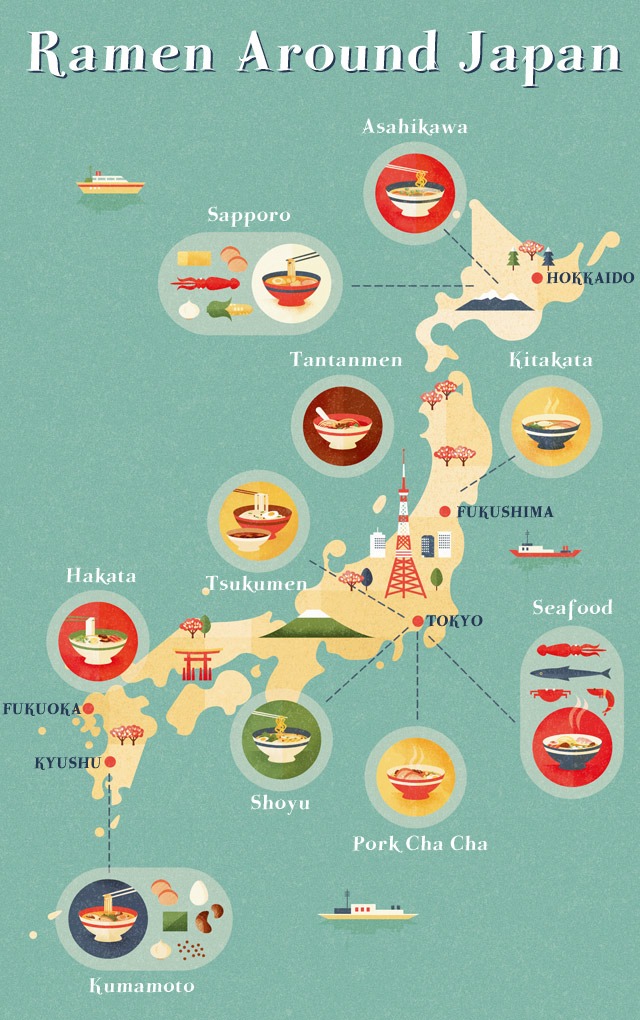 1 Asahikawa Ramen (Hokkaido)
Consisting of a tonkotsu seafood broth base, flavored with shoyu and often with a thick layer of oil, Asahikawa ramen is a heavy bowl that's appropriate for the bitterly cold winters in the North.
2 Sapporo Ramen (Hokkaido)
Sapporo ramen is characterized by a thick and meaty tonkotsu broth, infused with miso paste. The noodles are slightly thicker and the toppings are usually stir-fried vegetables, ground pork, and corn.
3 Kitakata Ramen (Tohoku)
Kitakata ramen is differentiated by its thick, flat, curly noodles which are made in-house by the ramen shop. The broth can be a mix of tonkotsu, chicken stock, and dashi.
4 Shoyu Ramen (Tokyo)
Traditionally, shoyu ramen consists of a soy sauce-laced chicken broth, curly egg noodles that are medium in thickness, and standard toppings of egg, bamboo shoots, and nori.
5 Tsukumen (Tokyo)
Tsukumen is a post-war innovation by Kazuo Yamagishi at his first restaurant in Nakano, western Tokyo. It is a sweet, spicy, vinegary broth into which thick noodles (either cold or hot) are dipped.
6 Pork Cha Cha Ramen (Tokyo)
This is the thickest of all soups with gelatinous blobs of pork fat floating on the surface, underneath a generous portion of chashu slices.
7 Tantanmen (Tokyo)
Although originally from Sichuan in China, Japan has taken tantanmen to heart. It is usually a pork-and chicken-based broth with a sesame and chili tare, which lends a distinctive nuttiness and heat. The topping can be spiced ground pork with bok choy or other green vegetables added for crunch.
8 Seafood Ramen (Tokyo)
Seafood ramen is a new incarnation that blends fish or seafood-based stock with pork and chicken stock to create a double soup base and a smoky flavor.
9 Hakkata Tonkotsu Ramen (Fukuoka)
Hakata's tonkotsu ramen is the ultimate in slow-cooking, with pork bones cooked for hours to produce the most singular of broths. The milky porcine goodness of the broth is simply unforgettable.
ADVERTISEMENT - CONTINUE READING BELOW
Recommended Videos
10 Kumamoto Ramen (Kumamoto)
Despite the pre-eminence of Fukuoka's Hakata, its southern neighbor Kumamoto has developed a ramen variant all its own. While the broth is most certainly tonkotsu, it is milder and often includes fried garlic oil.
Who knew there were so many kinds of ramen? And as mentioned above, this isn't the end of it, which we'll leave you to discover on your own.
Article was published in the May 2013 issue of Yummy magazine. Additional text by Jasper Castro. 
ALSO READ: