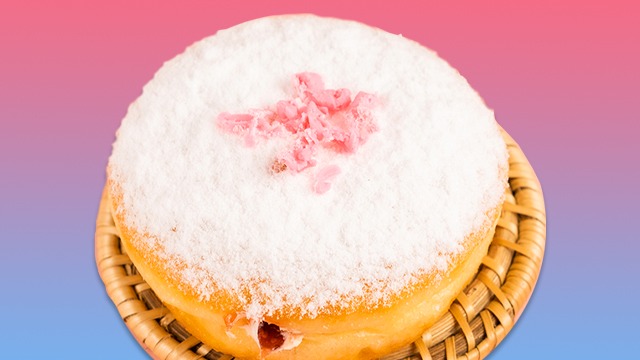 Mango may have been the popular summer fruit of years past, but it seems that there's an off-season fruit that's taking over the flavor world: strawberry. 
J.Co takes advantage of this with its newest doughnut and drink combo: Strawberry Custard Donut and Iced Berry Grenade. 
Here's What To expect with J.Co's new Berry Fresh selections:  
The doughnut actually looks pretty ordinary. Just like one of the OG of the doughnut world, the Strawberry Custard Donut is a twin of the strawberry jam-filled doughnut with its powdered sugar exterior. That illusion is shattered when you take a big bite and discover what it's hiding: a strawberry jam and custard filling. The dual filling is a delightful and refreshing change from the usual single-filling doughnuts. 
This doughnut is not just what is new with J.Co. 
The new doughnut is also accompanied by a new drink called the Iced Berry Grenade. It's a berry-flavored drink with jasmine tea at its base, sweetened with sugar syrup and grenadine, and topped with fresh lemon or lime slices.
Just in case you do not know what grenadine is, grenadine is a sweetened syrup made from pomegranate or granada fruit. Its dark maroon-colored juice is simmered until thickened and a sweet syrup is created. 
Curious what this drink tastes like, especially when paired with the new dual-filled doughnut? 
The J.Co Strawberry Custard Donut and Iced Berry Grenade are available in J.Co Donut and Coffee stores. For more information, visit .JCo's Facebook page.
ADVERTISEMENT - CONTINUE READING BELOW
Recommended Videos