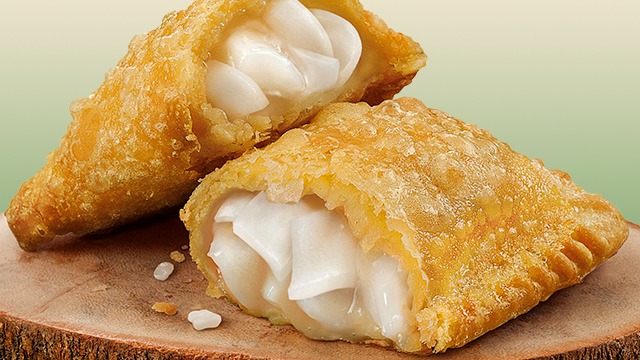 Jollibee's juicy Chickenjoy (thigh, please!) is an easy favorite for most Filipinos, but one Jollibee item that has mixed preferences? The pies, namely the choco mallow pie, the ube pie, tuna pie, banana langka pie, and the peach mango pie. Jollibee's new pie might just change that. Meet Jollibee's latest addition to the menu, the Buko Pie.
We tried Jollibee's Buko Pie for ourselves and can confirm that it does have real buko chunks coated in a sweet filling inside a golden brown, crunchy pie crust. Despite its small size (we got a pie with the same size as a business card), it's delicious and probably the tastiest and cheapest you can get for P30 for a piece or P89 for three pieces. It's perfect if you need that quick and affordable fix for merienda: no need to go to Laguna nor you don't need to spend hundreds in a restaurant.
Our only advice? Have it warmed so you can feel the crunch of the crust and the explosion of the sweet buko filling in your mouth.
Jollibee's Buko Pie is available in all Metro Manila and Luzon branches, while for the Visayas and Mindanao Jollibee branches, the Buko Pie will be available starting October 28, 2019. Visit Jollibee's official website for the list of branches.