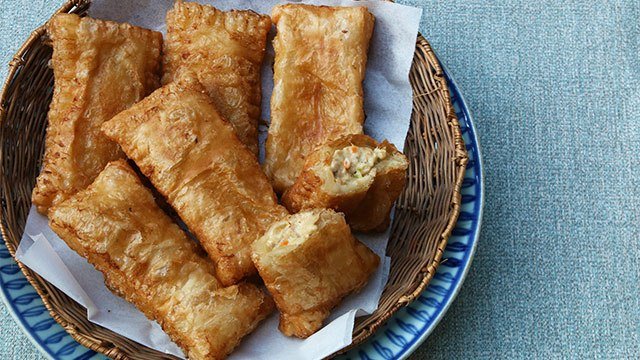 There is no need to drive out of your home to get your tuna pie fix. You can make tuna pie at home with ingredients that are most likely already in your pantry! Check out the frozen goods aisle of the nearest grocery in your area for pre-made, pre-rolled, frozen puff pastry. Puff pastry fries and bakes into beautiful, golden brown crusts for these tuna pies. These tuna pies keep in the freezer very well, too—which makes a great excuse to have tuna pie all year 'round.
Yield 10 tuna pies
Prep time 10 minutes
Cooking time 10 minutes
2 tablespoons butter
2 tablespoons white onion, finely minced
2 tablespoons carrot, finely minced
1 tablespoon celery, finely minced
1 ¼ cup tuna flakes (about 2 155-gram cans)
¾ cup all-purpose cream
1 cup cheddar cheese, grated (about 150 grams)
Freshly cracked black peppercorns, to taste
20 pieces store-bought puff pastry, cut into 4-by-2-inch rectangles
1 egg beaten with 1 tablespoon water, for egg wash
Vegetable oil, for frying
1 Melt butter in a saucepan.
2 Saute white onions until translucent, about 1 minute. Add ands aute carrots until cooked, about 1 minute. Add and saute celery until cooked, about 1 minute.
3 Add the tuna and stir to break it down, about 1 minute. Add the cream and cook until smooth, about 1 minute. Add the cheese and cook until completely melted, about 1 minute. Season to taste with freshly cracked black peppercorns. Set aside and let cool completely.
4 Spread 1 heaping tablespoon of cooled filling onto 1 piece of puff pastry. Top with another piece of pastry and press down the edges of the pie with a fork so seal them. Brush the top with egg wash, repeat with the other 9 pies, and let set in the freezer for 10 minutes.
5 Heat vegetable oil in a frying pan. Fry the tuna pie until golden brown on both sides, about 1 minute per side. Drain on a cooling rack lined with paper towels and serve immediately. Alternatively, bake tuna pies in an oven set to 375°F for 30 minutes until golden brown.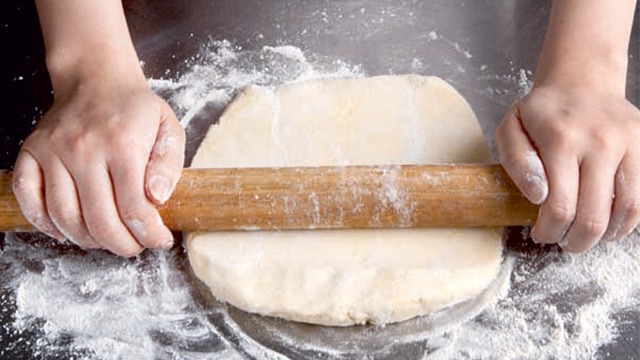 Know the 3 Types of Basic Pie Crusts
Posted in:
Baking