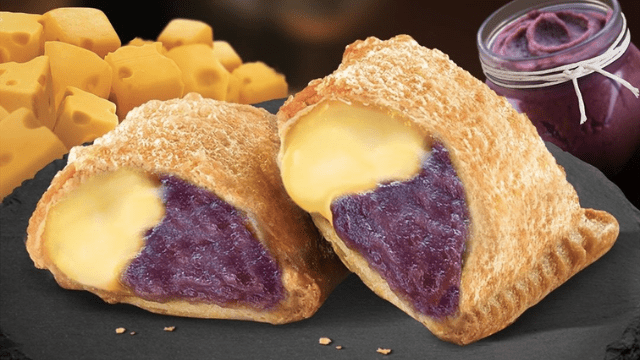 If you remember, Jolibee first announced their new Ube Cheese Pie last year, but the delicious pie eventually disappeared from their menu, leaving us wondering if it will make a comeback. 
After exactly a year since its launch, Jollibee brings back the famous Ube Cheese Pie on the menu. Nothing changed. It's the same sweet ube, the same salty cheese you'll find encased in the golden pie crust.
"When we saw just how much of a hit the Ube Cheese Pie was among our customers, we knew we had to bring it back. We're looking forward to seeing people enjoy one of their favorite Jollibee items, and having even more fans discover the goodness of this sweet and cheesy pie," said Bea Bediones, Brand Manager for Pies. 
Unfortunately, the Ube Cheese Pie is not available in the bigger-sized version that the Peach Mango Pie is available in. For now, the regular size will have to do but we do have our fingers crossed that it happens in the near future!
The Jollibee Ube Cheese Pie is available starting today, July 1, in all Jollibee stores nationwide. It is priced at P35 each, P100/3 Pies To-Go, and P199/6 Pies To-Go. You can also have it delivered via the Jollibee Delivery app or call #87000, so it can be delivered to your doorstep.
******