Experience food and history in one delicious package at Atching Lillian Borromeo's Kusinang Matua.
"Gusto mo bang kape?" Atching Lillian Borromeo asked her holdaper.
She was already at the gate of her home and kitchen restaurant when a man had poked her side with a gun, telling her to give her phone up. Atching (which by the way means ate or big sister in Chinese), shocked, continued opening the door, told the holdaper her phone was in her house, invited him in, and absentmindedly asked if he wanted coffee.
"Sige," the holdaper replied, perhaps just as absentminded as Atching.
Atching was afraid, but somehow, being in the kitchen made her forget what she was afraid about: including that there was an armed thief in her house. As Atching had originally intended to do, she turned on the boiler for coffee and proceeded to make breakfast. "Gusto mo na rin bang almusal?" The thief couldn't say no.
Atching's husband and her daughter came down from the second story of their home, noticed something was off but didn't do anything about it. The whole ordeal passed, everyone eating together. By the end of the meal, her family already out of sight, she had completely forgotten why her "bisita", her visitor—the thief—had come.
"Ah, yung cellphone, po," the thief reminded her. When Atching surrendered her phone, he said, "Wala nang mas maganda dito?"
Atching escaped the clutches of death unharmed. Sure, she lost her phone, but at least the thief had given back her sim card full of important names.
Atching Lillian Borromeo, The Guardian Of Kapampangan Cooking
If you know Atching though, as funny as the story is, it doesn't really come as a surprise. This "angel without wings" gives everything away. Two groups have dubbed her as "The Guardian Angel of Kapampangan Cooking"; the Office of the Governor and Holy Angels. It was the culmination of studying locally and all over the world, but coming home to specialize in Kapampangan cooking which she now shares in books, demos, and universities.
When we think of the word "guardian," we think of someone resolutely guarding something or someone precious. Maybe we even think about angels with swords, or guards by the gate, keeping trespassers away. Atching is nothing like that though because she understands that in order to keep Kapampangan cooking alive, it's not about keeping it in, making it exclusive, but rather giving it away, passing it on.
Atching Teaches Us How To Make Kapampangan Sisig
It's in this spirit that Atching teaches us, outsiders, how to make sisig. Of the many different dishes the Kapampangans are known for, their most prized dish is actually the humble sisig which has been in their culture since the 17th century when the Kapampangan word "sisig" came to be.
To make sisig, first, you boil the pig head. You then cool it and chop it up into bits and pieces. Make sure it's dry and then fry it to chicharon-like crispiness. Those strips of crispy pork are then chopped up into bits and pieces. You then add in your minced onions, pepper, soy sauce, and most importantly, the dayap.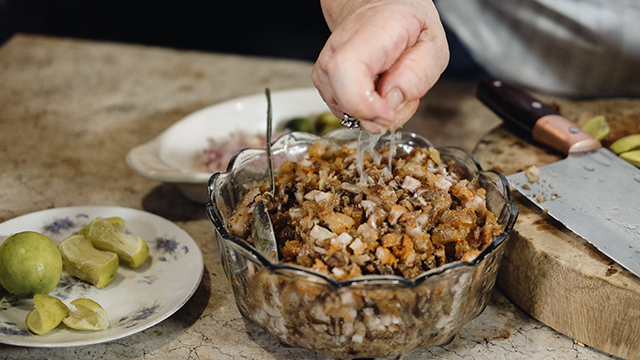 The most important ingredient in Atching's sisig is not the crispy fried pork cut into cubes. After all, the first sisig in history actually referred to a way of preparing fruits such as papaya and not pork. The most crucial element in Atching's sisig, the essence of sisig she chooses to faithfully preserve, is the dayap, or lime, grown from her own yard.
ADVERTISEMENT - CONTINUE READING BELOW
Recommended Videos
Kampampangan Cooking Tip #1: Get your flavor right with fresh ingredients
"Sisig" means "to eat sour" which explains why the Kapampangans have been strict about their sisig being sour and to keep other ingredients that counteract that acidity away. Kapampangans frown upon sisig with egg or mayonnaise. For Atching, she doesn't even like adding the butter that makes sizzling sisig sizzle.
The original pork sisig, "yung antigo namin," Atching says is actually just chopped-up pork marinated in vinegar and soy sauce, then spiced up. "But as time went on, nag-eevolve lahat. May nagawa na yung merong inihaw, meron namang pinirito. Si Gene Gonzalez, meron siyang sisig after the fiesta. Kasi after the fiesta, meron kang lechon." What did remain the same, even with the different ways sisig has been made, is that sisig is always supposed to be sour.
This is the core reason perhaps why the Kapampangans are so good at cooking: they take special care of flavor. They repeatedly taste and taste their food and season with spices from their very own backyard. While most of us have stuck to plain vinegar, compromised with lemon, or only have calamansi at most, the Kapampangans, apart from dayap, also have dalanghita, kamias, and balimbing. When they use fresh fruits to sour their dishes, it doesn't just give a one-dimensional flavor as vinegar would, but also fruity notes, "matamis-tamis, maasim-asim."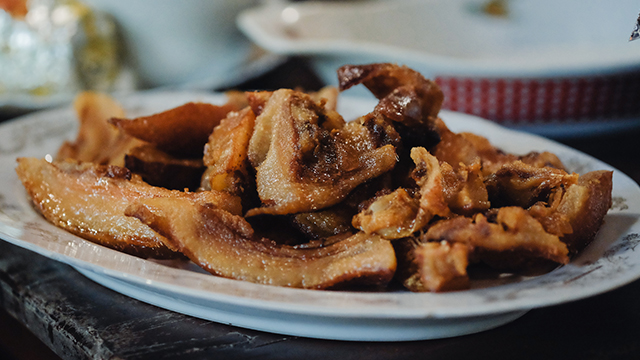 "Para talagang art," Atching describes the process of getting flavors right with the freshest ingredient. With every ingredient added in, she has to think well of how it will all blend together.
The Rise of The Guardian of Kapampangan Cooking
At 76 years old, Atching retains her sharpness thanks to the kitchen. She consults for Vikings twice a week for their Kapampangan food section. She also goes around teaching Kapampangan cooking to young people and continues to research Kapampangan heritage recipes through her group Kusinero't Kusinera. She oversees Kusinang Matua, meaning Old Kitchen, which offers authentic Kapampangan buffets by reservation. But most importantly, she cooks for her grandkids and her family.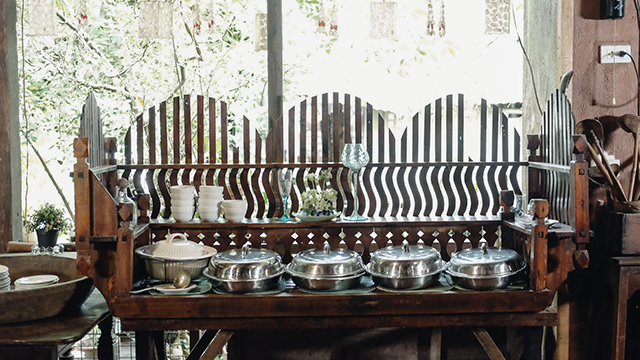 It's hard to imagine that Atching almost didn't become the cook that she is now, settled in Kusinang Matua, among the 200-year old clay pots, stone grinders, banggeras, wooden cookie molds, coconut husk scoops, and other preserved relics of the past. Atching's stories, in her warm, welcoming voice are part of the museum-like restaurant. There, as she lives in her heritage home and continues to welcome people into her kitchen, the old is new, history is alive and breathing. There, history isn't words on a page, but the spicy, fresh crunchy mustasa leaf, the tangy creamy buro, the nutritious, herby Bonifacio leaves, the Bobotung Asan's crunchy julienned veggies over delicious fresh fish, and the comforting suam soup.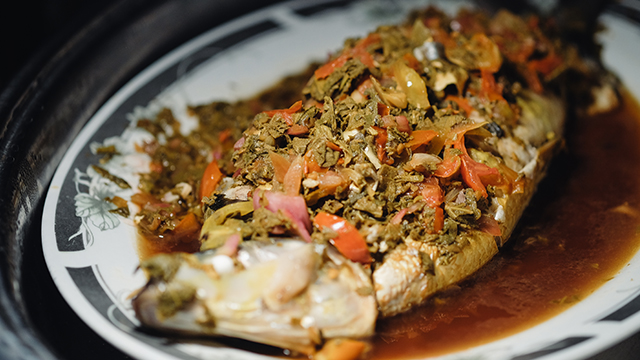 When she was in college, she originally wanted to follow her father's footsteps as a doctor. It was her grandmother, Impo, who insisted she take Home Economics. So, she followed her grandmother and attended a university in Manila. There, however, out of Mexico, Pampanga, she discovered something that would alter her course in life, give her the resolution about her calling as a cook that would bring her to where she is now. She learned that Mexico, her hometown, was widely known for killings. Whenever she mentioned where she came from, she was immediately associated with that violent reputation.
"Ayoko ng ganon!" she said to her mother.
"Mahirap yan," her mother didn't mince words. Her mother said it would take a lot of motivation for her to do something with herself to affect people to that point of changing their perception. She didn't say it was impossible though. So, she poured herself into her study, began researching and learning earnestly about Kapampangan cooking.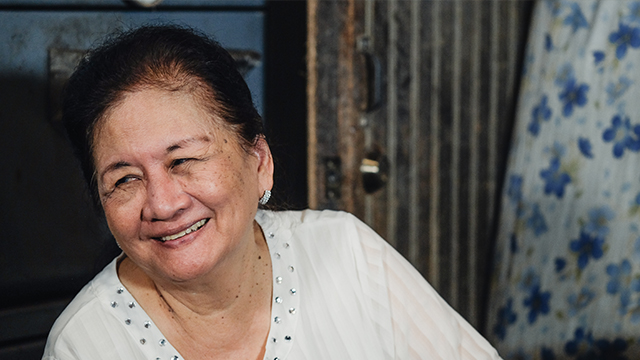 Today, when you say you're from Mexico, Pampanga, they say: "Ang galing-galing mo magluto."
Kapampangan cuisine has come such a long way. Even the government of Pampanga knows this as they're building a Culinarium to preserve their history. Kapampangan cooking's reputation stretches beyond our shores, as even the late, great Anthony Bourdain had visited this place.
During our visit, a couple of visitors from distant places popped by at Kusinang Matua, looking to have a taste of Atching's cooking. Since they weren't able to reserve dinner, they asked if they could at least buy her famous Panecillos de San Nicolas.
Atching Teaches Us How To Make Panecillos San Nicolas
Panecillos San Nicolas translated is "the small bread of Saint Nicolas." Saint Nicolas is the patron saint of bakers, of the sick, of children, of the souls in purgatory, and of calamity. These white, intricate, 16th-century cookies are reminiscent of the more readily available uraro cookies but less powdery, and more melt-in-your-mouth. When dropped from a short height, the cookie needs to shatter or break. Otherwise, something went wrong.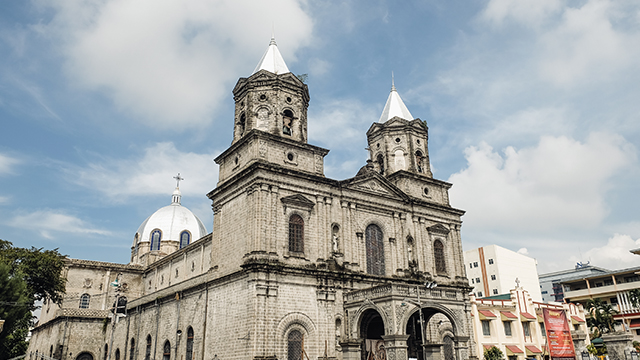 Originally, these cookies were taught to the female cooks by nuns to alleviate Angeles, Pampanga's growing egg-yolk problem. The construction of the big church meant millions and millions of egg whites being used as cement, which left them a surplus of egg yolks. These egg yolks were buried in a barangay now called "Masangsang", named after the rotten smell that rose from those yolks.
These cookies began a trend though, that made it more than just a solution to a problem, but a blessing. The locals began to make their cookies even more beautiful than the Spaniard's with their own, custom, wooden molds. For the Spanish molds, all you had to do was press the dough in and that was good to go. For the Kapampangans, they came up with the "middle up, middle down" method of rolling dough into the molds, which allowed for more detailed designs.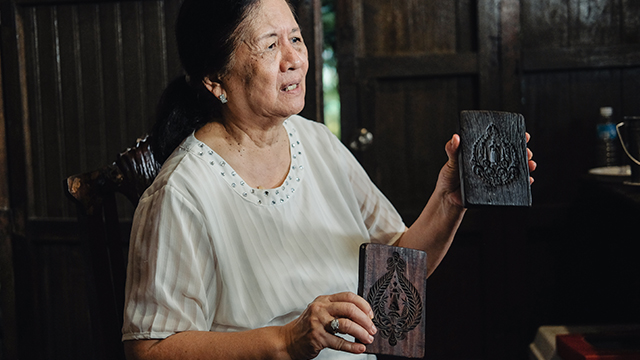 The designs weren't just pretty for pretty's sake, as well. They also told stories about the town and the family they were used by. Atching's inherited mold made by her own grandfather has fish scales in its design because they owned fishponds. In Mexico, they have leaf-shaped to represent their ancestor's livelihood: farming.
Kapampangan Cooking Tip #2: Learn how to tansya
Making these historic, ornate cookies is a two-step process. The first part, all you have to do is mix your ingredients precisely. The second part is all about "tansya."
"Kasi ang San Nicolas, it's more of by feel. Pakiramdaman mo kung anong lambot niya. May mga technique na ganun na wala naman sa measure-measure. Parang it's more of tansya-tansya method."
Basically, she would roll her dough in a flour mixture until the dough stops being sticky, and her fingers come off clean of the dough. She has to stop exactly when that happens so she doesn't overwork the dough.
When we think of tansya, we think of guesswork and intuition, but there's a lot of thought, reasoning, and even training behind it. Growing up, under the guidance of her grandmother, Atching learned how to tansya. She would pinch or cup flour and her grandmother could tell if she was able to gather the right amount. If she'd wrongly estimated, she'd get a light slap on the hand.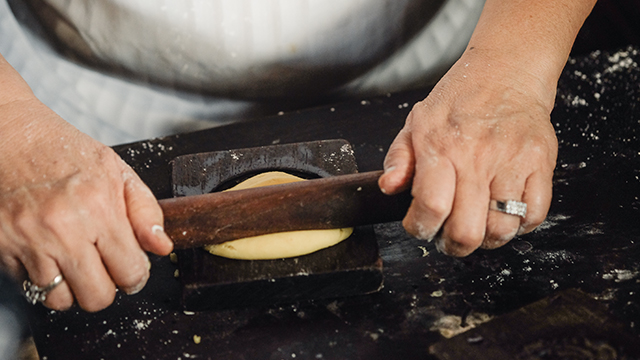 This method of cooking, using your fingers, your palms, to measure your ingredients, and to come up with the right amounts by the use of your senses, is what really gives Atching the bravery to give away her recipes. She's not threatened by people attempting to remake her classics, because she knows it won't be an exact duplicate. Her fingers, her senses, her ability, are all her own.
Atching Teaches Us How To Make Kapampangan Morcon
The tansya-tansya method also finds its way into making her Kapampangan Morcon. It's the same morcon that's served at Vikings, Pampanga. Unlike the morcon we know in the metro, this isn't marinated slab of meat rolled and stuffed. Instead, the Kapampangan morcon is similar to our embutido, both made from seasoned ground meat. Meanwhile, their embutido is actually our Morcon.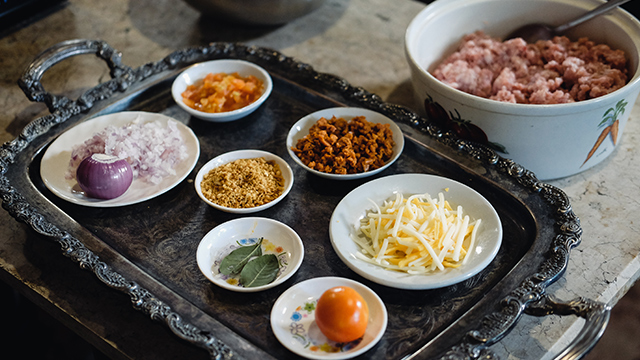 As Atching demos how to make Kapampangan Morcon, with her tray of prepared ingredients, spices in small mounds on little plates, she uses her fingers to sprinkle them over the meat. She doesn't use all of the spices on the plate, just uses enough. She mixes in ten egg yolks into her 1 ½ kilos of pork then starts adding her other ingredients: chopped up medium-sized tomato, onion, a tablespoon of toasted garlic, a tablespoon of salt, pepper, and shredded queso de bola. Back in the day, they used "ampelya," which is a thin skin of pork, to wrap and shape their morcon. Nowadays though, to make it easier, using foil would do.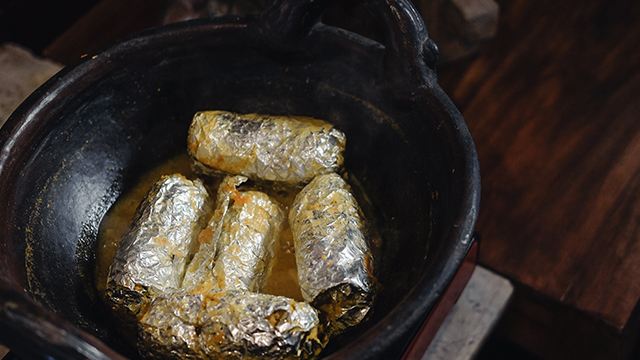 Kapampangan Cooking Tip #3: Your food deserves your time
It's then cooked in a casserole with enough water and the rest of the spices plus a fresh bay leaf. After an hour, the foil is punctured with a fork to let the broth in. The sauce is then reduced until it's thickened, which takes about four hours. Once that's ready, you take out the morcon and let it cool. It needs to cool before it's sliced. For the thickened broth left in the casserole, it then needs to be seasoned with fresh dayap, soy sauce, and fish sauce until you get the perfect balance of salty, sweet, and sour. "Yung makaka-smile ka kasi masarap." Smile we did as we tasted the delicious, tender embutido with the generous sauce.
We like to fantasize that knowing the recipe, exactly how it was made, that we'd make it at home: but cooking for more than four hours plus chilling time is no joke. Time doesn't come generously to most of us, but it does to Atching. Time is etched in her home, in every relic that boasts of centuries-worth of history. Time has been kind to Atching, simmering her to perfection, bringing together her knowledge, her passion, her history, her community altogether. Time is what Atching freely gives to make sure that her own legacy, and that of her ancestors live on.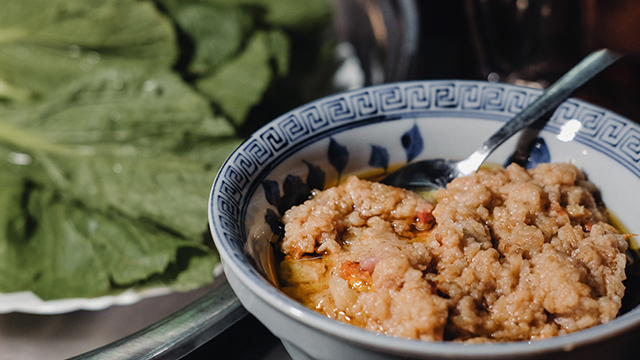 Time: it's what made Atching what she is today. Very early on she had a head start, born into a culture that prized its food culture most of all. When she was young, instead of toys to play with, she was given a spoon and a leaf to play lutu-lutuan. "Pu-puk-pok yung kusinera, pu-puk-pok din ako." From the get-go, she was given the knowledge she craved. Every question asked about cooking, she got her answers.
They even made her a small nipa hut, a bahay kubo, they called "kurang-kurang" that was fully equipped with kitchen tools. Every Saturday, her classmates, her brothers, and her cousins, would all play "lutu-lutuan" in that small kitchen house.
It's these precious memories, the sacred knowledge shared to her, that she wants to preserve. Just as her questions were answered when she was young, she wants to keep answering our questions. "Ang sa akin, ang gusto ko, sa aking edad na ito ang gusto ko kung ano yung tinuro sa atin, kung ano yung sa atin, mananatiling nandiyan."
For Atching Lillian Borromeo, the guardian of Kapampangan cuisine, giving it away is how you keep a culture, a recipe, a cuisine, well and alive. Giving it away is a privilege she has.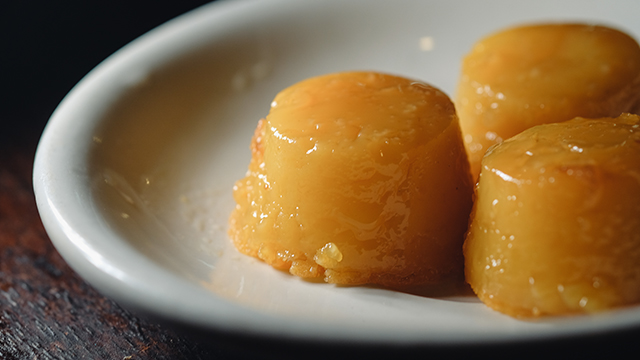 A friend had asked her why she'd give away something she'd worked so hard for and her answer: "Eh siyempre di ba, binigay sa 'yo ng God, eh di ibigay mo, share mo."
Do you want a delicious taste of Kampangan food history as well? You can reserve a meal for a minimum of ten people for P 700/ head. You may reach them at (045) 966-0211
Kusinang Matua ni Atching Lillian Borromeo is located at 2021, 174 Jose Abad Santos Avenue, Mexico, Pampanga.
ALSO READ: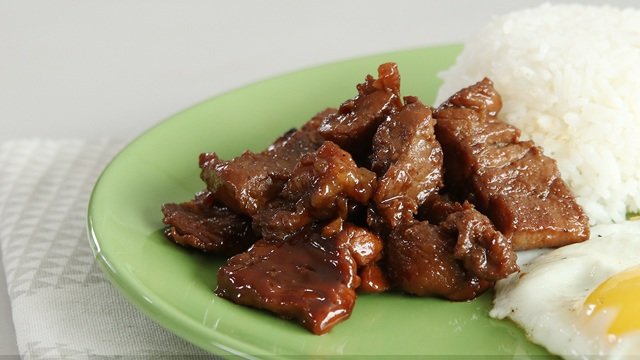 Try Out This Kapampangan Mom's Meal Plan!
Posted in:
Cooking