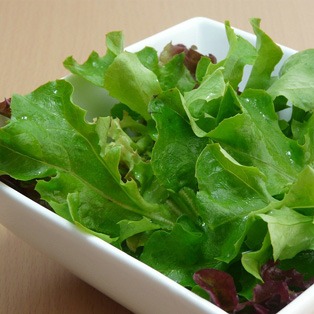 .
There are other varieties to throw into your salad, so the next time you're at the supermarket or even the wet market, keep an eye out for these:

                                          LEFT to RIGHT: Romaine, lollo rosso, iceberg, and green ice
Romaine
Romaine lettuce grows upright and is the lettuce usually used for the Caesar salad. Compared to other lettuce classifications, romaines stand up to cooking better. It's got a slightly nutty flavor. Pick the darkest green leaves to get the most nutrients.
Lollo rosso
Like green ice, lollo rosso is also a variety of leaf lettuce and has similarly ruffled edges. The difference? Lollo rosso's leaves are predominantly purple or reddish. Mix it with green ice in your salads to add some lovely color, like in this Ensaladang Prutas at Lato.
Iceberg
Iceberg lettuce comes in the form of a tight head (aptly, it's a type of crisphead lettuce) of typically pale green leaves. Iceberg lettuce is rather crispy—try wrapping the leaves around some ground Peking duck or using them in lieu of a lumpia wrapper, like in Tea-smoked Chicken in Lettuce Cups.
Green ice
A leaf lettuce (as opposed to a head), green ice lettuce has curly leaves and comes in a vibrant green color. It's excellent when used for salads.

ALSO READ: Cheat Sheet to Buying the Freshest Veggies
Photography by Ocs Alvarez and from Pixabay.com

ADVERTISEMENT - CONTINUE READING BELOW
Recommended Videos