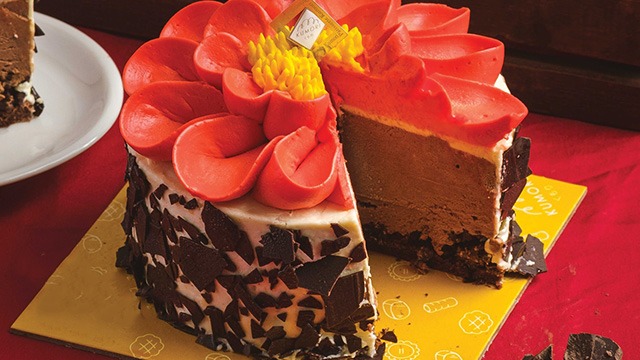 What's Valentine's Day without cake? If you simply cannot resist chocolate cakes or cheesecakes, Kumori released two cakes for Valentine's Day: check out the Choco Bloom Cake and the  Valentine's Day edition of their Light Double Cheesecake.
https://www.instagram.com/p/B8Sqg3TgM77/
Kumori's Choco Bloom Cake is made with a moist chocolate sponge base, followed by chocolate-coated crunchies, while the sides of the cake are embellished with chocolate shards, and then it's topped with a gorgeous flower-shaped mousse topping.
https://www.instagram.com/p/B8agHoRgTFZ/
For cheesecake fans, Kumori's famous Light Double Cheesecake gets a makeover for Valentine's Day. Kumori's cheesecake is made with a decadent and indulgent cheesecake with a buttery crust base and coated with cake crumbs, but for Valentine's, they made it extra special by placing intricate heart designs on top. The regular Light Double Cheesecake is available all year round but this Valentine's Day Light Double Cheesecake will only be available until the end of the month. Why not try both? 
ADVERTISEMENT - CONTINUE READING BELOW
Recommended Videos
Kumori's Choco Bloom Cake (P575) and Light Double Cheesecake are both available for the month of February 2020 only. For more information, follow Kumori on Facebook and Instagram.