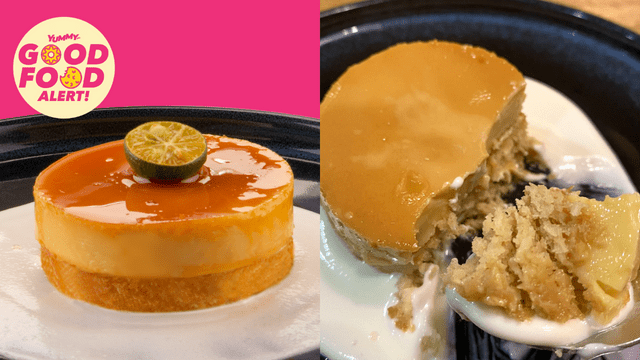 Kuya J has chosen to collaborate with Chef Gino Gonzales, a renowned chef and culinary consultant. One of the many achievements he's known for is founding the San Juan institution Cafe Ysabel. This collaboration's goal is to add delicious, unique, and affordable dishes to the menu, and Kuya J and Chef Gino did an exemplary job in doing so. Out of the nine new dishes, one of the desserts takes the spotlight in this week's Good Food Alert: the Lecheroon.
Kuya J's new Lecheroon has four components: the vanilla cream, the macaroon, the leche flan, and calamansi. To fully enjoy this dessert, it's important you have a bit of everything in one bite so you can appreciate how the textures and flavors all fit together like pieces of a puzzle.
The housemade macaroon is compact and has a crunchiness to it because of the shredded coconut, the silky leche flan on top of is what makes the dessert sweet, the vanilla sauce which surrounds the Lecheroon like a puddle is what provides the creaminess and moisture, and the squeeze of calamansi on the leche flan brings out the flavors.
It's not overwhelming in any way. This dessert strikes a harmonious balance of sweet, nutty, and tinge of citrusy; crunchy, silky, and creamy all in one beautifully-plated dessert. You can easily wipe the entire plate clean as it's a light dessert and the serving proportions are petite.
What to pair the Lecheroon with? Since this is dessert, the meals you can have beforehand are the new dishes that Kuya J launched together with the Lecheroon. We highly (highly!) recommend the Tamarind Squid (P399) which has big slices of squid coated in sweet and sour flavors, the Pinandan na Manok (P289) which wraps juicy, flavorful, and fragrant chicken in pandan leaves; and the Crispy Tadyang ng Baka (P699). This dish stars slow-cooked beef ribs that are then deep-fried with a savory coating to give it flavor and an audible crunch.
The other dishes and desserts launched are the Spicy Hipon sa Aligue (P489), Pataron (P489), Patis Chicken Skin (P199), Coco Ginumis (P199), and Banana Turon con Leche (P219).
*****
ADVERTISEMENT - CONTINUE READING BELOW
Recommended Videos