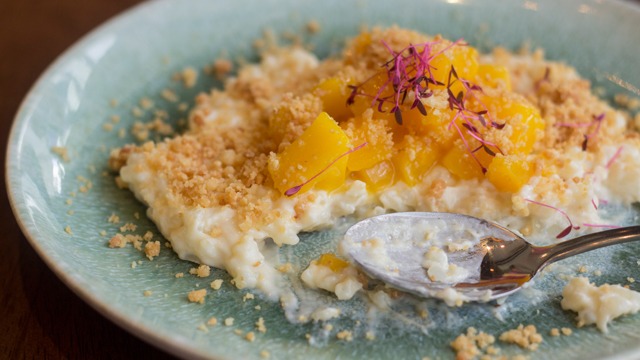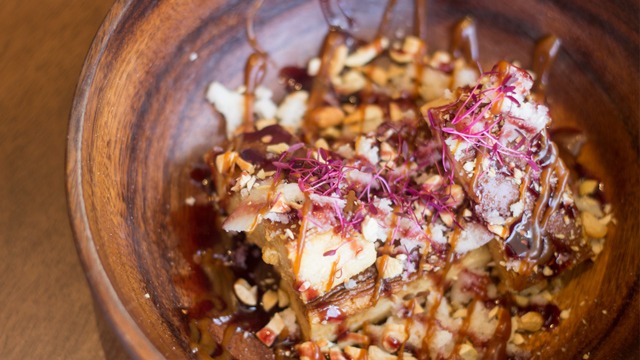 La Picara's playful origin breeds playfully delicious food.
The first time Isabel Calvo heard of puto, the Filipino rice cake, she went wild with laughter. In her native tongue, Spanish, puto is a bad word that rhymes with duck. Fast forward years later, and she's developed a perfectly on-brand dessert for her new restaurant La Picara: the Puto Flan De Quezo (P380). The flan, a fusion of cheesecake and our caramelly custard leche flan, is supremely smooth and extremely rich. The sweet, creaminess, is brought to life by the slight tang of cheesiness and then topped with mellow, sweet, bits of syrup-drenched puto. It's quintessential to the restaurant: a classic given witty, cheeky twists that make it more delicious.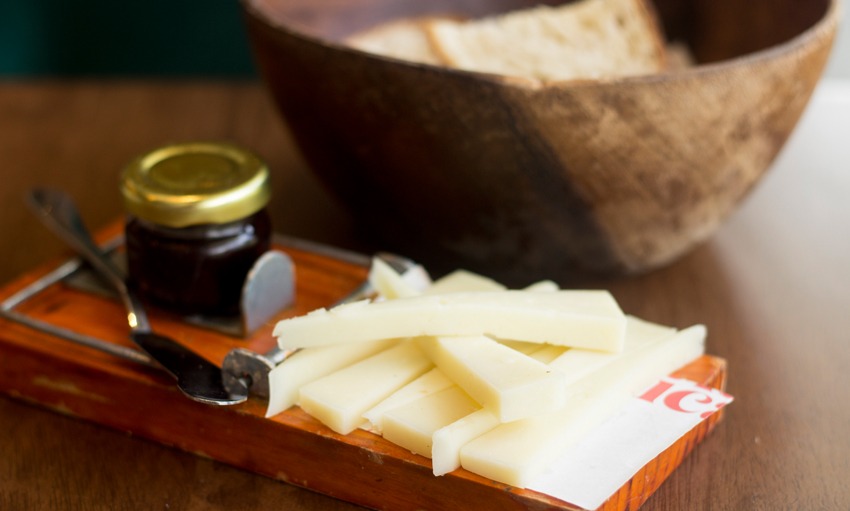 "La Picara" directly translated is "the naughty or mischievous or sassy girl." A word you might understand that is most similar to it is the Filipino-Spanish word "pilyo" often used to describe a family's most headstrong, playful, child that gets the most scolding. It's also not entirely negative as it also means that the kid is boisterous, fun, and playful, because of her zest for life. It's an attitude that's found itself infused into every inch of this new BGC haunt.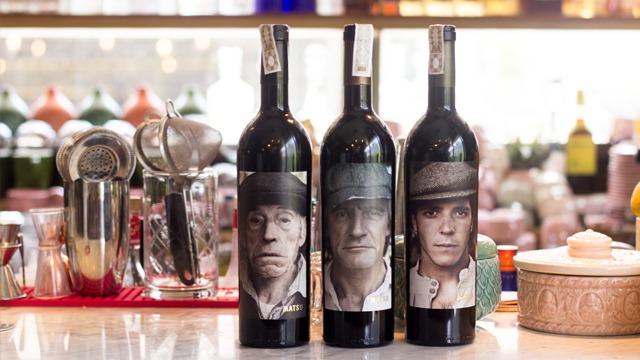 Sitting on the fourth-floor terrace of One Bonifacio High Street Mall, the restaurant has the perfect view of the sun setting amid city skyscrapers. As pretty as BGC is though, you'll most likely spend more time admiring La Picara's beautiful interiors thanks to Felipe Diaz De Miranda. There are beautiful details everywhere: its floor to ceiling glass walls and abundant indoor and outdoor plants, the mirror-lined bar, the deep emerald green suede chairs, the quirky and pretty plates, cleverly-branded wine bottles—every head turn yields something fun and interesting.
The ambiance sets your expectations from the get-go: the food has to be just as good.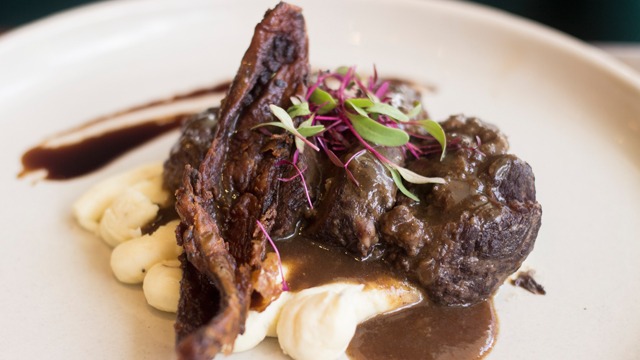 It's not just good, it's surprising. We got to taste their Beef Cheeks (P680), which is slow cooked in red wine, yielding a mellow, incredibly tender, and comforting stew—but that wasn't all to it. Isabel tells the story of how it came to be. She'd invited friends over and she was fussing about it, how she loved it, but how there was nothing witty on it. "I need to make it witty!" she insists. She wanted a twist or maybe a Filipino touch.
A friend then inspires her: "you're always talking about how amazing the bananas in the Philippines are."
The show stopper to this scrumptious stew is actually saba flesh macerated into the potatoes and the saba skin marinated in togarashi, a pimiento-like Japanese spice that lends it a tangy, sweet, and spicy flavor. Then, the skin is boiled until tender, then given a fast fry to achieve that incredible crisp. The saba matched with the soft beef cheeks creates a delicate, delicious balance.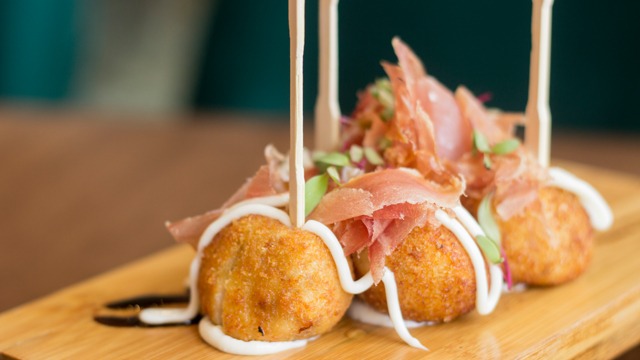 Delicious, authentic, croquetas started it all.
Out of everything in their menu though, what you should not, could not, must not miss are their croquetas (P 340). They currently offer three delicious flavors you can choose from, (kimchi croquetas, adobo croquetas, and croqueyaki) but with all of them you get the same delicious, crunchy crust that gives way to the burst-in-your-mouth creamy potato and béchamel base.
ADVERTISEMENT - CONTINUE READING BELOW
Recommended Videos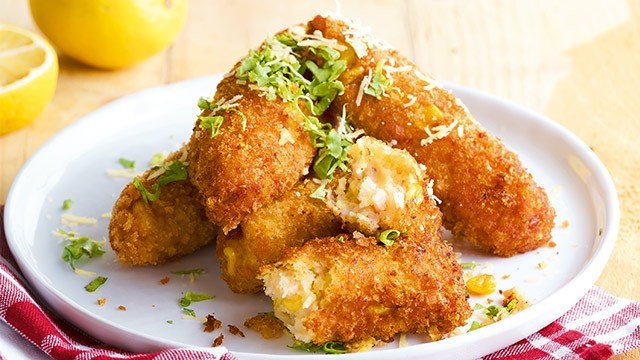 Ham and Corn Croquettes Recipe
Posted in:
Recipe
The Kimchi Croquetas use kimchi spices for gentle heat and slight tang that complement the fresh slice of salmon sashimi atop it. We especially loved the croqueyaki, though. The jamon filling gave it that flavorful bite and the bonito flakes and Japanese mayo topping amped up the umami.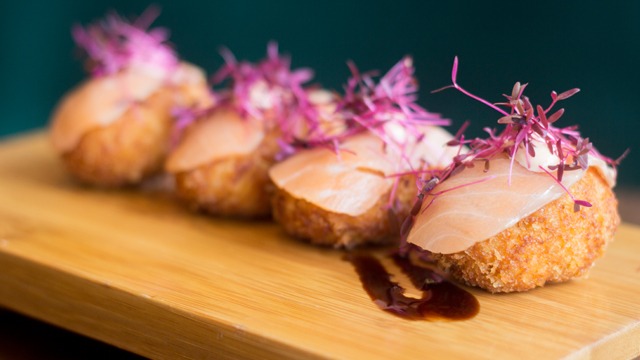 It's actually all thanks to croquetas that La Picara even began. Four years ago, Isabel moved to the Philippines as a Spanish teacher for Instituto de Cervantes and De La Salle University. She used to invite her friends over and cook up sushi croquetas—a take on a recipe she learned from her mother. They were so taken by her dishes that she was encouraged to sell them at the Legazpi Market. When she was asked if she was catering, she pounced on the opportunity. Three years in the making, she's finally living her dream with her own restaurant.
"This is funny…" Isabel notes about the croqueta. Historically, croquetas were made by the poor using their sobras or leftovers and combining that with what was cheap in the day: flour and milk. "Now, its fine dining."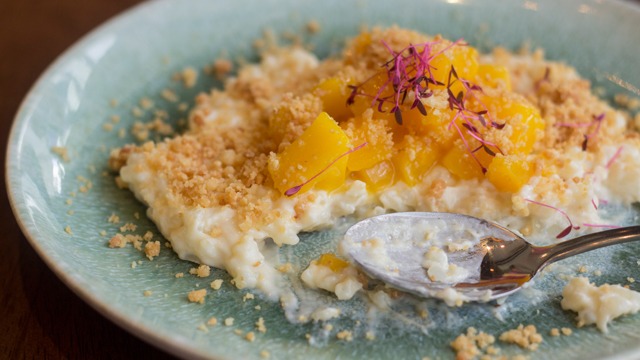 What makes it so good? Time. Isabel remarks that you can make croquetas in twenty minutes but it's not going to be as good. At La Picara, they take their time so it's always "perfect." You mustn't be fooled by the playful interiors and the cheeky dishes at La Picara that put you at ease, behind that is hard work to get it consistently good every time. On Isabel's creatively-designed calling card, under her name, in small, unassuming font, says: "the boss."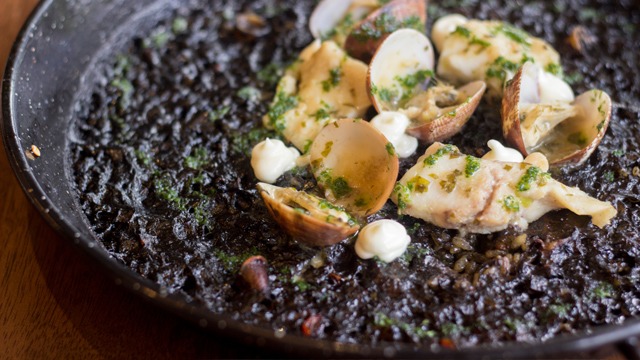 "Felipe and I spend hours and hours and hours here taking care of the customers, taking care of the food, making sure the food is good."
"The boss," as we eat our delicious lunch, we see is fluttering about the whole restaurant. She's getting extra dishes out, chatting up customers, whispering to her servers, and sneaking into the kitchen just to see that everything is just right. Isabel may have been the "picara" in her family, and she still is in a way—with her playful perspective on food and her joie de vivre as she takes on challenges—but she rightfully declares, "I'm also the most responsible one." And we feel it, too, as Isabel and her team of servers make sure that customers feel well-taken care of.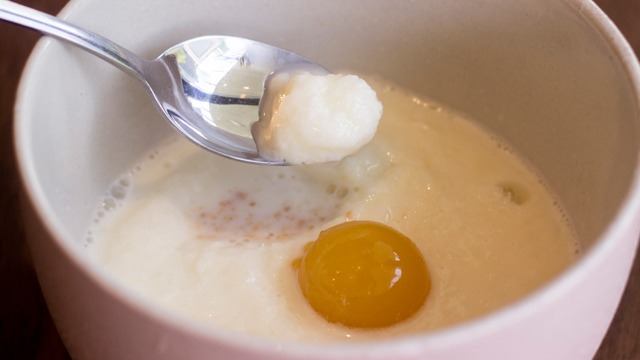 Getting La Picara up and running was one of the hardest challenges she's ever conquered. When she began selling her croquetas at Legazpi Market, she didn't even know how to write a business plan and was frightened with the idea of papers and permits. The work is returning investment though, as Isabel describes that even on Mondays they're fully booked. They'd get reservations as late as 11 p.m.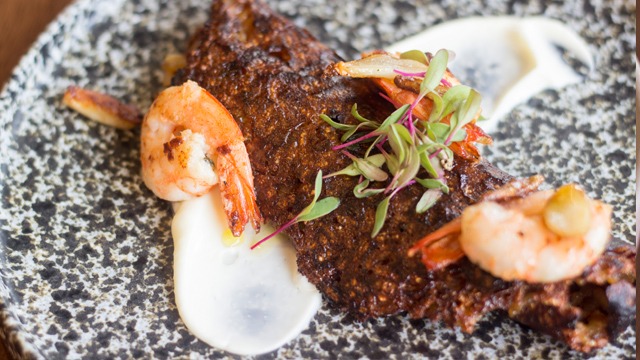 All that hard work shows, and we all get to reap the benefits. A great example of this is their Socarrat Roll (P360), the "tutong" part of the paella rolled and topped with gambas al ajilo. Just as the menu describes it, it's, "the best part of the paella." This dish took a lot to develop, figuring out how they could produce it quickly and perfectly in the restaurant kitchen.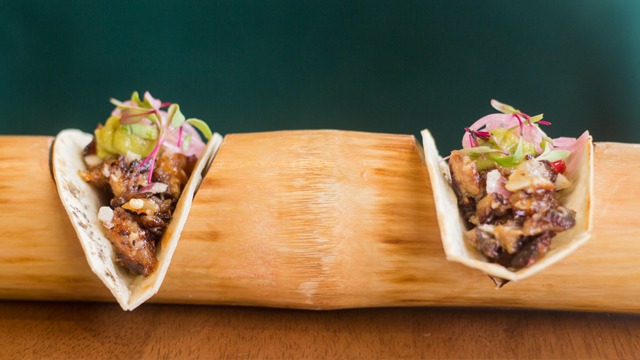 Another dish you shouldn't miss is their bestseller: Sisig Pibil Tacos (P340). Inspired by the Spanish Cochinita Pibil, this dish uses a soft taco that perfectly cups the rich, creamy, charred sisig finished generously with a squeeze of lemon. This dish, like most of the menu, showcases the best of both of Isabel's worlds.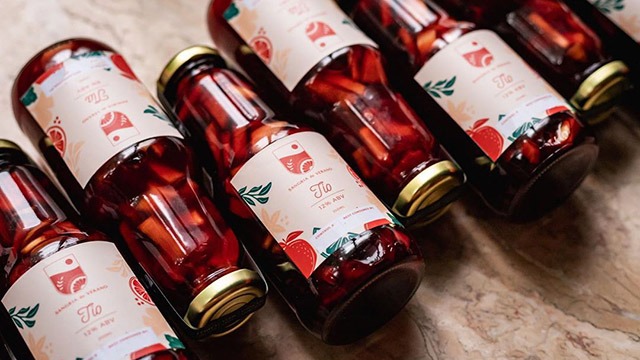 There's something unmistakably delicious in every dish we tried in La Picara and we suspect it's more than just the food. Everything from the restaurant vibe, to every note of flavor that erupts on your palate, everything sparks joy. In the same breath that Isabel confesses that she suffered when she wasn't in the kitchen, anxious, wanting to see for herself how smoothly everything is going, she also delights that, "every time I enter the door, I'm happy as a clown."
ALSO READ: