Summer is the perfect time to plan your out-of-town trips, specifically beach trips. While international trips are fun, being in a tropical country during the summer has more than 7,000 beautiful advantages: Boracay, Cebu, Bohol, Siargao, and Palawan. Need we say more?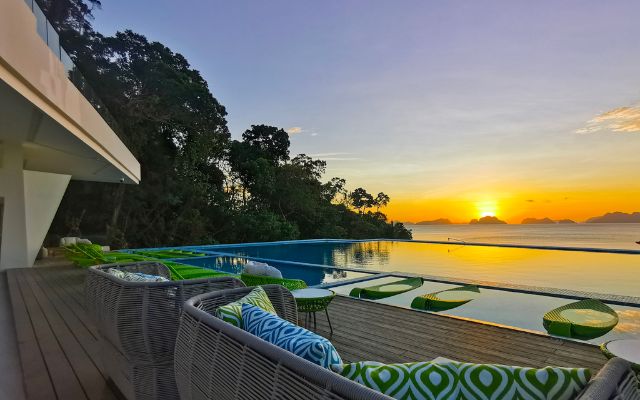 We do. If you're going to El Nido in Palawan, AirSwift flies directly from Manila to El Nido and vice versa so you don't have to waste precious vacation time transporting yourself from the Puerto Princesa or Coron airports to El Nido. Once you've landed at the Lio Airport, a 15-to-20-minute airport transfer will drop you off at Lime Resort El Nido, a luxury hotel with a gorgeous view of the gradient sunset against the silhouette of the limestone cliffs.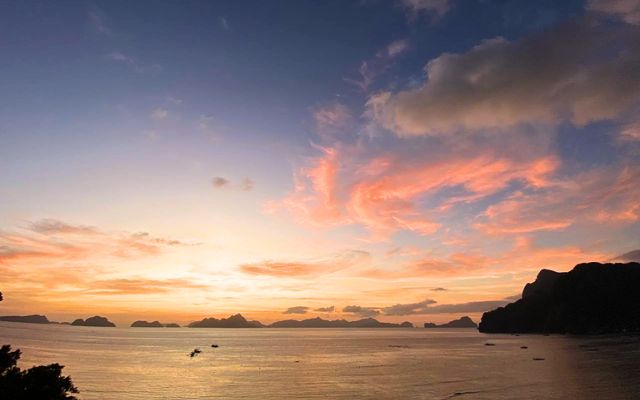 After a day of soaking up the sun and island hopping, you don't have to go outside of your hotel for good food because Lime Resort El Nido has an ongoing Celebrity Chef Series featuring none other than one of the most famous chefs in the country: Chef Sau Del Rosario of Cafe Fleur. The series he's helming is called Arkipelago: Featuring Food From Luzon, Visayas, and Mindanao, highlighting the different dishes the three major islands of the country are known for.
Lime Resort El Nido collaborates with Chef Sau Del Rosaro for Akipelago: Featuring Food From Luzon, Visayas, and Mindanao
What's on the menu? Well, get ready to stuff yourselves with mouthwatering dishes like the Kinilaw na Tanigue (P350)—a personal favorite—because of the fresh seafood and the tang fighting head to head with the chilies; the Pinoy-Style Caesar Salad (P450) that gets its depth from the salted egg, smoked fish, and kesong puti; Prawn Lumpia Dumpling (P650) which highlights sweet prawn-filled dumplings dipped in a spicy bagoong, that pairs perfectly with the sweetness and nuttiness of the thick Suwam na Mais (P250).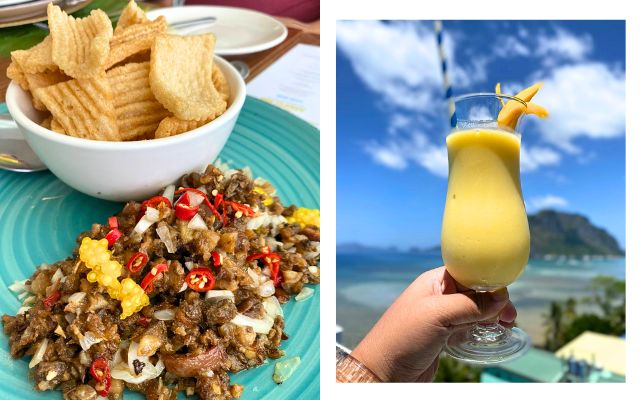 Chef Sau, for those who don't know, is a Kapampangan, and that alone should tell you to try his Sisig Pampanguena (P575) is a Lime Resort El Nido-essential. Chef Sau uses thrice-cooked pork cheek and pork belly that gives it this deeper flavor and slightly crunchy texture, accompanied by calamansi, chilies, and then a plate of fish crackers on the side. This is meant to be an appetizer, but in our honest opinion, this could very well be enjoyed as ulam too. Just order a side of rice and enjoy it with the resort's fruit shake!
ADVERTISEMENT - CONTINUE READING BELOW
Recommended Videos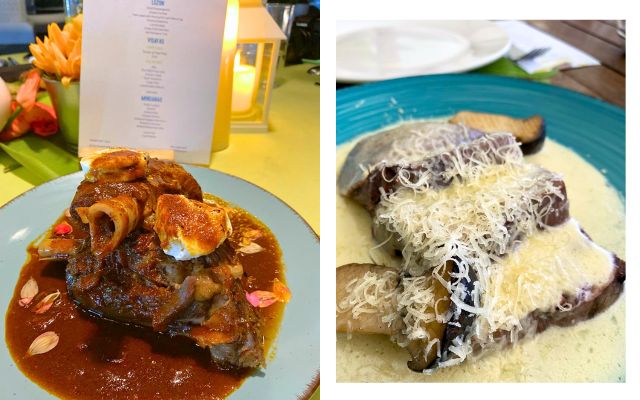 Another meaty entrée on the menu that we recommend is the Lamb Shank Caledereta with Goat Cheese (P1,650): a fall-off-the-bone lamb topped with a ball of goat cheese to contrast the spiciness of the caldereta sauce. Another fork-tender dish that you'll want to try during your stay at Lime Resort El Nido s the U.S. Lengua Pastel with Manchego and Truffle (P975) which has an overall light truffle taste that lets the meat be the star of the show.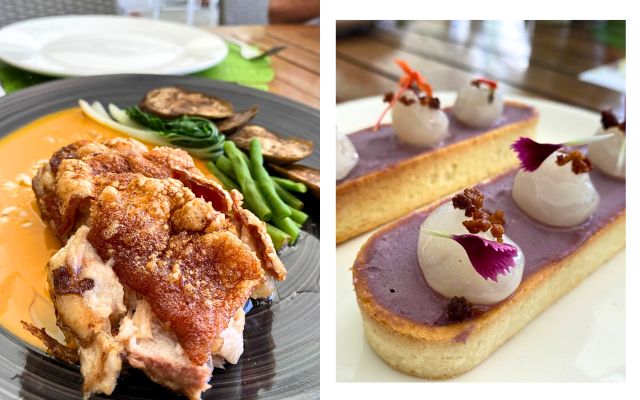 If you like the richness of crab sauce and peanut sauce, you can also go for the Pan-Seared Tanigue with Aligue Sauce (P650) and Crispy Pork Belly Macadamia Kare-Kare Sauce (P650). Then you can end the meal with something sweet like the Ube Halaya Pastillas (P250) that has creamy, thick ube halaya encased in a long tart, served with macapuno balls and latik on top.
Lime Resort El Nido X Chef Sau Also Has An Island Tour Menu
What's great about Lime Resort El Nido is that aside from the breakfast buffet, comfy and clean rooms, and A+ customer service, is that they can charter a private boat for island hopping. Plus, an Island Tour menu (P3,000/person) that has all the quintessential inihaw meats you'll surely crave post-swimming in the island's pristine blue water.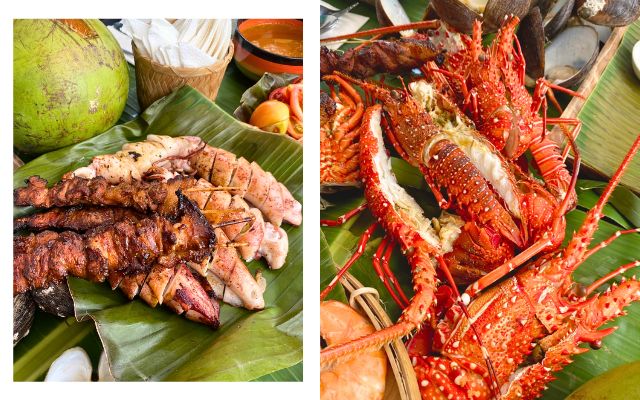 The island tour menu includes ensaladang talong with salted egg, seafood platter (shrimp and squid), gigantic lobsters in garlicky butter sauce, chicken inasal, pork barbecue, and crispy pata — which are all best eaten kamayan-style, with lots of rice and sawsawan. The menu includes buko juice and a selection of fresh fruits for dessert.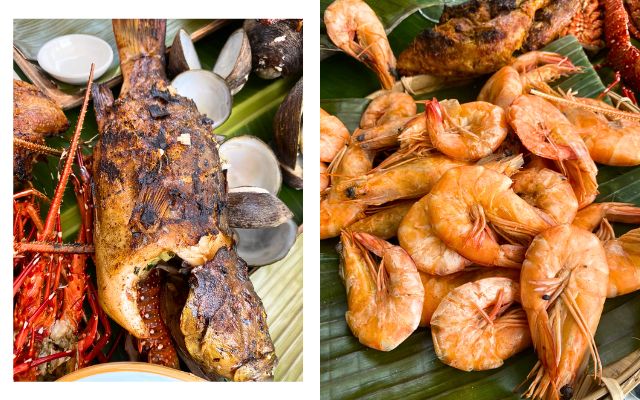 On your way back to the Lime Resort El Nido, after a day of swimming, picture taking, and gorging, you can lounge back at their infinity pool. A shake or cocktail on one hand, the other hand taking photos of the sunset. 
When you eventually, and unfortunately, get to the end of your El Nido vacation, be warned: There's this growing feeling of sepanx once you've boarded the plane. The feeling gets stronger and bigger once you've set foot in Manila—but don't worry as your next El Nido trip is a simple book away.
Lime Resort El Nido and Chef Sau's Arkipelago: Featuring Food From Luzon, Visayas, and Mindanao is available at Lime Resort El Nido until June 30, 2023.
Lime Resort El Nido is at Sitio Lugadia, Brgy, Barangay Corong Corong, El Nido, Palawan. For more information, check out Lime Resort El Nido's Facebook page.