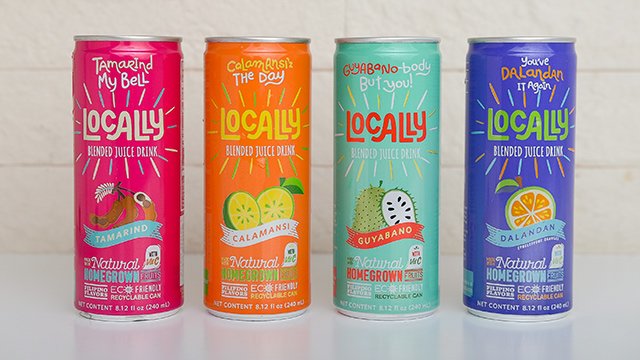 We love products that scream Pinoy pride! Grocery shopping becomes more and more exciting when we see new, fresh, good-quality, and delicious local items to patronize. This week's grocery finds are not only great taste-wise, but they also bring a refreshing look when it comes to branding and packaging. Meet: Locally's Pinoy-flavored fruit and buko juices.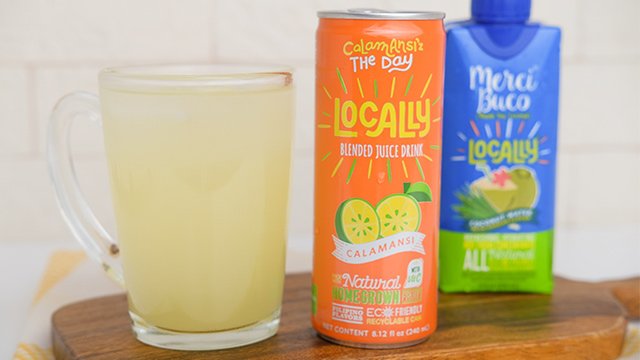 Locally's fruit juices come in several tropical flavors, specifically calamansi, dalandan, mangosteen, tamarind, kamias, pomelo, and guyabano—all of which are well-loved, celebrated flavors of local fruits in the Philippines. Even the more daring, underrated, and seasonal flavors are excellent, all of which show how our local produce has plenty to offer.
These fruit juices are easy to spot on grocery shelves. The vibrant colors and catchy, relevant taglines ("Guyabano-body but you!") on the tin cans and bottles will catch your eye when you pass through the refrigerated drinks aisles of Puregold, Rustan's, and South Supermarket branches. Our tip? Opt to purchase the drinks packaged in glass bottles so that you'll be able to reuse the bottles in the future.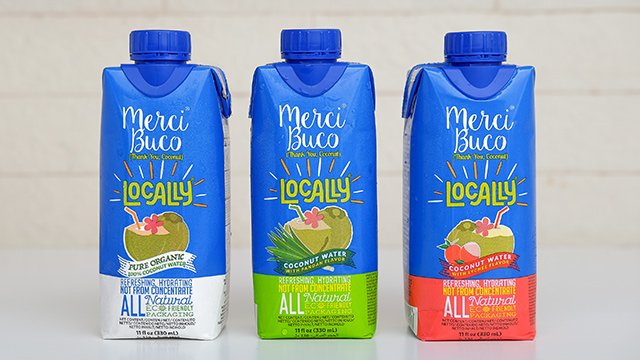 Locally also has a newly-launched line of buko juice available in the grocery. Labeled "Merci Buco"—witty, we know—these juices come in a few variants, too: one is plain buko water with no sweeteners, one is flavored with pandan, and one is flavored with lychee. They would be perfect for the hot summer that is fast-approaching, don't you think?
Locally fruit juices are available for P25 and Locally buko juices are available for P34.45 in Puregold, South Supermarket, and Rustan's branches.
ALSO READ: