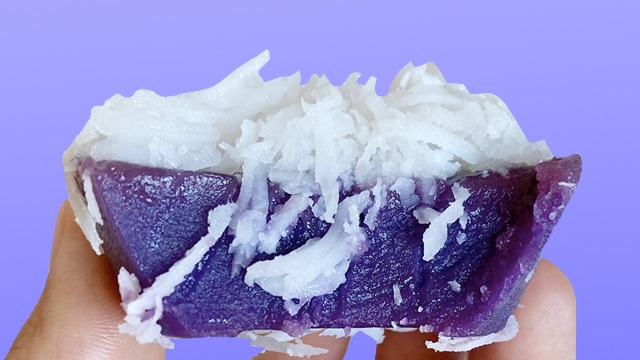 Diana Jacolbe-Jorgensen is an OFW currently living in Sweden who likes to cook Filipino homecooked meals on a daily basis. Her Instagram feed, @luto_ni_diana, showcases her mouthwatering, homey plated meals.
Like most cooks, she first learned how to cook all by herself. Her passion for cooking eventually led her to a clear path into the culinary industry.
Diana studied Hotel and Restaurant Management in the Philippines for two years, then worked as a cook for an Arabic family in Abu Dhabi. But now, she is happily settled with her husband and kids in Sweden. 
Despite living in Sweden, Diana admits that she's only ever tried making the famous Swedish meatballs once. Her love for cooking is still rooted in Filipino food. It helps that her husband, of Danish nationality is vegan, loves to eat kakanin, like kutsinta, suman, maja blanca without milk, and his favorite, bilo-bilo. 
Her kids, on the other hand, love meaty Filipino ulam like sinigang, lumpiang Shangai, nilagang baka, ginisang pork giniling with veggies. "So, these are the dishes that are my favorite to cook again and again," she says.
ADVERTISEMENT - CONTINUE READING BELOW
Recommended Videos
When it comes to cooking Filipino food, Diana doesn't skip everyone's favorite: ube. She admits she has a hard time sourcing this crop in Sweden. When she is able to get hold of it, she uses it to make ube ice cream, ube bilo-bilo, and ube pastillas, and even, ube kutsinta, which her kutsinta-loving husband couldn't get enough of. 
What inspired her to make an ube-flavored kutsinta? Diana shares: "I saw black kutsinta on Instagram that triggered me, so why not making ube kutsinta? Since I finally have ube extract. Ube is very popular lately. It's all over social media. [And] kutsinta is one of my favorite kakanin!"
Here, she shares a simple video on how to cook the ube kutsinta that she tops with desiccated coconut:
If you're new to the world of kakanin, Diana shared tips for making the perfect batch of silky ube-flavored kutsinta: "Do not over steam, set a timer, and allow [for the kutsinta] to cool down before unmolding." Diana adds that it's important to cover the lid with a cloth to avoid the condensing water dripping onto the kutsinta while steaming. 
Following the popularity of the ube cheese trend, you can of course top the ube-flavored kutsinta with grated cheese, too. For a more unique take, you can make your own pandan dipping sauce, similar to Carlean's Kutsinta.
TOP STORIES:
***
Thinking about what to cook next? Join our Facebook group, Yummy Pinoy Cooking Club, to get more recipe ideas, share your own dishes, and find out what the rest of the community are making and eating!
Got your own version of the classic dishes? Pa-share naman! Get your recipe published on Yummy.ph by submitting your recipe here!