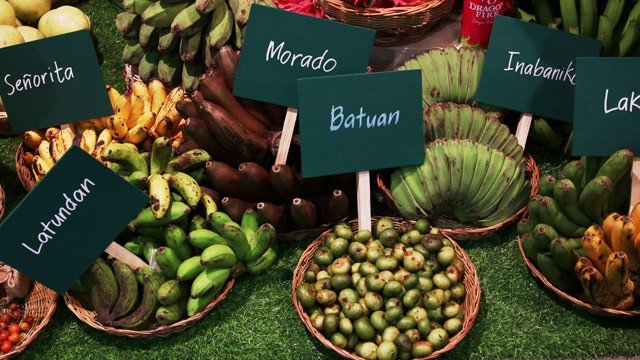 The food community, both local and international, gathered to witness the third edition of Madrid Fusion Manila last April 6 to 8 at the SMX Convention Center. With sustainability as the main thrust of the gastronomy expo, superstar chefs­—including the Philippines' own Gene Gonzalez, Josh Boutwood, Jordy Navarra, and Robby Goco—took the stage and wowed delegated with their impressive culinary expertise. But aside from their presentations, what amazed a lot of attendees was the focus on Filipino cuisine, specifically on the ingredients that were highlighted at the Regional Lunches sponsored by the Department of Agriculture.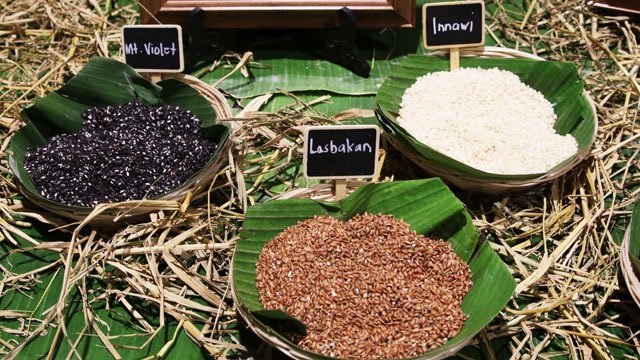 Different rice varieties were showcased in various dishes on Day 1 of the regional lunches.
For all three days of the lunches, delegates were treated to an array of produce, unknown and unexplored even to many locals, sourced from all parts of the Philippines. Balatinaw, Tinawon, Ulikan, Chong-ak, Lasbakan, and Mt. Violet are all rice varieties that were transformed into delectable dishes by Hey Handsome's Nicco Santos, Paul Samson and David Cruz of 50/60, and Pamana's Happy Ongpauco-Tiu, among others.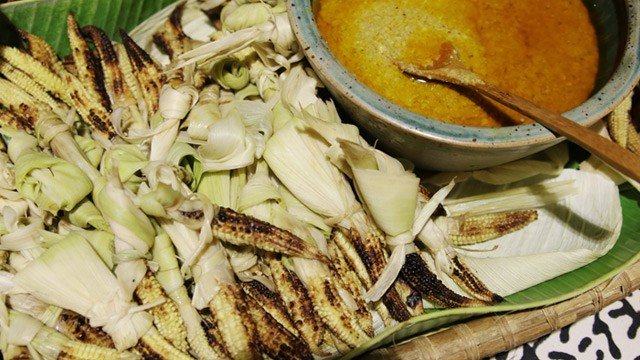 Claude Tayag's rich aligue sauce  was perfect with grilled baby corn.
Other ingredients from Luzon that were given the spotlight were the savidug, a nut sourced from Batanes, which was added to the muesli dessert of Miko Aspiras's team; unpeeled baby corn from La Union, which was grilled and paired with an aligue sauce by Claude Tayag; Laguna's balao-balao or salted baby shrimps that leveled up the Kare-kare of Locavore's Mikel Zaguirre; and kalumata leaves from Bulacan that added an anise-like flavor to the Betamax of Niño Laus.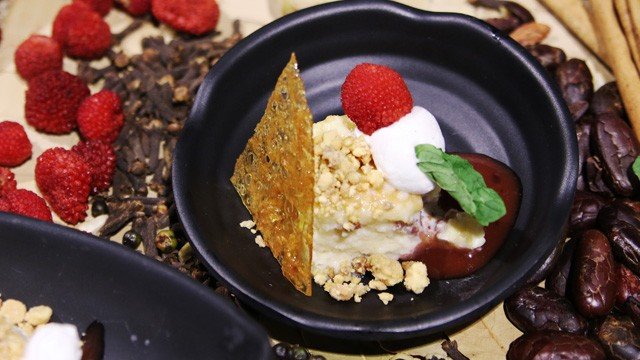 ADVERTISEMENT - CONTINUE READING BELOW
Recommended Videos
Sampinit, our local berries, were used in the delectable Tres Leches of Hiraya Bakery. 
Did you know that the Philippines has its own version of raspberries? They're called sampinit and are found in Quezon and Laguna. They were highlighted in the Tres Leches cake of Hiraya Bakery. Also from Quezon is the cacao wine presented by Risa Chocolates. The alcoholic beverage is made from the cacao pulp, ensuring that no part of the fruit goes to waste.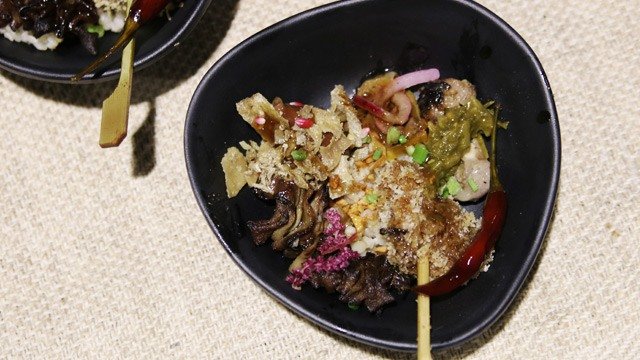 Chef JP Anglo's Next Generattion Chicken Adobo was not your usual adobo dish. 
Visayas was represented by batwan, a fruit used as a souring agent for dishes like kansi, KBL, and sinigang. It gave a new flavor dimension to JP Anglo's Next Generation Chicken Adobo, as well as in the pork head dish of Black Sheep's Patrick Go. Both chefs also used the newest "it" grain of the country—adlai grits sourced from Bukidnon.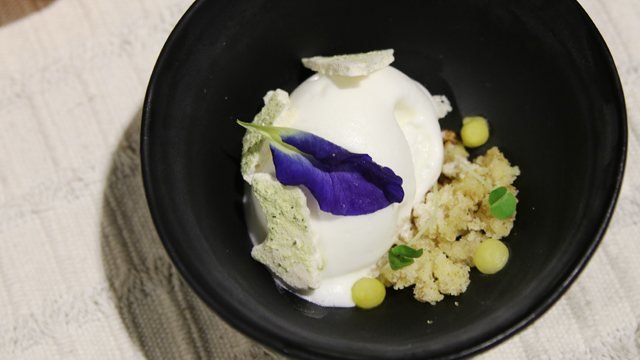 Manila Creamery's Mindanao milk gelato was a winning light concoction! 
Mindanao surely wasn't left out. Margarita Forés topped her purple corn ukoy with seared bagaybay or tuna sperm sacs from General Santos City, while Mark Tan of Hibana made a playful sweet corn ball filled with spiny lobster from Zamboanga (some of his lobsters also came from Isabela!). MNL Creamery also whipped up gelato specifically out of cow's milk from Mindanao, which can be at par with world-famous Hokkaido milk. So light and creamy!
These are just some of the ingredients that pushed the creativity of the country's top chefs and brought pride to every region in this abundant archipelago. Now what's stopping you from discovering them and trying them out? Now's the time!