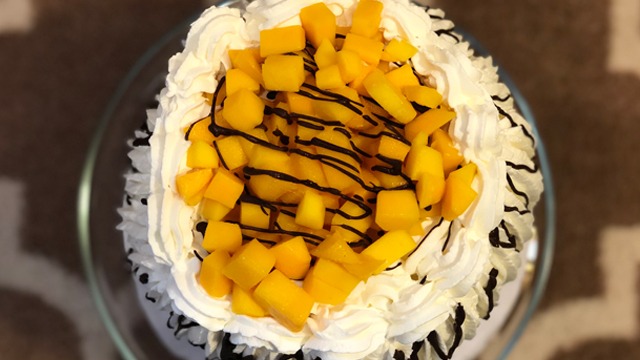 Who isn't familiar with Conti's Bakeshop's popular Mango Bravo cake? This cake made with layers of soft butter cake and meringue wafers, is covered in luscious cream and topped with yellow mangoes. A drizzle of chocolate syrup completes this go-to celebration cake.
Karl Blardony, an OFW in the United States and is currently working as a Junior Sous Chef in a five-star hotel, made his own version of the Mango Bravo cake from scratch. His constant cravings for this cake became his motivation to recreate it. He says, "Since there's no available [Mango Bravo] here in my area, I decided to make my own version of it."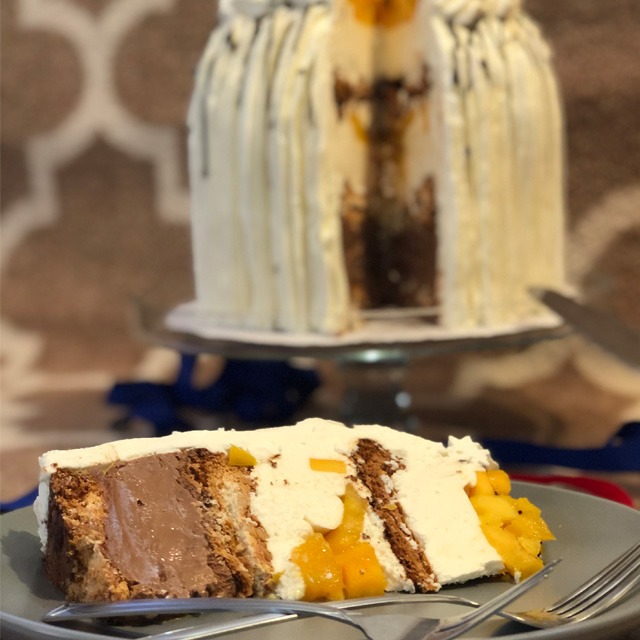 If you're interested to know how Karl made this Mango Bravo cake at home, here's his recipe hack which he shared with Yummy.ph. 
Here's his Mango Bravo Cake hack:
Ingredients:
For the Meringue:

10 egg whites (at room temperature)

1 cup white sugar 

1 cup cashews

1 teaspooncream of tartar
Chocolate Mousse:

200 grams dark chocolate or semi-sweet chocolates 

300 milliliters heavy whipping cream 

5 tablespoon white sugar sugar
Stabilized whipped cream:

4 cups whipping cream 

1 1/2 cups icing sugar 

2 teaspoons vanilla 

5 tablespoons water 

5 teaspoons gelatin 

1 teaspoon mango extract (if available)

3-4 sweet mangoes, diced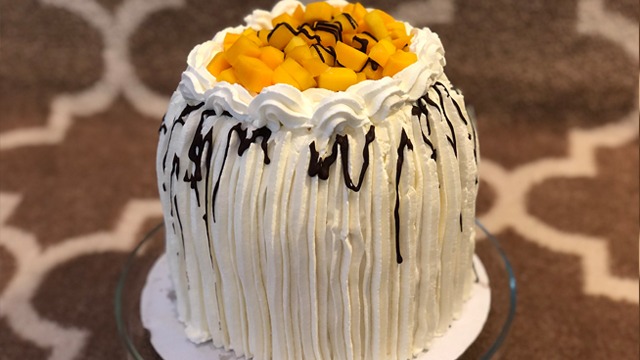 1 Preheat oven to 320 F or 160 C.
2 Line three pieces of 8-in x 3-in circular baking pan with parchment paper on both bottom and sides of the pan.
3 In a food processor or blender, put 1 cup of cashews and grind coarsely. Set aside 1/2 cup of the coarsely grounded cashew for filling and garnish.
5 Using an electric mixer fitted with the whisk attachment, whip egg whites on medium speed until frothy and add 1 teaspoon cream of tartar.
6 Once it expands, gradually add the granulated sugar. Rushing to combine the granulated sugar will result in deflating the meringue.
7 Set the mixer to a higher speed and whip to stiff peaks.
8 Gently fold in half of the remaining cashews into the meringue bowl. Divide the meringue into the three (3) circular baking pans; distribute evenly and smoothen inside the pan with the use of a spatula. (Doing this will give your cake a nice and leveled finish.)
9 Bake the meringue for 45 minutes or until the sides turn brown. Pull out the pans from the oven and gently remove the baked meringue on a separate tray. (Note: Carefully remove the side parchment paper so you will not tear the meringue.)  
10 Place meringues on a sheet tray. Heat the oven to 300F or 150C. Put the meringues into the oven to dry for at least 2 hours. (Note: To check for dryness, use a toothpick and insert in the middle. If it comes clean, and when through smoothly it means it's ready to be pulled out from the oven. Do not forget to remove the bottom parchment paper while still hot.)
Make the mousse:

1 Melt the chocolate using the microwave for 30 seconds and stir in between 10 seconds intervals. Reserve 4 tablespoons of melted chocolate for garnish.
2 In a bowl, combine heavy whipping cream and granulated sugar. Whip to stiff peaks.
3 Put a big scoop of whipped cream unto the melted chocolate. Fold gently and properly to not create lumps. Pour all the chocolate-whipped cream mixture into the remaining whipped cream. Fold again carefully. Cover with plastic wrap and chill until use.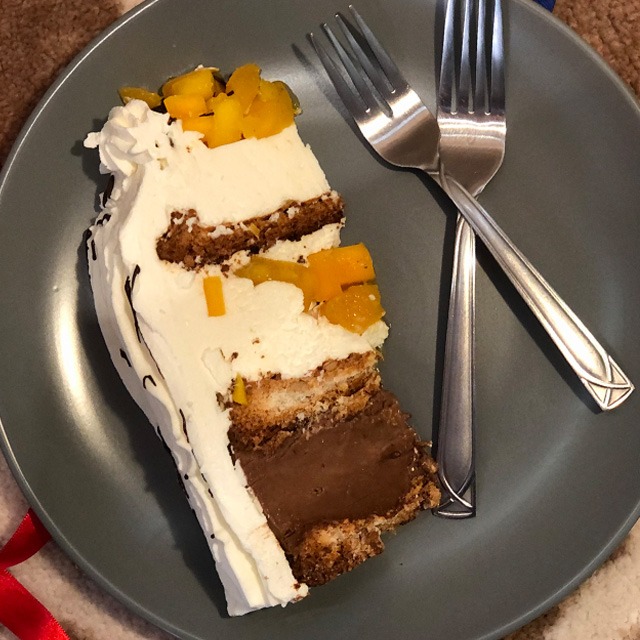 Make the whipped cream frosting:
1 In a small bowl, add 5 tablespoons of water and sprinkle in the gelatin, let it bloom. Set aside.
2 Using a whisk attachment, combine heavy whipping cream, icing sugar, vanilla extract & mango extract (optional). Whisk until you achieve soft peaks.
3 Place gelatin in a microwave for 5 seconds or until completely melted. Gradually pour the gelatin into the whipping cream whilst still whisking. Whisk until you achieve stiff peaks.
1 Place a piece of meringue into the cake board to serve as the base of the cake.
2 Evenly spread a thick layer of the chocolate mousse on top of the meringue and use it to create height for the cake.
3 Place another meringue layer on top of the mousse. Evenly spread whipped cream frosting on top of the meringue. Half of the diced mangoes will be placed here to be used as filling for this layer. Sprinkle ground cashews.
4 Add the last meringue on top. Cover the last layer with whipped cream. Using a French Star tip: frost the top and sides of the cake with the whipped cream.
5 Add your remaining diced mangoes, sprinkle with more ground cashews, and drizzle the reserved melted chocolate on top.
TOP STORIES:
***
Thinking about what to cook next? Join our Facebook group, Yummy Pinoy Cooking Club, to get more recipe ideas, share your own dishes, and find out what the rest of the community are making and eating!
Got your own version of the classic dishes? Pa-share naman! Get your recipe published on Yummy.ph by submitting your recipe here!