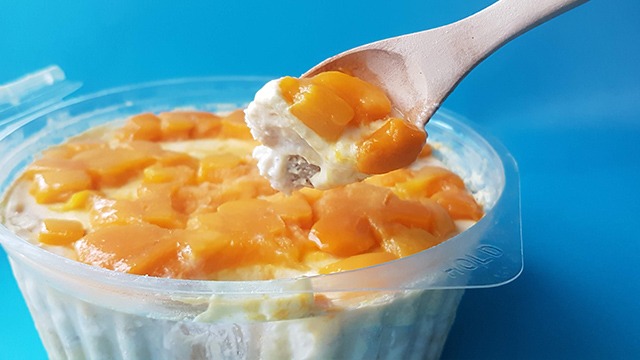 When one speaks of a typical Christmas Noche Buena, one of the desserts that never fails to make an appearance is the refrigerator cake. It doesn't need a lot of ingredients, it is not taxing (no baking needed!), and everyone loves it. For a change this Christmas, we want you to meet the mango refrigerator cake 2.0: the Mango Misu (P800).
Bellefleur by Beatrix's tiramisu series, the first two being the Ube Misu and the Milk Tea Misu, is now followed by the Mango Misu: a tiramisu cake that has the flavors of a refrigerated mango float cake. Similar to the ube variant, the Mango Misu is made with alternating layers of tres leches—soaked ladyfingers, mango mascarpone cream, and a surprisingly delicious white chocolate crunch (our guess is the crunch comes from some type of cookie!). It is then topped with cubes of fresh mangoes to add that sweet, citrusy flavor. To put it simply, this elevates your ordinary tiramisu cake and makes it extra, extra special.
Just because this is a great addition to your Noche Buena spread, it doesn't mean you can't enjoy it for summer, too. After all, summer is the season of mangoes. According to Bea Atienza, the owner of Bellefleur by Beatrix, they will probably have the mangomisu until March 2020.
The Ube Misu is available at Bellefleur by Beatrix, Ground Floor Unimart, Club Filipino Avenue, San Juan. You can also order online through Bellefleur's official social media accounts on Facebook and Instagram.
ADVERTISEMENT - CONTINUE READING BELOW
Recommended Videos