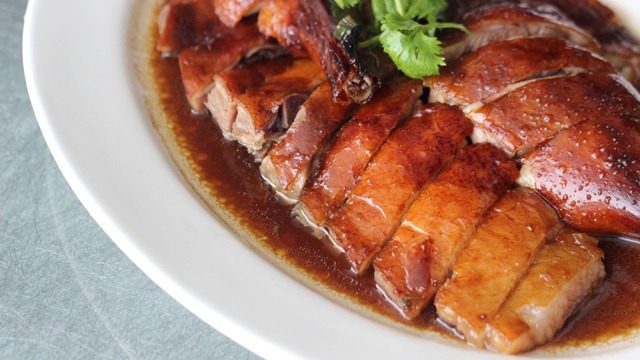 This Christmas season, there's no better way to treat yourself than to reward yourself with an indulgent meal. 
This holiday season, Marco Polo Manila's Lung Hin welcomed back Chef Billy Cheong with his grandfather's century-old traditional way of preparing Roasted Goose, a Hong Kong fine dining classic. Make sure you don't miss out because it will only be available until December 12 (or until supplies last!). 
What makes this dish so one of a kind? Well, first things first, goose is hard to find in the Philippines. Try as they might, restaurants have been unable to source the right quality of goose locally. This is part of what makes this dish so unique because, in order to bring you that delicious, luxurious, authentic bite, they went several hundreds of extra miles just to source their free-range geese all the way from Hong Kong.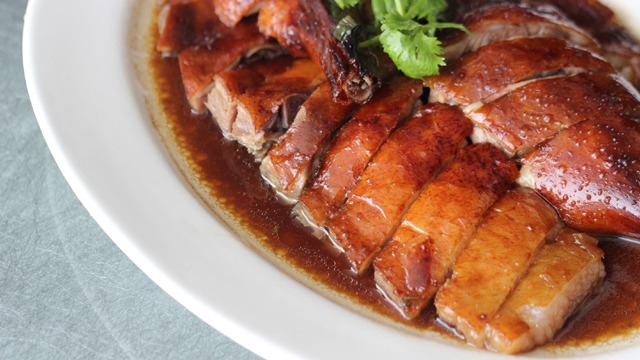 Once it arrives at Lung Hin, the bird's journey is far from over. The goose is then transformed by one and a half days of prepping and cooking. After marinating for 8-12 hours in a concoction of wine, spices, and Chinese herbs, it's poached for a few seconds, then soaked with a special coating water before it's hung dry. Two hours before serving, the goose is then roasted for almost an hour then given precious time to rest to make sure that the meat stays flavorful and juicy. It's then served with its own reduced sauce and a side of slightly sweet, slightly tart, delicate plum sauce.
For your first bite, Chef Billy recommends just a slight dab of the plum sauce so you can get a full taste of the goose itself. After that first bite, you then adjust the amount of sauce to your palate. He emphasizes this, telling us that every palate is different and he wasn't going to give you one way to eat the goose. Part of the joy of eating the roasted goose is eating your way through the bird and finding your favorite. Although we must say, there's really no wrong way to eat it with every part so delicious!
Chef Billy recounted the first time he ate goose as a child in Guangdong province. His father, rewarding him for being a "good boy," would cut him the prized part; a big, juicy, leg! But this doesn't mean that the rest of the bird is any less special.
Every part of the roasted goose is delectable thanks to the consistently crispy and flavorful skin covering the whole bird and the tender, well-seasoned savory meat. We particularly fell in love with goose's romp that's rich with melt-in-your-mouth fat bursting with savory and aromatic notes. Before you get your cleaned up goose platter taken away though, don't forget the rarest part; the head! Chef Cheong describes the brain as the "foie gras" of the goose; creamy, dense, subtle, and one of a kind.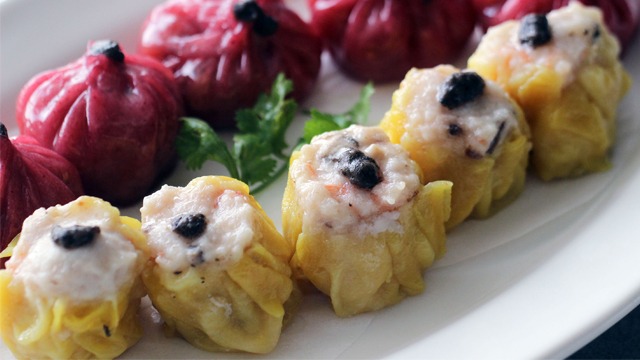 ADVERTISEMENT - CONTINUE READING BELOW
Recommended Videos
Extend the joy of this meal by ordering it as part of their curated set with nine other dishes. For appetizers, you will get Steamed Pork Siu Mai with Truffle Sauce, Braised Seafood with Peach Gel Soup and get Steamed Pink Vegetarian Dumplings.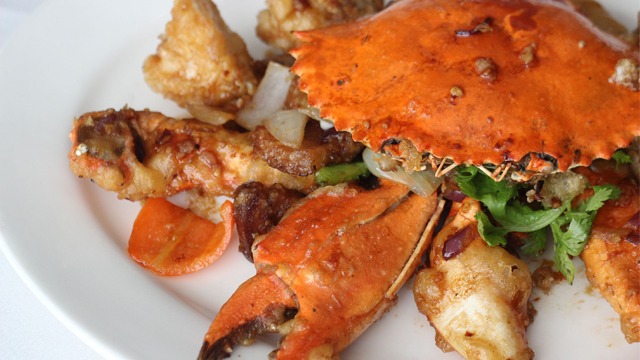 The other main course dishes that were chosen to surround the goose had to be just as decadent. There's the Steamed Garoupa with Shredded Pork and Dried Mandarin Orange Peel in Black Bean Sauce, Pan-Fried Crab with Pork Belly in Supreme Soy Sauce, Wok-Fried Diced Chicken with Mixed Vegetables Homemade Style, and Fried Rice with Diced shrimps, Wild Rice, Sweet Corn and Diced Mushroom. Dessert is a creamy, balanced Chilled Mango and Coconuts Jelly.
Lung Hin's roasted goose is definitely worth the splurge for an unforgettable meal to share with the people that matter to you. 
You can have this delicious dish a la carte for dine-in and pick-up. Choose from a small portion for P1,860, a half portion for P3,388 or a whole portion for P6,488. Make sure you've booked a table beforehand or called to make your order at least two hours in advance to give them time to roast the goose. You can also order the described set, The Hong Kong Roasted Goose Set Menu for P12,500 for a minimum of 5 persons.
Lung Hin is located on the 44th Floor of Marco Polo, Meralco Avenue and Sapphire Street, Ortigas Centre, Pasig City. Tel. No.720-7720.