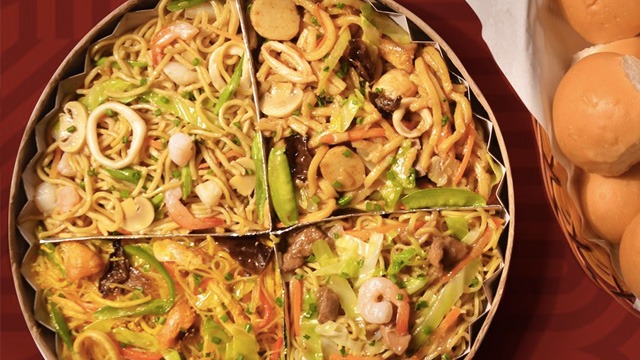 Max's Restaurant is celebrating its 76th birthday this month and they're celebrating it with tons of promos and new items on the menu including the Pancit Combilao, which has four kinds of pancit in one bilao. 
Max's Restaurant's Pancit Combilao is perfect for merienda or an upcoming birthday celebration—because what's a birthday party without pancit, right? This bilao includes a quarter serving each of the Pancit Canton, Bam-I, Chami, and Seafood Pancit Canton.
If you don't know what Bam-I is, this is also called Pansit Bisaya. It's composed of two types of noodles which are pancit canton and pancit bihon that's coated in annatto oil, while the Chami is a noodle dish originating from Lucena City. This pancit is made with thick lomi noodles, meat, and assorted vegetables tossed and coated in a sweet, spicy, and savory sauce.
The Seafood Pancit Canton, on the other hand, has cream dory, squid rings, chopped shrimp, button mushrooms, and assorted vegetables. If you're allergic to any of the mentioned seafood, you can just try the other pancit dishes included in this bilao!
For Max's Restaurant branches in Luzon, the Pancit Combilao comes with a dozen bread rolls and butter so you can use the pancit as palaman to your pandesal. Yes, carbs on carbs is a thing!
Max's Restaurant's Pancit Bilao costs P1,099. You can order this via Max's Restaurant's website.
*****