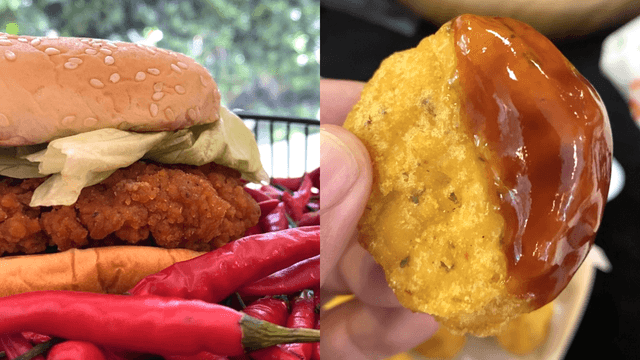 Love spicy food but haaaate it doesn't live up to its spicy claims? Lucky for you and your spicy food tolerance, McDonald's McSpicy and Spicy McNuggets are back on the menu, and these ones aren't ones to shy away from heat. 
The McSpicy is your no-frills chicken sandwich that uses lettuce, mayonnaise, and the star of the show: the crispy, juicy, spicy chicken fillet that's bigger in size than its buns. We already find this sandwich is filling on its own but if you feel extra hangry right now, go and order a side of fries as well!
Based on our own tolerance for spicy food, we found that the McSpicy is spicier than the Spicy McNuggets, so if you want something safer but with still a kick to it, the Spicy McNuggets is your best bet. These new nuggets are not far from the regular McNuggets we love at the fast food chain, it's just a slightly spicier version. The spice comes from its coating, visibly seen as freckles of spices! It is still paired with the delicious and classic barbecue sauce which gives it even more flavor.
Ready for the heat? McDonald's McSpicy and Spicy McNuggets are now available in all McDonald's stores nationwide through dine-in, take-out, drive-thru, and McDelivery.
******