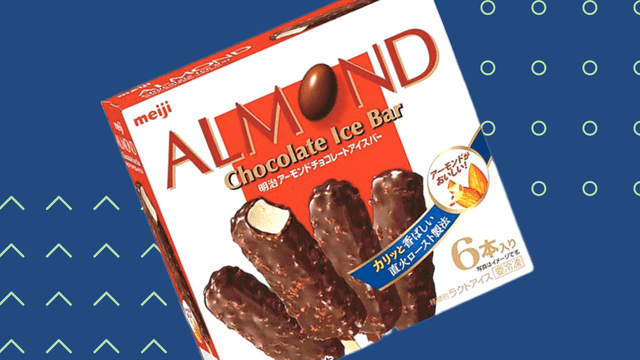 Meiji's Almond is one of the many popular chocolates under the Japanese brand. If you grew up snacking on these shiny milk chocolate-coated almonds, and if you do so until now, there's a different way to enjoy Almonds that's appropriate for the Philippine weather: Meiji Almond Chocolate Ice Bar.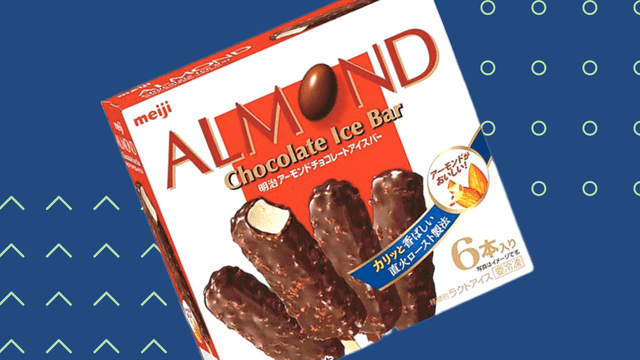 The Meiji Almond Chocolate Ice Bar is simply an ice cream version of Meiji Almond chocolate. It uses no frills, no fuss vanilla ice cream then coats it in a thin chocolate shell studded with crunchy bits of almond. This has a similar structure to the likes of Pepero ice cream (imported from South Korea) and Pinipig Crunch (manufactured by Selecta) which uses vanilla ice cream with a thin fragile chocolate coating that has nuts.
If you didn't know, there's a wide range of Meiji Ice Bars to choose from! Previously, we spotted the Strawberry Chocolate Ice Bar that also uses the nutty chocolate shell but it uses strawberry ice cream instead of vanilla. We also found condensed milk-filled Meiji Ice Bars in the supermarket, then there are also unique flavors like White Peach Oolong, Blueberry Yogurt, and Sea Salt Lychee that you can buy from frozenmnl.
Where to buy Meiji Almond Chocolate Ice Bar
[facebook url="https://www.facebook.com/permalink.php?story_fbid=pfbid02bzYvYrBGizKBWBsvB5wV8adsAbLzGjknwZneKz99Bk8dJKpuWTta6AZLsgw8SoDHl&id=107074592084657″]
Tokyo Mart, a new Japanese grocery in Quezon City, is where you can buy the Meiji Almond Chocolate Ice Bar. They sell the Meiji Almond Chocolate Ice Bar for P350 per box and each box contains six bars. So you're only paying P58.33 for each bar!
Tokyo Mart is located along West Avenue in Quezon City. You can follow their official Facebook account for more information and updates.