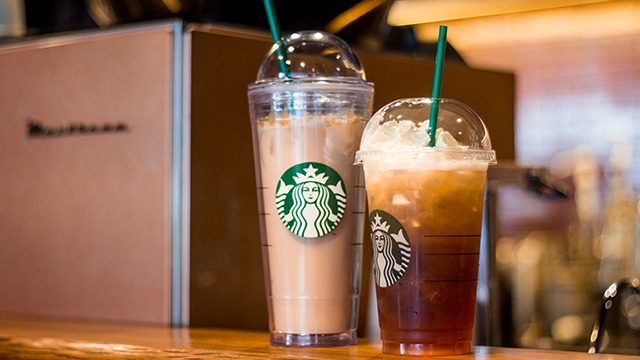 If you love drinking milk tea, Starbucks can let you customize your beverage from scratch. You can choose your own hot or iced tea from their Teavana line, add milk, sugar (with tons of different flavors to choose from), toppings, and even add coffee jelly!
Starbucks and milk tea fans, here's how you can customize your own milk tea at Starbucks: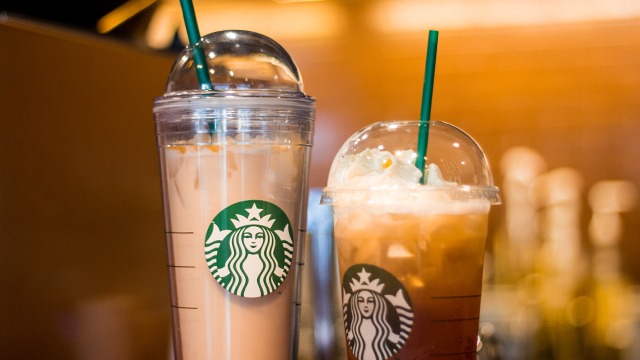 Tea + milk
Starbucks has different types of tea from its Teavana line. The basics, lattes (with a free-of-charge option to go non-fat), and full-leaf brewed teas usually range from green tea, black tea, and caffeine-free teas. They also have more playful and adventurous flavor combos: Teavana's signature Iced Shaken Black Tea with Ruby Grapefruit & Honey, Iced Shaken Hibiscus Tea with Pomegranate Pearls, and Matcha & Espresso Fusion are also on the menu.
The milk options at Starbucks range from fresh milk, organic soymilk (P20), heavy cream (P30), and breve (P20; half milk and half cream). If you want to skip the sugar option, you can hit two birds with one stone by adding a White Mocha (P30) sauce instead.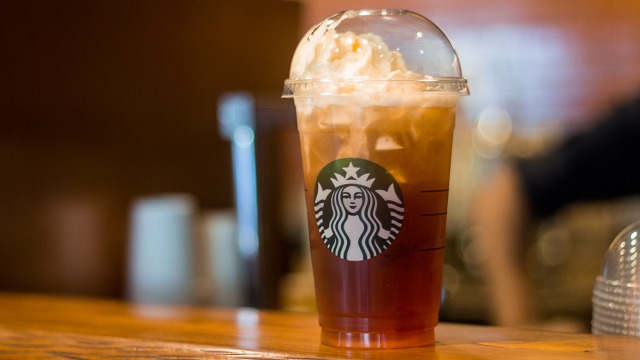 Adjusting the sweetness level
Usually, you get to choose your sugar level from 0%, 25%, 50%, 75% and 100% upon ordering milk tea, but Starbucks adds sweetness by the pumps! You can choose from Starbucks' core syrups: classic syrup, vanilla, sugar-free vanilla, and caramel. If you want it sweet and with nutty undertones, there's the hazelnut and almond syrup, but if you like tart syrups, you can add a pump of raspberry syrup. You can opt for a healthier version by going with honey (P10).
For adventurous milk tea drinkers, you might want to try adding Starbucks' Irish Crème syrup, which is slightly bitter and nutty, while the mint syrup adds a bit of minty coolness to your milk tea.
Before you go crazy adding so many sugary syrups to your customized beverage, remember that a Starbucks Tall cup includes a complementary of two pumps, the Grande has three pumps, and the Venti has four pumps.
ADVERTISEMENT - CONTINUE READING BELOW
Recommended Videos
These complementary syrup pumps only apply if you're adding the classic syrup to: a cup of tea with a recipe that includes the classic syrup (like the Iced Tea Black Latte and all the flavors of Teavana Iced Shaken Tea) or if you're ordering the Iced Green Tea Latte. But for those who want to try the other flavors of syrup (P20), you can further experiment on it by mixing two or more flavors.
Toppings +sinker: whipped cream, cold foam, flavored foam, chocolate, mocha, or caramel drizzle, and coffee jelly
If you've ever tried a frothy milk tea like the famous salt and cheese flavor, you can make something similar by adding different frothy toppings to your cup of Starbucks milk tea! If you're ordering a hot milk tea, you can add whipped cream (additional P20) which will make your beverage a little creamier and thicker than usual. On the other hand, you can add cold foam (P20) or flavored cold foam (P30) if you're ordering an iced milk tea. You can even add a chocolate drizzle (free), caramel drizzle (P20) or a mocha drizzle (P20) to make your milk tea extra, extra sweet!
Although, Starbucks doesn't offer the typical boba, pudding, and red beans that most milk tea shops have, you can replicate the milk tea-with-sinkers experience at Starbucks! You can do so by adding coffee jelly (P30).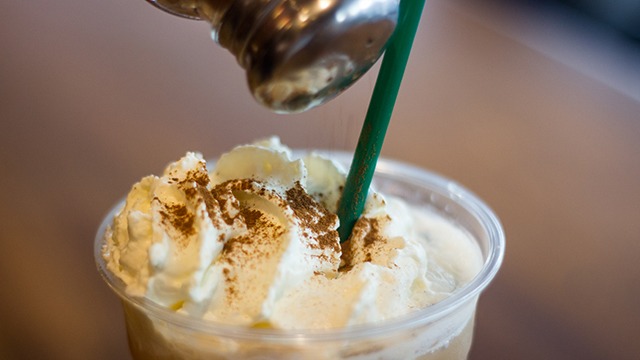 What we ordered
We tried out two different versions of milk tea. First, we combined a Venti Iced Shaken Black Tea with four pumps of white mocha, plus a caramel drizzle. If you prefer the sweet and milky milk tea, you can opt for this combination! For those who want to taste a more balanced sweetness and bitterness, you can lessen the White Mocha pump or ditch the caramel drizzle.
We also tried a Venti Iced Shaken Black Tea with Irish Crème, topped with whipped cream, and dusted with cinnamon powder. This combo had a bitter and creamy milk tea because this has two types of dairy but barely doesn't have any sugar. For those not accustomed to a bitter milk tea, we recommend adding at least two (out of the four) of the complimentary classic syrup pumps to your drink.
ALSO READ: