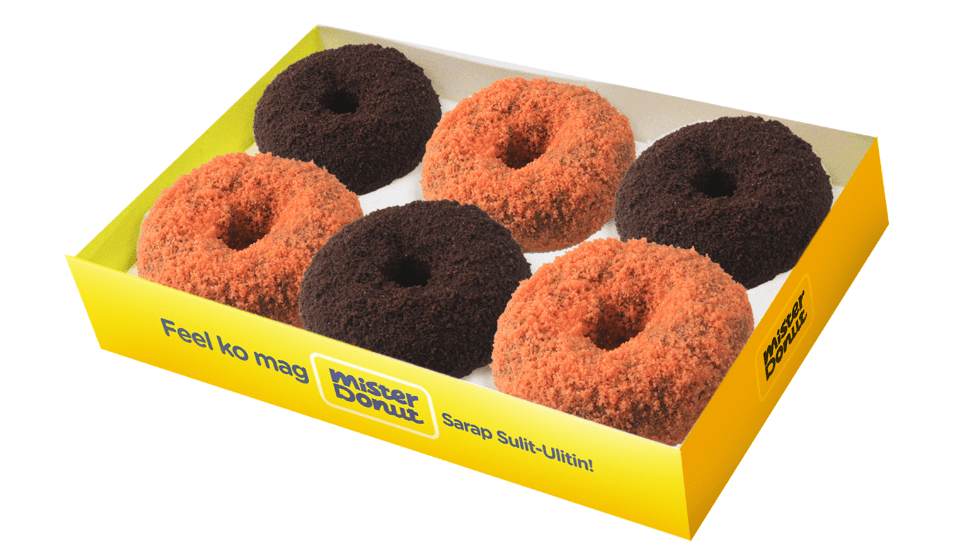 With over 600 stores nationwide, Mister Donut is one of the largest food franchises in the Philippines. This year marks the 40th anniversary of the familiar doughnut shop. We chatted with Che Cariño, the brand's franchise management head, about Mister Donut's legacy, its milestones, and asked her for tips for franchisors and aspiring franchisees. 
Here's What Mister Donut's Franchise Management Head Che Cariño Has To Share About The Success of Their Company:
What was the highlight of the 40th anniversary celebration?
Che Cariño: Mister Donut originated in Boston, Massachusetts in 1955. It came to the Philippines in 1982 and started franchising the business to Filipino entrepreneurs in 1983. Our celebration recognized the people who have been part of Mister Donut's 40 years in franchising in the country, including a specific store in Bonifacio in Biñan, Laguna, which has been operating in the exact same location for 40 years. Our event is a showcase of Mister Donut's strength and stability as a brand made possible by the people behind its growing network in the Philippines.
What would you consider to be some of the most significant milestones in Mister Donut's 40-year journey in the Philippines?
One would be our ability to open Mister Donut stores in provinces which are not usually penetrated by franchise brands. For example, Mister Donut has been a strong brand in Marawi even before other franchises were able to enter the market. We're also in North Cotabato. And of course, part of our milestone is the increasing number of our franchisees. In 40 years, we have over 250 active franchisees and over 600 stores. 
Mister Donut is now a popular franchise across the Philippines. What are your keys or secrets to success and longevity?
Our franchisees definitely come first. In fact, we have more than 600 franchised outlets in our network of stores. Second, we have our partner institutions, such as 7-Eleven, petroleum accounts, and convenience stores. Third, we have our employees or the people behind Mister Donut—their minds, strategies, effort, and productivity. Most importantly, we have our customers. I would say that in our 40 years, Mister Donut has been able to build a niche, despite the tight competition between donut brands. Looking at our market share, we can say that Mister Donut has many loyal patrons, who we are very thankful for.
With a strong network of franchises, how do you ensure that each store provides a consistent and quality experience to its customers?
Mister Donut branches number more than our team at the head office. So benchmarks, continuous training, and app-powered operational guidance and support are set in place to make sure our franchise outlets are compliant. We also watch out for complaints and feedback and use these as metrics in sustaining the consistency and quality of Mister Donut products and services. Also, we make sure that when we roll-out new ideas or products, they are fool-proof.
How do you keep your menu fresh and exciting, while still retaining the classic favorites that customers love?
Mister Donut's product launches are never-ending. We always make sure to introduce products that will excite and be loved by the people. Since the market is already saturated, we wanted to differentiate Mister Donut from other brands, so we tried to create a unique product format, which is to make our filled donuts tart-like. Hence, when you put our donuts in line with that of other brands, you can easily identify which are Mister Donut's products. Best example of this is our core product, which is the Bavarian line, presented in a tart-like form. And of course, we are always receptive to improvements in terms of flavor, texture, etc.
As you celebrate 40 years in the industry, what does the future hold for Mister Donut in the Philippines? Are there plans for further expansion or collaboration with other brands?
In terms of count, when we combine key accounts, franchise stores, and company-owned stores, I think we're over 3,000. But I believe there is still room to grow because there are over 7,000 islands in the Philippines; there are still many locations to explore. In the near future, we are hoping to grow from 600 stores now to 1,000 stores. As we move towards the future of Mister Donut, we would like to build, and we would like people to see more Mister Donut outlets that are bigger and better-looking. For example, 80 percent of our stores are takeout nooks. So, even if it's just a takeout nook, we want it to be bigger, brighter, and outstanding in the eyes of our customers. Hopefully, we could also build more dine-in stores in the future.
ADVERTISEMENT - CONTINUE READING BELOW
Recommended Videos
What's are some tips you can share to aspiring franchisors?
First, franchisors have to make sure that their products have a certain place in the market. For example, donuts are staple treats (with a long shelf life). Franchisors also have to strengthen their product through innovation. When people like your product and when aspiring entrepreneurs see that many people patronize your product, that's the time they will inquire on franchising opportunities.
Second, franchisors have to build a great team, because these people are the first resource who will help grow the business. It is important to get team members who believe in your product and brand.
Third, franchisors should also look at their capabilities and resources. For example, in terms of logistics, it is better to branch out concentrically from your mother store initially, so it is easier to perfect the system before branching out to farther areas.
Fourth, franchisors have to build relationships with reputable associations for backing, credibility, security, and mentorship.
What about to aspiring franchisees?
First, aspiring franchisees should franchise a brand that they really believe in. It's a cliché but it's true: you should franchise something that you love. And there is much sense to it because when you become a franchisee, you become an ambassador of the brand. So when a person applies to become a Mister Donut franchisee, that's the first thing we aim to know and be sure about.
Second, franchise a brand that has been there long enough. Pick a brand that has years and years of existence, experience, and expertise because that is a testament of sustainability and excellent franchise system. Aspiring franchisees can also look at the number of franchised and company-owned stores because it can give a hint as well.
hird, franchise a brand that has a good track record in keeping and growing its franchisees. Find a brand that can help you grow your own business. In Mister Donut, these three things are something we can be proud of. We can see that most of our franchisees are already legacy businesses, handed from generation to generation. They are testaments that we really take care of our franchisees. 
For inquiries on franchising Mister Donut, join the next Mister Donut Franchise Discovery Day. Visit this link for more details or contact 0920-9830247 or 0917-8816999 or email [email protected]. Visit the Mister Donut booth at the Franchise Asia Expo at SMX Convention Center Manila from October 27 to 29, 2023.
Velle Cacha-Manuel is a Certified Franchise Executive and the AVP for Marketing of the IFCP Group of Companies – U-Franchise Sales & Management, Francorp Philippines and ActionCOACH Philippines.
This story originally appeared on Esquire Philippines. Minor edits have been made by Yummy.ph editors.