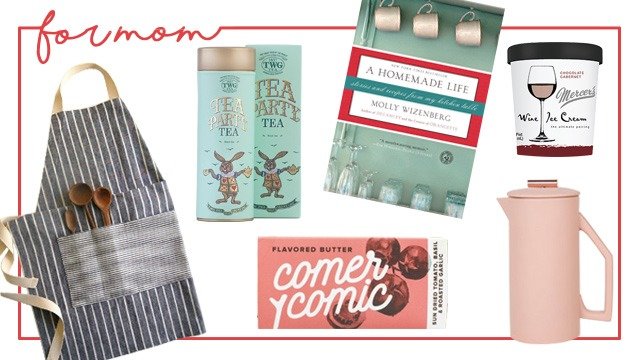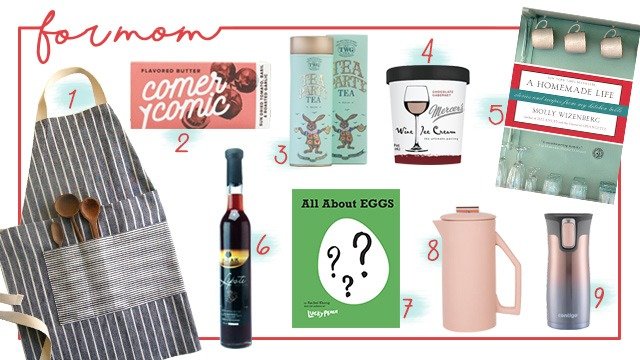 Secretly, most Moms would probably love a bit of quiet time, an incredible meal (that she didn't have to prepare), and a day without chores. But a great gift would be appreciated, too! We have a few ideas if you're still clueless on what to get her on Mother's Day:
1 Fab and Functional Aprons
Make mom feel extra fab in the kitchen with a stylish new apron complete with roomy pockets for mom's secret recipes or handy tools for cooking.
Order custom-made aprons from Mr. Chefy or check their designs online.
2 Comer Y Comic Flavored Butters
These will make Mom's average toast much more flavorful (there are a couple of flavors to choose from!).
Available online via marketa.ph.
3 TWG Tea Party Tea
Share stories and bond over tea party tea! Make sure to pick out a few boxes of her favorite.
Available at all TWG Stores: Shangri-la Mall, Mandaluyong; Greenbelt 5, Makati; and Central Square Mall, Bonifacio Global City, Taguig.
4 Mercer Wine Ice Cream
Combine two indulgences in one gift: wine and ice cream!
Available at Landers.
5 A Homemade Life by Molly Wizenberg
Molly Wizenberg runs Orangette, a blog that made her popular for her food writing. Her book entitled "A Homemade Life" covers everything from Molly's coming-of-age story, to building her career, and then settling down—it's about friends, family, love, and food bringing it all together.
Available at Fully Booked branches.
6 Yulaik Lipote Wine
Mom's next wine night is on you: treat her to a locally-made lipote wine! Lipote is a Philippine berry similar to our local duhat.
Available at Real Food, Alabang.
7 All About Eggs by Rachel Khong and the editors of Lucky Peach
Is Mom a big breakfast fan? Treat her to this cookbook-slash-handbook with fun essays, anecdotes, and recipes celebrating the versatile and humble egg.
Available at National Book Store
8 Ceramic Coffee Press
If your mom is hooked on caffeine, know that her precious coffee time are moments she savors the most. Elevate her every day coffee tool with a beautiful coffee press in her fave color.
Find similar ones at SM Home. This one is available on Etsy.
9 Contigo Tumbler
Treat mom to a durable, vacuum-insulated, and still stylish tumbler that mom can take with her through her busy day (and one she wouldn't buy for herself!).
Available in SM and Robinsons Department stores.