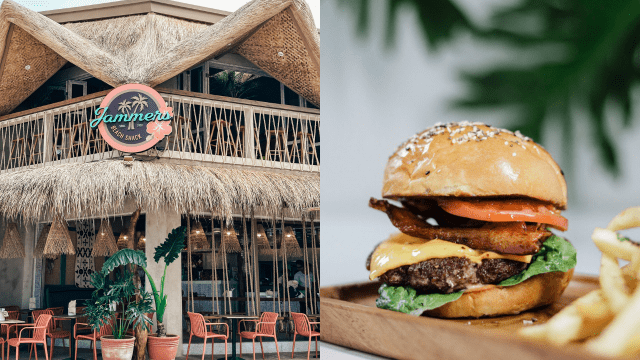 In the bustling pathways of D'Mall Boracay, tucked away in a corner with one side facing the white sand beach, you'll find one of the hottest food spots in Boracay: Jammers Beach Shack. Its façade is reminiscent of a modern bahay kubo with a boho aesthetic, and the ambiance, paired with the food, will make you feel like you're living out the epitome of being on the beach — it's hard not to when you've got the warm breeze, the impeccably seasoned dishes, the refreshingly cool drinks, and the view of the sea in the horizon all in one place.
What You Need to Know About Jammers Beach Shack
Jammers Beach Shack is one of the most iconic burger joints in Boracay's strip mall — D'Mall Boracay — in Station 2. It opened in 2002, and has since gained popularity for their delicious burgers and chili cheese fries, becoming a go-to spot for both locals and tourists.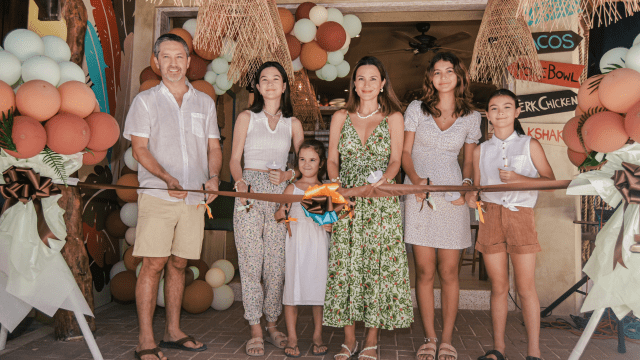 When the pandemic broke out in 2020, effectively restricting a major influx of tourists to Boracay (and many other destinations), Jammers Beach Shack faced the possibility of closing its doors for good, but was given a second lease on life under the ownership of Bianca Araneta-Elizalde. Bianca is the owner of the popular health-focused organic restaurant, The Wholesome Table, and with her and her team's passion and expertise, Jammers Beach Shack was able to open its doors again — and this time with new items on the menu.
Must-Try Menu Items at Jammers Beach Shack
Whether you're craving for their classic burger, hankering for a healthy smoothie bowl, or just looking for a comfort food like a serving of chili cheese fries, there's something for you at Jammers Beach Shack! Making Jammers a pit stop when you're in Boracay is something you won't regret, and we've made a list of our favorite menu items that you should try when you're in the mood for a delicious meal on the beach. (And let's face it: who wouldn't be in the the mood for a yummy beach meal when you're in beautiful Boracay?)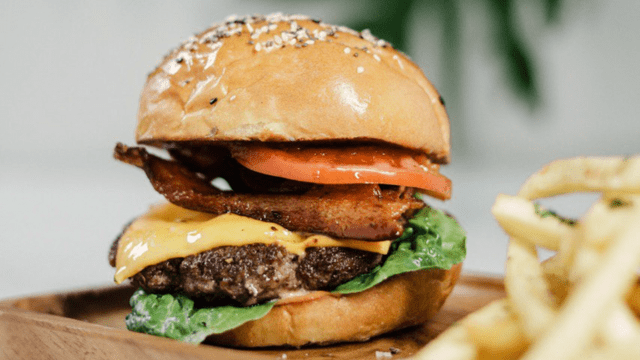 O.M.G. is right. They say simplicity is beauty, and that's exactly what we thought when we bit into this Jammers Beach Shack classic. The toasted, buttery brioche buns soaked up the burger sauces, but it was still firm enough to hold all the juicy fillings inside. It gives way to the crunch of the fresh vegetables and the unmistakably smokey (you guessed it) smoked bacon, before you get hit by the 100% beef patty that's been grilled to perfection – it's got a slight crisp to the outside, but it's oh-so-flavorful and juicy on the inside. The O.M.G. Burger offers a cacophony of flavors and textures, and one bite explains just how Jammers Beach Shack gained its reputation for being one of the beset burger joints in town.
ADVERTISEMENT - CONTINUE READING BELOW
Recommended Videos
The Shrimp Po'Boy tastes as appetizing as it looks. Nestled in a soft but firm brioche roll are plantain-fried shrimp with fresh lettuce and tomato slices topped with a zesty remoulade sauce. It's surprisingly easy to take a bite, because not only are the veggies fresh and crunchy; under the crispy coating of the plantain-fried shrimps are soft, sweet, and still al dente shrimps! The fresh veggies and the shrimp are tied together by the garlicky, tangy, and creamy remoulade sauce, and all in all the Shrimp Po'Boy makes for a deliciously filling seafood sandwich.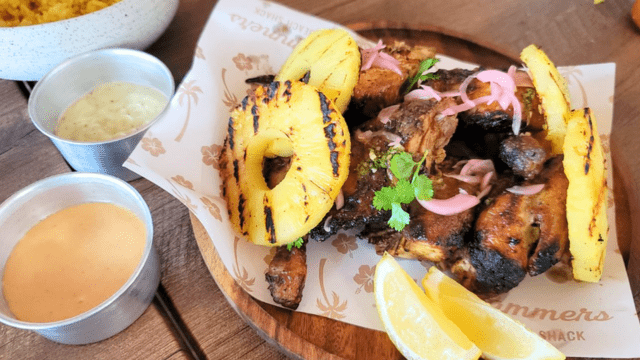 Whether you put it in a sandwich or have it as a rice meal, one of the best dishes Jammers Beach Shack has is undoubtedly the Jamaican Jerk Chicken. This grilled chicken dish is marinated with Jammers' own blend of Carribean sauce, topped with chimichurri sauce and served with fluffy Java rice, char-grilled pineapple rings, and a paprika-aioli sauce. The servers will recommend trying it with their house blend spiced vinegar, and you'd be delighted to take them up on their advice, as this adds a savory sourness to the already flavorful grilled chicken!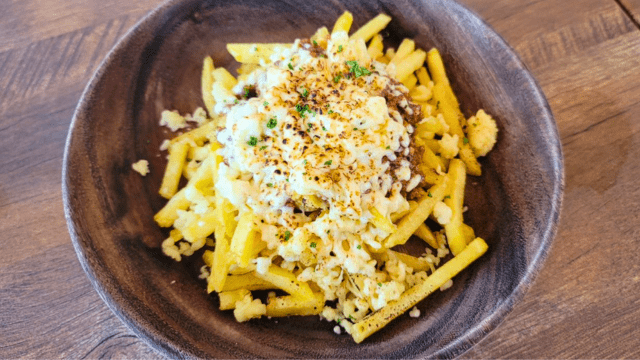 One of the menu items that put Jammers Beach Shack on the culinary map is the Chili Cheese Fries, and it's no wonder: the fries are the just-right kind that are crispy on the outside but still soft on the inside, the chili is *chef's kiss* impeccably spiced and packs just enough heat to make you want more, but not too much that you're sweating uncomfortably in the already sweltering heat from the sun, and the cheese is generously sprinkled and beautifully melted atop the pile of chili and fries. Much like the O.M.G. Burger, it's a simple yet very well-executed dish that just hits the spot.
We were surprised to see no rice in the Ahi Poke Bowl, but by the time we got a full bite of the fresh tuna that's been tossed in its soy-ginger sauce, we were saying, "Rice who?" 
Aside from the tuna, the Ahi Poke Bowl is also served with edamame beans and sweet potato chips, and we recommend using the chips to scoop out the tuna and the edamame together and taking one big hearty bite. The crunch of the chips makes for an interesting tactile experience, while the sweet edamame is the perfect, earthy-sweet foil to the umami-filled soy-ginger-coated fresh tuna.
6 Mango Iced Tea, Vanilla Milkshake, and Whisky Smash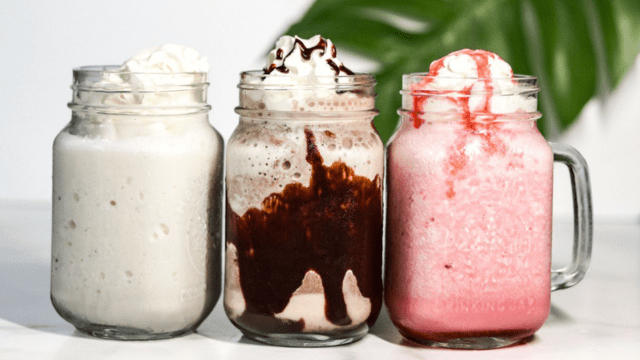 You can't have all those rich, delicious meals without drinks, and we've got recommendations for you! You can't go wrong with Jammers Beach Shack's Mango Iced Tea, which you can even order in a big mason jar mason jar — perfect for carrying around when you're walking around Boracay!
If you're in the mood for something colder, try their Vanilla Milkshake, which we assure you is nothing but vanilla in flavor and serving. It's creamy, rich, and just the perfectly refreshing sip you need to beat the Boracay heat.
Lastly, if you're looking for something a little stronger, we're big fans of their Whiskey Smash: it's a lemony cocktail that serves up just enough kick from the whiskey and is made more refreshing with the hint of mint!