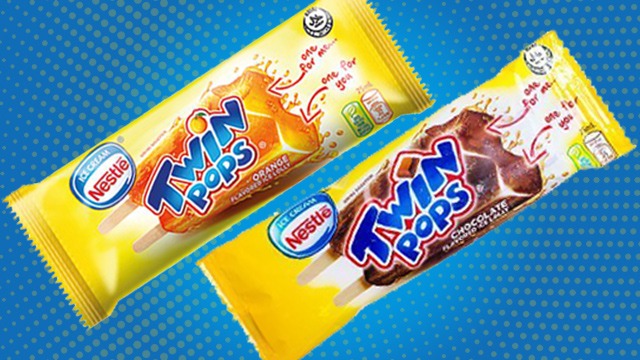 Summer is the time to eat as many frozen desserts as you can, and no one will (or should) judge you. If you're a '90s kid who frequented sari-sari stores or anticipated ice cream vendors to pass by your house, you are probably familiar with Nestle's Twin Pops (or even Magnolia's Twin Popsies!) 
These sweet popsicles are named Twin Pops because of the two flavored ice popsicles conjoined together, that comes in a refreshing Orange flavor and a mildly sweet Chocolate flavor. Part of the nostalgia that '90s kid will relate to is breaking the Twin Pops in half to give away the other half to a sibling or a friend–plus, the sticky fingers you get as the ice cream melts from Manila's unforgiving heat.
If you miss the taste of this nostalgic ice cream, you can find Nestle's Twin Pops (P17-20/piece) Orange and Chocolate flavors in Rustan's Supermarket and Robinsons Supermarket and through Session Groceries.
ALSO READ: