When it comes to family meals, finding dishes that everyone likes can be a delightful challenge. You want something hearty, bursting with flavor, easy to prepare, and yet special enough for the whole family to enjoy. Well, we may have discovered the thing that ticks all of these boxes: the new CDO Cheesy Tonkatsu.
Here's what to expect from the new CDO Cheesy Tonkatsu
Imagine a Japanese-style breaded pork cutlet with a mouthwatering cheesy twist—that's exactly what CDO Cheesy Tonkatsu brings to the table (pun intended). It has everything you love about tonkatsu and more.
It is made with juicy pork meat and coated with flaky breadcrumbs, which, when fried to perfection, create a crispy, crunchy texture that's pure delight. But the pièce de résistance is the bits of mozzarella and cheddar that are packed in the cutlet. These two melt-in-your-mouth savory cheeses deliciously complement the juicy and crispy tonkatsu.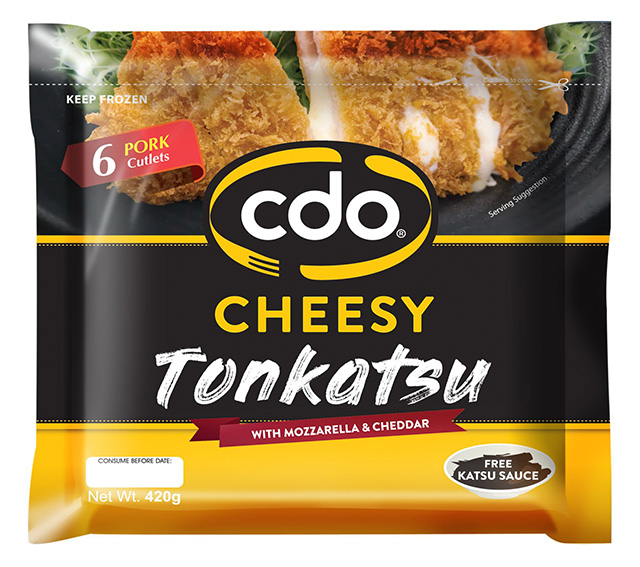 Whether you're cooking for your family or whipping up something for yourself, you'll be glad to know that each 420-gram pack of CDO Cheesy Tonkatsu contains six generously sized cutlets. This means one pack is satisfying enough for a family meal or multiple meals throughout the week. And when the craving hits or a restock is due, you can grab the CDO Cheesy Tonkatsu for only P179 (SRP).
How to cook CDO Cheesy Tonkatsu
CDO Cheesy Tonkatsu is also incredibly easy it is to cook. Just pop it in the air fryer or fry it in a pan with cooking oil for five minutes on medium heat until golden brown. To top it all off, you can serve it with the free katsu sauce that comes with each pack, so every bite is drenched in delectable flavor.
If you're looking to add a Japanese flair to your family meals, CDO Cheesy Tonkatsu is definitely a must-try. It offers a delightful twist on the beloved classic, combining the comforting charm of crispy pork cutlets and the satisfying creaminess of cheese. Try it for yourself!
Get the new CDO Cheesy Tonkatsu today for P179 (SRP) from supermarkets nationwide, Lazada, Shopee, or via CDO Home Delivery. For more updates and inspiring recipes, visit CDO's website and follow CDO on Facebook, Twitter, Instagram, and TikTok.