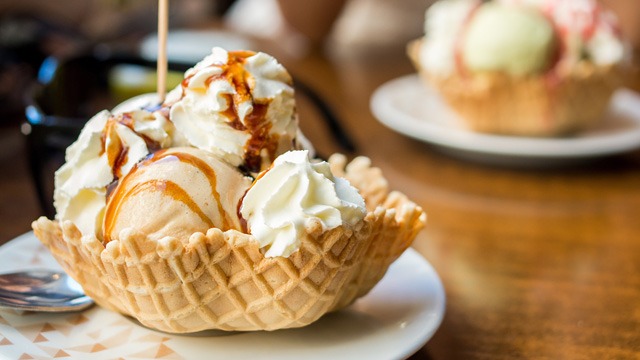 Whatever month it may be in Manila, it's always ice cream season. You've probably tried loads of ice cream flavors before—especially if you're an ice cream fan— but there's always room for new flavors! Meet the Magnolia Best of the Philippines Ice Cream Collection, all made with carabao's milk, which transforms your fave childhood snack to an extra creamy and silky treat.
Need more convincing? These new flavors may just become your new favorites:
Taro White Cheese
Keso or cheese ice cream is a staple of the neighborhood sorbetero, but Magnolia elevates this classic flavor in its taro white cheese ice cream. Paired with sweet and decadent taro, the white cheese base makes the flavors come to life. To accentuate the distinct taste of white cheese, rich and creamy carabao's milk is added to the mix.
Avocado Macchiato
Guacamole and avocado toast are all the rage in other parts of the world, but here in the Philippines, avocado is enjoyed as a dessert. This tropical fruit, with its creamy texture and understated sweetness, makes for a great ice cream flavor. Magnolia blends avocado with bold-flavored tablea bits and sweet macchiato drizzle in this new flavor. Creamy carabao's milk is also added to refine the ice cream's distinct sweetness and balance out the tablea's strong character.
Tablea Yema
Magnolia uses tablea, or roasted and molded ground cacao nibs, to create a thick, dark chocolate ice cream. Mixed with yema fudge and ripple sauce, this ice cream puts a Pinoy twist on the classic chocolate-caramel combination. This flavor from the Magnolia Best of the Philippines Ice Cream Collection takes inspiration from the yema you know and love by giving it the same rich consistency, made possible with carabao's milk.
Mango Dark Chocolate
Mango is already refreshing by itself but add dark chocolate fudge to it and you have a clear winner. Dark Chocolate and the creamy carabao's milk add another dimension to the light, sweet taste of mango, giving the ice cream more layers of texture.
Ube Keso
Ube, or purple yam, made international headlines last year as the latest food craze from the Philippines, but for most Filipinos, it's an ingredient you've known and loved since childhood. Being a root crop, ube has a nuttiness and delicate sweetness to it—and you probably can't get enough of it. Magnolia Ice Cream's Ube Keso is made with the all time favorite Good Shepherd Ube mixed not only with keso, but also with carabao's milk, giving the familiar flavor a smooth and playful new profile.

You can also try other delicious flavors like Macapuno Caramel, Mango Salted Caramel, and Ube Caramelized Sugar from the Magnolia Best of the Philippines Ice Cream Collection. Fall even further in love with these flavors now made creamier and more delicious with carabao's milk.
Magnolia Ice Cream is making a conscious decision to support local farmers through a sustainable partnership. The farmers supply carabao's milk which has high butter-fat content, making it creamier than cow's milk. It also packs in a lot of calcium and protein, but has low cholesterol content.
To know more about Magnolia Best of the Philippines Ice Cream Collection, follow Magnolia on Facebook.