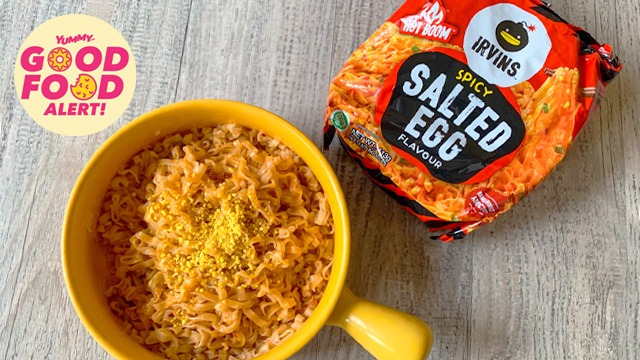 GOOD FOOD ALERT! Irvin's is a Singapore-based brand which doesn't need an introduction. Its #DangerouslyAddictive Salted Egg Fish Skin and Potato Chips became such a hit that it's safe to say they are one of the most sought-after pasalubongs from Singapore. Just like an answered prayer from foodie gods, Irvin's collaborated with Nissin to give us salted egg-flavored noodles: NISSIN x IRVINS Hot Boom! Spicy Salted Egg Instant Noodles!
What You Need To Know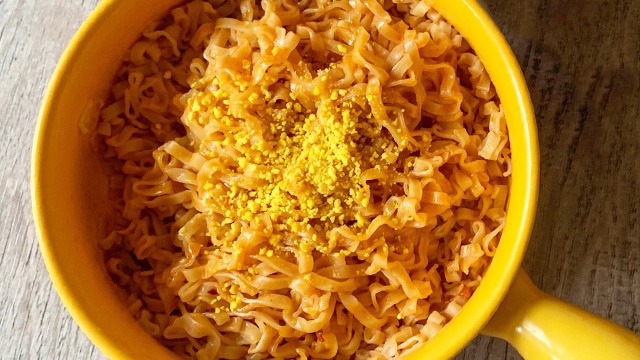 NISSIN x IRVINS comes in 2 flavors: Regular salted egg and Spicy (a.k.a Hot Boom!) salted egg. Each pack contains 5 packs of 113-gram noodles with seasonings and dried egg crumbs as toppings.
It's very easy to prepare: Just put noodles in 450 ml boiling water in a pot. Simmer the noodles, stirring, for 2 to 4 minutes. Drain water. Plate it. Add seasonings, mix, and top with egg crumbs!
You can also take these on your travels or as baon sa office as these are also available as cup noodles, too!
What We Love About It
As expected, it is tasty and savory. The topped egg crumbs take the play of flavor and texture to another level.
Here's a Pro Tip we suggest you do: crush Irvin's Salted Egg Chips into small pieces and top it for the extra salted egg punch!
Its spiciness level is close to Samyang minus the tingling in your tongue and the feeling that you might be having heartburn. Be sure to have a sweet and/or creamy drink in hand to help you balance out the flavors if it gets too spicy for your liking.
Here's another Pro Tip: We tried combining the regular salted egg flavor with the spicy one and we were happy with the result! Just the right hint of spiciness for you to still enjoy what you're eating.
Where To Get It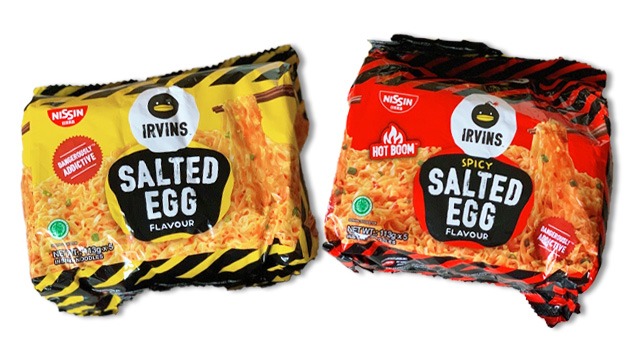 Get this for only P470 from Chill'd MNL. Aside from Irvin's products, they also sell other hard-to-find snacks such as White Rabbit Ice Cream, Bottled Tiger Sugar Sea Salt Cheese Milk Tea and Latte, and different brands and flavors of mochi ice cream. Message them on Facebook or on Instagram to order your instant noodle packets now!
Good Food Alert is a weekly update on editors' picks on new food products, grocery items, desserts that are worth the calories, and dishes you shouldn't miss out on.
***