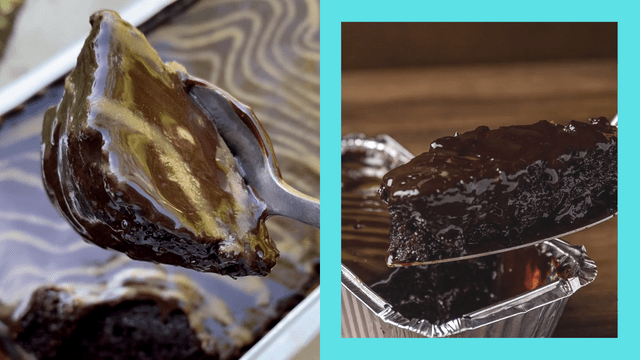 It's rare to be pleasantly surprised when it comes to a simple, classic chocolate cake, but for some reason, a forkful of Nono's Vitto's Moist Chocolate Cake does the trick. Even slicing it can cause an audible gasp or a "Woooow!" as you see the thick layer of ganache moving like lava.
Nono's Vitto's Moist Chocolate Cake, priced at P595, has the moistest, fudgiest chocolate cake topped with a thick layer of glistening ganache and swirls of caramel, resembling a zebra pattern. While it comes in a small foil tray, it's indulgent enough that it can be shared between 2 to 3 people, inclusive of second rounds because we're 100.1% anyone will want more after that first slice.
There's really no sugarcoating (pun intended) when it comes to this dessert. It's a classic chocolate cake done in the best possible way. No room for improvement—just that it's going to be more satisfying when you pair it with your favorite cup of coffee, tea, or choice of beverage.
Nono's Vitto's Moist Chocolate Cake (P595) is available in stores and for delivery via Nono's order form, GrabFood, foodpanda, and Pick-A-Roo.
*****