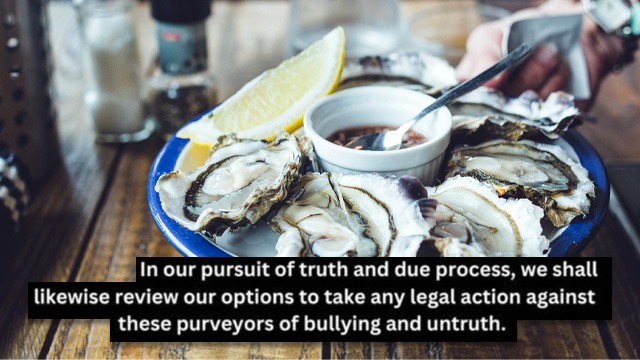 It's appalling how this restaurant is handling serious complaints about food poisoning after eating at their restaurant, and I'm angry, horrified, and flabbergasted all at the same time at Wantusawa's actions.
For background, Wantusawa, an oyster bar and restaurant in Poblacion, Makati, has been allegedly serving bad batches of oysters to their customers, causing many to leave reviews on their Facebook page about suffering a number of medical symptoms that are similar to food poisoning symptoms.
Food poisoning is a serious complaint and for a restaurant, I believe it should always be taken seriously. It can make or break a restaurant because such claims can not only mean having to close your establishment if you are found negligent in your food safety policies, face a lawsuit waiting to happen if one (or more) of those diners file a case against you for poisoning them, and, even if you survive the claims or any potential lawsuits, your public reputation is put on the line, too! Who wants to eat at a restaurant that has been found to cause food poisoning, not just once but several times, in a matter of a few weeks?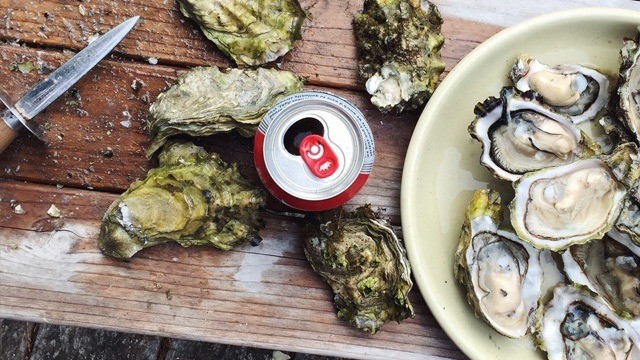 Many people don't, which is why they left reviews on the restaurant's review page. Some even claimed they got in contact with the restaurant but got no real action about their complaint. Wantusawa continued to operate despite these complaints. What's worse, the alleged food poisoning kept on happening to different groups of diners who had nothing to gain about writing about their experience but seriously upset stomachs and loose bowels for their patronage.
Yummy.Ph wrote its story to give this food poisoning issue attention, and we also asked Wantusawa for their side of the story to give diners what they should have gotten: a timely response.
However, the restaurant's response is what really angers me.
Wantusawa should have acted promptly and with decisive action to their very first review of bad food. This is to not only assuage future diners' concerns but also to save face. They ate bad food served from your kitchen, and some allegedly needed to seek medical treatment and even got hospitalized for it.
The restaurant claimed they conducted an investigation into the food poisoning claims but then failed to disclose these findings in a timely manner. Let's give them the benefit of the doubt and say that it was an isolated incident. However, the same claim of food poisoning happened several more times over the course of a few weeks.
This is a red flag for any chef and restaurant business! What did Wantusawa do? Wantusawa were seemingly unbothered as they went about business as usual while their former diners were puking their hearts out (among other sickness-related things).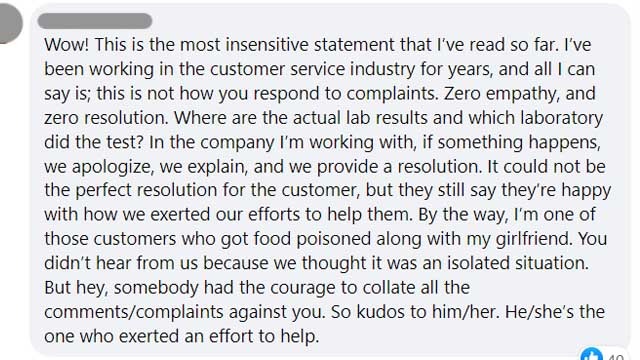 As I scrolled through bad review after bad review of their restaurant and the seeming lack of action on their part to address the growing number of food poisoning complaints, it's plain to see that their consciences were all clear, and they did little to placate the growing lynch mob.
ADVERTISEMENT - CONTINUE READING BELOW
Recommended Videos
Sure, there were no news articles to highlight these first few food poisoning incidents but now that these (and more) have surfaced publicly, this is how the restaurant reacts: with an official statement that not even their friends can call apologetic or empathetic.
This would have been the perfect opportunity to make things right!
Not only do they fail to empathize with their victims aka former customers, but they go one step further and call these very same upset (and now irate) customers, in their terms, bullies and liars, and then threaten them with legal action. Even if Wantusawa claims their tests allegedly resulted in negative-for-bacteria, bad reviews resulting from food poisoning are not a license to call them names nor does it merit legal action. There is still a thing called freedom of speech, and that is exactly what those people exercised when they left a bad review on their reviews page.
This is in stark contrast to the preemptive response of, say, Polland Hopia to bad customer reviews about their new product. They acted with a statement before customers could lambast the state of their product, a situation that wasn't even within their control, and even apologized for the quality of their product. This is exemplary customer service that proves that they hold their customers with high regard and respect for their patronage. While melted chocolate isn't the same seriousness as a food poisoning scare, the customer-centric service is one to emulate.
I had originally advised family and friends against eating any shellfish, cooked or otherwise, for now until all issues were resolved — better safe than sorry right? With this type of attitude and response from a service-oriented establishment that apparently has no regard for its diner beyond their pockets, it's a sure sign that I won't be recommending anyone risk their health (or lives) at this place no matter the circumstance.
***