We went to Pampanga without a moment to spare and every bit of it was deliciously rewarding.
"Make sure your sinigang is maasim, your kare-kare is perfect and your morcon, 'yung cheese galing sa queso de bola," Mayor Edgardo Pamintuan gives advice for when we invite a Kapampangan to eat dinner in our own home. "Sasabihin talaga sayo," he continues, and describes how the average Kapampangan tongue is discriminate and brutally honest.
Chef Sau del Rosario then adds that if you ever serve sisig to them, adding egg would be a "mortal sin!" These people take pride in the food they make and they're not compromising their taste even for the sake of tact. Cooking is serious business in Angeles City, Pampanga.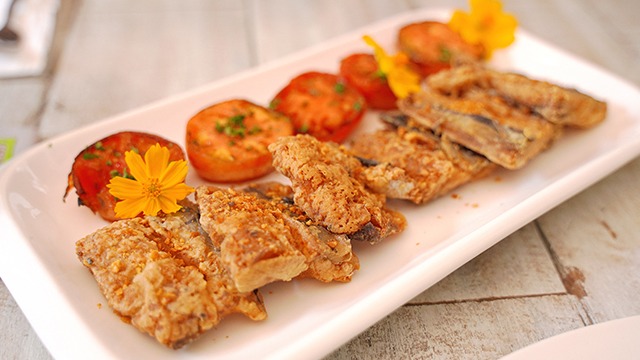 Knowing how serious they are about food in the city and considering that we only had one full day, Skechers GoWalk Food Crawl arranged an itinerary that made every moment, every step and every bite count. Most of the places we visited, both for food and sightseeing were just walking distances apart. Time was gold, and in our this case, gold was a rare meal you couldn't get anywhere else.
A Hearty Breakfast at Café Fleur

Our journey felt, from the beginning, imbued with importance. Pampanga isn't just any city, it's a city particularly known for its extraordinary food. This was punctuated even further when for breakfast, Mayor Pamintuan dropped by at Café Fleur by Chef Sau.
As we enjoyed our breakfast, Chef Sau and Mayor Paminutan waxed poetic about the city, the culture, but most importantly the food. They fed on each other's excitement in pushing their city's food culture. Their excitement was contagious! The Mayor sang Chef praises not just with how he represented the country abroad in his day, but for his chutzpah to come back home and invest his time and resources into turning an ancestral house into a sight to behold. To Chef Sau, it seemed inevitable to come back. Pampanga is his home, his identity, where he had grown up surrounded by good food and beautiful people. It's an appreciation that spills into everything he does, including Cafe Fleur.
Café Fleur is a quaint and cozy little space decorated with modern graphics and antique furniture, quirky touches while retaining its historical roots—literally. Nestled within the shop is an actual live tree! It's a reflection of how even with renovations and recipe innovations, Chef Sau has held fast to what was important about the space: that feeling of safety when you're nestled under a tree, that feeling of home.
ADVERTISEMENT - CONTINUE READING BELOW
Recommended Videos
We feasted on the typical Kapampangan breakfast: Pampanga's own rendition of longganisa, daing that was unapologetically tangy as it should be, tender and tasty tapa and then capped off with something sweet: French toast with blueberry compote. The hearty breakfast was just what we needed for the long day to be filled with so much food to eat, places to go and mileage to cover with our feet.
Nearby Café Fleur, a cobblestoned walk away, you'll find Pampanga's The Culinarium or also known as Museo Ning Angeles. I really meant it when I said these folks were serious about food! They even have a museum for it!
Get the Perfect Pasalubong from L.A. Bakeshop, the Home of The Original Cheesebread

Looking for pasalubong and a little merienda, we then proceeded to Pampanga's famous L.A. Bakeshop just four minutes away from Café Fleur. Here, you can find their rice meals and bakery classics but most importantly: their cheese bread and Spanish bread! Freshly-baked, you will find yourself popping these into your mouth like oversized popcorn. The cheese bread is pillowy soft and plays with sweet and salty incredibly well, while the Spanish bread is loaded with filling and wrapped in a crust so finely-rolled that it gives a delightful crunch.
You might have heard from other people that it's not really as good by the time you get home and it's all cold, but don't believe them. All you have to do is pop them in the toaster and it will be good as new!
For Kapampangans, The Heart For Cooking Is In Their Blood
We got to learn more about the food culture of Pampanga when we toured around the Old Pamintuan Mansion. On the ground floor, you'd find their kitchen and dining room which gives you a glimpse to the past. Back in the day, when it was fully functional, the already spacious kitchen was even bigger. Families usually even had a "dirty" kitchen to hide the messier parts of cooking. Traditionally, the Kapampangan kitchen was larger than the dining room because the dining room may be where the family ate, but the kitchen was where they bonded. From an early age, the women were taught to cook and the men, in charge of butchering the meat, also had to know how to cook and handle every single cut.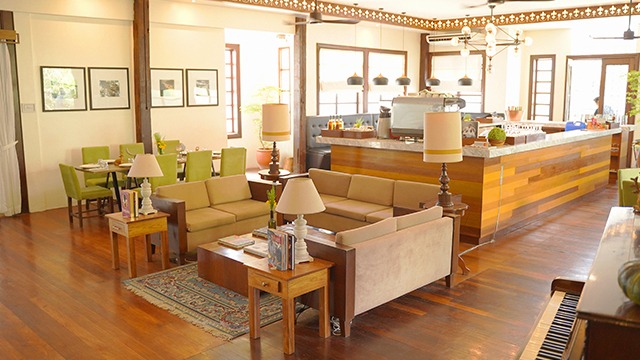 Lunch at 25 Seeds, home of Avant-Garde Kapampangan Food

25 Seeds is home to avant-garde Kapampangan food also by Chef Sau. We were in for a treat. While Café Fleur, sprawled comfortably on the ground floor, may have been where you restfully began a journey, 25 Seeds was the restaurant where Chef Sau got to play.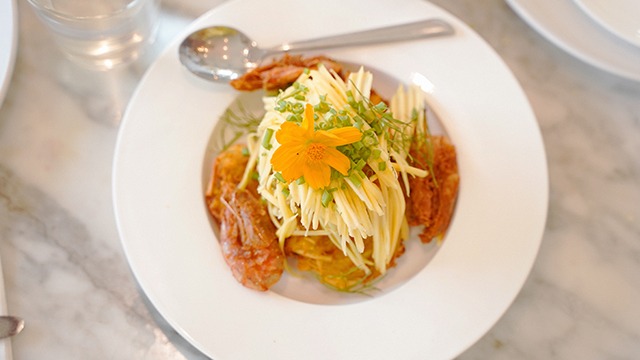 Our first main dish was the long-awaited sisig. We were primed for this dish from the first moment we stepped down in Angeles when we were greeted by Miss Joy Lansang Cruz, the Heritage, Culture and Arts Officer of Angeles City's tourism office. We were given a thorough rundown of prehistoric and contemporary local food history. The one their proudest about, so much so that they've chiseled it down to law, is the origin of sisig.
Sisig was first mentioned in a Spanish dictionary by Diego Berganio in the year 1732, and meant "to snack on something sour." Fast forward a few decades ago to Aling Lucille, who, with just P500, began a business selling the only kind of grilled meat that she could afford: pork ears and cheeks. From there, it grew, injected with theatre when Benedict Pamintuan served it on a sizzling plate then introduced to the Metro through Trellis in Quezon City, then further adapted by other cultures, adding their own twists.
It was amid the cacophony of different kinds of sisig that the Kapampangans decided on a purist attitude towards what sisig should essentially be: seasoned grilled or fried meat that is then soured with vinegar. It sounds simple, but when you think about it, in that simple equation, they hit all the essentials to good cooking: salt, fat, acid, and heat.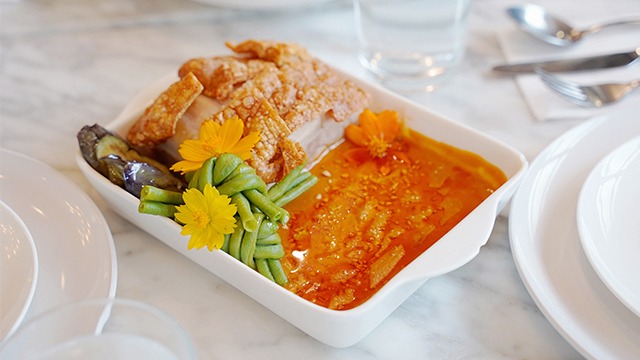 For dessert, we had Earl grey panna cotta infused with Sampaguita and dotted with jackfruit curd. My suggestion when trying this dessert so you can get the full spectrum of flavors? Try the white panna cotta cream alone first, and close your eyes to enjoy that subtle, sweet note of Sampaguita.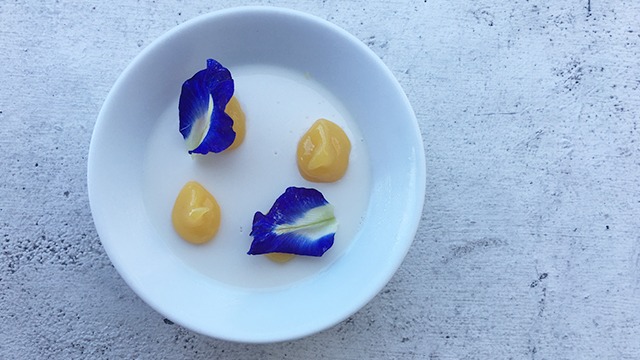 If you're lucky enough, catch a conversation with Chef Sau after your delicious meal and he'll regale you all about the delights of local cuisine. Supportive of other local businesses he recommends for our next trip: Suzy's Kakanin, Mila's Sisig, and to attend the Duman festival in December.
Chef Sau then went on to describe the marvelous childhood he had. He used to wake up at 4 a.m. to go with his mom to the wet market. There, his mom would go buy her ingredients from her different suki to get the best quality for anything she needed. She'd always get the largest bangus or the freshest utak ng baboy. Sometime in the middle of the boisterous going-ons of the wet market, the young Chef Sau would be distracted by a live chicken and would end up feeding it. By the time he'd look up from his temporary pet, he'd find that his mother isn't there anymore. Still, the little boy did not panic. He was right at home. Sooner or later, one of the vendors would recognize him and take him to his mom. It would always be the same place, the finish line to their daily trips: the kakanin shop! This was why he'd woken up so early, his love for cassava cakes.
Chef Sau's passion for food, the way he lights up and fawns over ingredients and dishes even after so many years in the business—it's not entirely unique to him. He was born to love food. The culture, the people, the place, the family, Pampanga, they'd all aligned to nurture that appreciation for food. Thus, when we arrived at our next stop, the Toll House, it was no surprise it was a family business.
Nostalgic Merienda at Toll House
The Toll House is where you go for quintessential, homey food that's attuned to the Filipino palate. Their best seller, cheese mac, has a sweetness to it that's near-exclusive to our country. They serve other Filipino potluck faves like pancit, barbeque, pancit canton, and spaghetti—just how you remember them as a child at a birthday party.
They serve affordable cakes as well. Their latest cake flavors, Maddie Cake and Javi Cake, are named after the two latest additions to the family, now both 3 years old. They've stuck to this family-oriented heart of their business since they began in 1988 when it was just a portion of their house up to today with their five branches.
Dinner At Pigs and Pints

By this time, the sun was setting and we had one last item on our itinerary: Pigs and Pints. It was almost sad, ending the trip after everything about it just screamed that there was, even more, to discover, to eat. I wished I had more time, and I did get my wish, the gift of time—in a way.
What does Jeong Kwan, a Michelin-starred Zen Buddhist nun in a remote Korean temple featured in Chef's Table, have in common with bar and restaurant Pigs and Pints' big, bearded Executive Chef Bong Sagmit? Their secret ingredient: time. Time sure is delicious.
We are sure that you haven't had pulutan as good as this. Homemade pulutan, after all, is something you make in a jiffy but Pigs and Pints take their own sweet time developing flavors. Days before we even sat down in his restaurant, these so-called "bar chow" were already being made.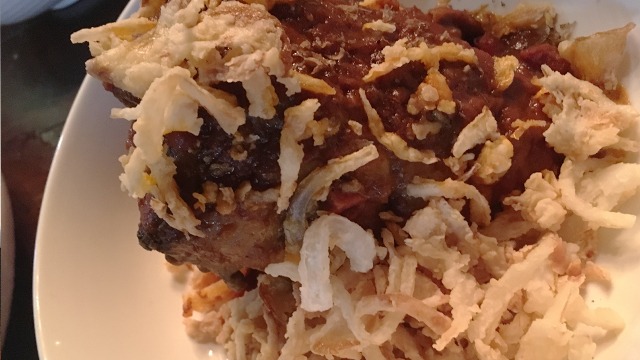 Chef Bong Sagmit wastes no time coming up with a name for his dishes and just calls this by what they are such as, "Lamb Neck." But then he doesn't shy away from detailing how his delicious meals come to be, the care, the time that went into each one. Lamb Neck is Australian lamb neck seared with salt, smoked paprika and deglazed with San Miguel Pale Pilsen. Then, it's cooled down and cooked in a sous-vide at 78 degrees for 72 hours.
Have you ever cooked something for more than 3 days? Most people will say that they don't have the time, which makes this dish, falling off the bone, with every bit bursting with robust deep flavor, a real gift.
You know how love is expressed through the amount of time invested? In that line of logic, Chef Bong's Beef Cheeks had 42-hours of unadulterated tender loving care and you can taste and feel it as it almost melts on your tongue. After braising, it's scented with fresh calamansi juice; bay leaf and local soy sauce and pre-fried with Adobo-style Oxhearts.
In some dishes though, using "time" as an ingredient is not about having copious amounts of it, but rather to have less of it. Sometimes, what makes something so good is how little time the whole thing came together from the ocean or from the farm to the table.
We're sure you'll love the super fresh Tuna and Talaba Kinilaw. The Caticlan oysters are sourced just two hours away from the restaurant. You get all that freshness elevated because it's cured in seaweed then marinated with banana vinegar, ginger, onions and topped with soy-soaked tapioca pearls.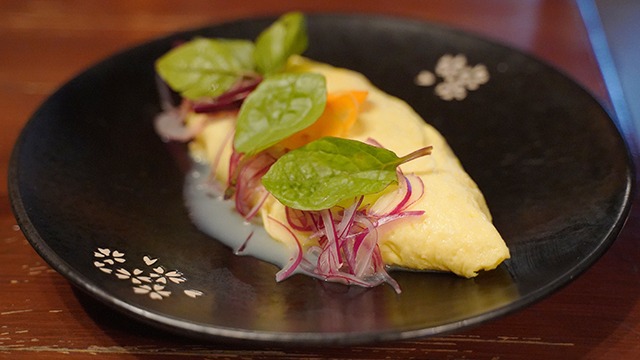 Of the mind-blowing, delicious dishes we got to eat at Pigs and Pints though, you better trust Chef Bong's personal favorite: the Crab Omelette. This scrumptious dish is made with hand-picked blue crabs sautéed with potatoes; caramelized onions and fish sauce. It's then folded over French-style and served with lamb fish caviar.
We couldn't have imagined a better way to cap off and process the day, reveling in all the wonderful things with a cold pint of craft beer and unbelievably good pulutan. In retrospect, we had so little time to explore such a vast, rich tapestry of food. Then again, at the same time, we couldn't have spent it any other way, as we felt assured that not a moment of the day was wasted. Why? Because there's no way to waste time in Pampanga with every nook and cranny a worthwhile exploration.
ALSO READ: