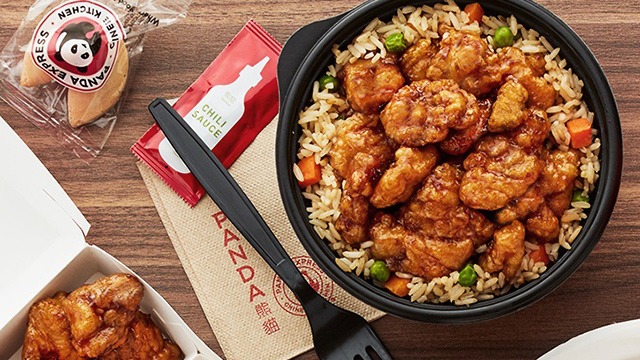 It's been a long time coming, but Panda Express is finally opening its first-ever Philippine branch at SM Megamall on December 12. Obviously, ordering their famous Original Orange Chicken is a no-brainer regardless if it's your first or the nth time, but what else should you expect? 
What's on the menu?
There are eleven entrées on the Philippine menu, which includes Orange Chicken, String Bean Chicken Breast, Kung Pao Chicken, Mushroom Chicken, Beijing Beef, Broccoli Beef, Shangai Steak, Savory Shrimp, Asian Grilled Chicken, Black Pepper Chicken, and the Eggplant Tofu.
Chef Jeff Jimenez, the International Culinary Training Manager for the Panda Restaurant Group,  says that using a wok is an integral part of cooking. He adds, "Once you heat up the wok, it starts to almost breathe. We call that Wok Hei, which translates to the 'breath of the wok.' As it breathes, it imparts flavors into the food that's put into the wok while it's cooking."
As expected, the Orange Chicken (spoiler alert: it's delicious!), has crunchy but tender chicken boneless chicken pops coated in a tangy, sweet, and a slightly spicy signature orange sauce. Another dish you should definitely try is the Eggplant Tofu, with a medley of vegetables and tofu all tossed in a sweet and spicy sauce.
For chicken fans, there's the Kung Pao Chicken has bell peppers, ginger, garlic, and crunchy peanuts, then coated with the soy sauce. The Asian Grilled Chicken uses chicken thigh and then is served with a sweet and savory teriyaki glaze. Both of these dishes are included in Wok Smart line, where each serving is measured to have 300 calories or less and at least 8 grams of protein.
ADVERTISEMENT - CONTINUE READING BELOW
Recommended Videos
The Broccoli Beef, on the other hand, combines flavorful beef and fresh, crunchy broccoli. Since Panda Express is a Chinese-American fast-food chain, this does not heavily coat the meat and vegetables in a sauce similar to what most Chinese-Filipino restaurants do here, but it is nevertheless just as flavorful because of the hand-marinated beef. This also applies to one of their side dishes, the Chow Mien, which is a dried but tasty noodle side dish you can pair with your entrees. 
The other side dishes are Mixed Vegetables, Fried Rice, and the White Steamed Rice. Chef Jimenez says, "It's developed so it could accompany our entree dishes, it will pair well. [For example], I would eat the Asian Grilled Chicken, then I'll take a bite of fried rice or the Chow Mien."
After eating your main course, don't forget to crack open a fortune cookie afterward! 
Panda Express will open its door to the public on December 12. It is located at SM Megamall, Mega A Upper Ground Floor (right across Almon Marina), Mandaluyong City.