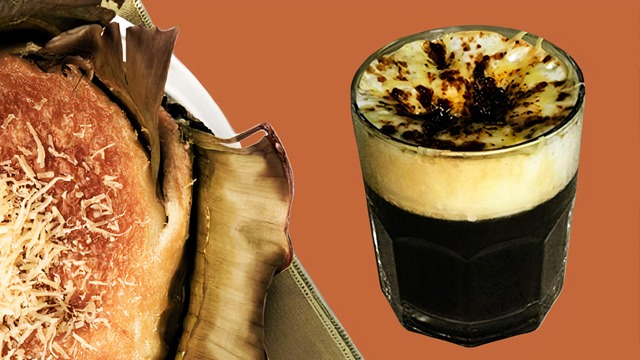 Bibingka is one kakanin that, without fail, we crave and look for as soon as the holiday season starts even if it is available all year round. All sorts of bibingka-inspired desserts also come out in the form of cupcakes, cheesecakes, ice cream, and more.
But would you try bibingka coffee? Instead of the usual bibingka with coffee pairing, Papakape, a mini café in Makati City, makes it more interesting by combining the two in their holiday special drink: Bibingkaccino, a portmanteau of bibingka and cappuccino.
Papakape's Bibingkaccino (P160) is a hot coffee beverage made with vanilla coffee, topped with a fluffy coconut froth. It's topped with muscovado and grated queso de bola, which are the special ingredients that really lean into the familiar flavors we all love about bibingka.
Also included in Papakape's holiday menu are Horlicks (P180) which has coffee, spiced milk, malt powder, rolled oats, and coffee liquor; Grapefruit Black Iced Tea (P180) which has black iced tea, grapefruit preserves, and boba; Peppermint Macchiato (P120/hot and P140/iced) which has espresso, cream, peppermint, white chocolate, and cacao nibs; and the Black Forest Macchiato (P120/hot and P140/iced) which has espresso, cream, cherries, coffee liquor, and dark chocolate.
ADVERTISEMENT - CONTINUE READING BELOW
Recommended Videos
Papakape's Bibingkaccino is available for takeout and pickup only. You can visit their aesthetic coffee shop at 5641 Ampere Street, Makati City.
*****