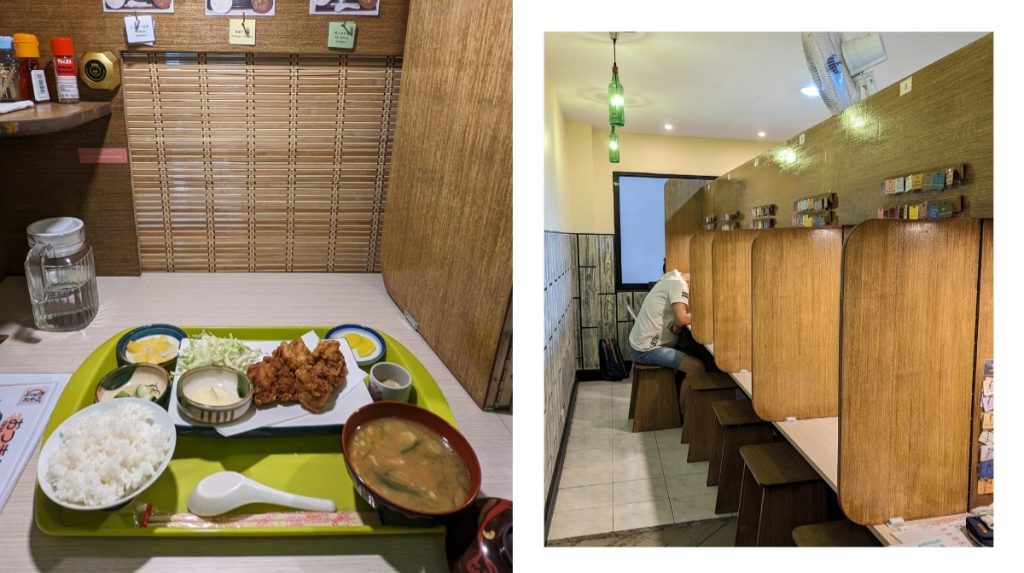 Makati is a city with multiple personalities. There's the sleek and shiny CBD part, the Poblacion party central, the semi-suburbia hubs of Legazpi and Salcedo, and the more low-key, almost stuck-in-another-time area around the Makati Central Square. It is in that last one, somewhere in the rows of old condominiums and buildings by Amorsolo Street that Patchimon Ookini fits right in. This Japanese resto brings to the already pretty eclectic mix of stores in the old Creekside Building a new type of flavor, made specifically for people who want to dine in solitude.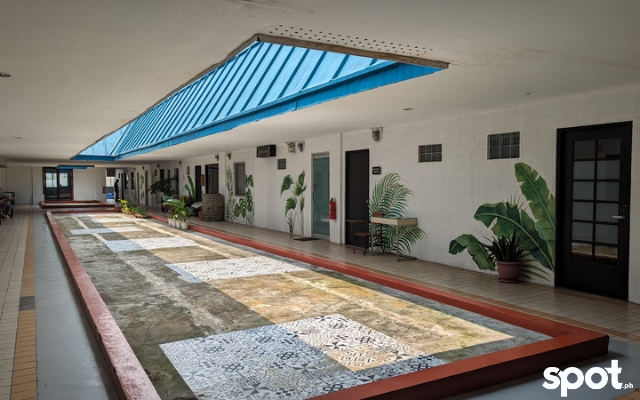 Solitary dining is the way to go at Japanese restaurant Patchimon Ookini in Makati
We're sure you know of the popular solo-booth style dining typically associated with Ichiran ramen; this spot brings that design to Metro Manila, along with great Japanese eats, too. Walk past the lower ground floors of Creekside Building and head to the elevator, once at the penthouse floor, walk past the open skylight to the last non-descript door, and it's there you'll find Patchimon Ookini. Step into this small and barebones establishment, with rows of warm wooden booths that beckon you into your very own space; a quiet spot just for you for this moment.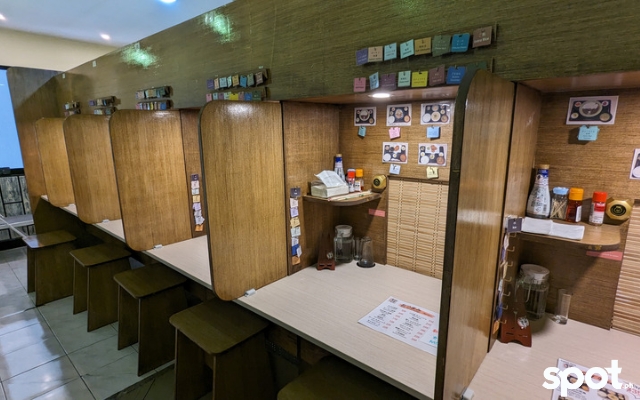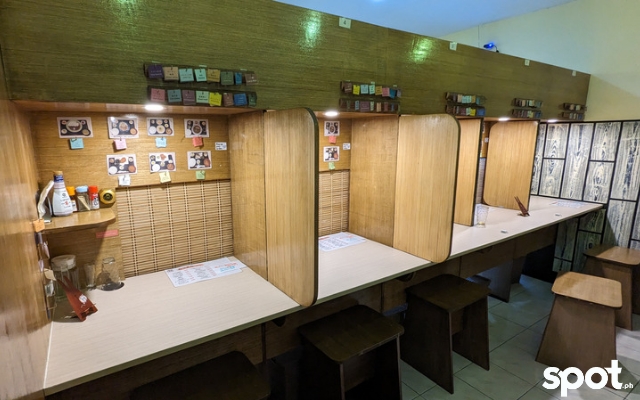 Dining alone isn't exactly the norm here in the Philippines, what with our love for salo-salo. A sentiment Yuka Tokunaga, who manages the place, wanted to address. Tokunaga's family moved to Manila when she was just around 10 years old from Osaka; Ookini means "thank you" in the dialect they spoke, while Patchimon means "imitation." Tokunaga wanted to create the same type of "focus counters" that Ichiran made popular so that diners have a "barrier to make you focus on the food and the situation."
"Mahirap dito na mag-dine-in ka alone, tapos ang laki ng table," Tokunaga says in a chat with SPOT.ph. "Para makapag dine-in 'yung mga independent," she cheekily shares, she opened a restaurant with this concept. Her father runs a yakitori resto nearby, too, so they know first-hand how awkward it can be when someone wants to eat solo on large tables meant for sharing. It was her father's idea to open up a second restaurant, and Tokunaga who was then a Japanese language instructor, saw the opportunity to make their second spot different.
What to eat at this Japanese restaurant
Dining at Patchimon Ookini is straightforward. It's low-key location pretty much guarantees an empty booth at any given time. Once you settle in your space, you'll find everything you need already prepped: condiments, tissue, service water, and above and beside you, little laminated tickets with the menu item on them. Once you've decided what you want, you can take a ticket, ring the doorbell, and wait for someone to draw up the curtain in front of you. Hand over your tickets and payment, yes, pay as you order, and they'll get right to cooking.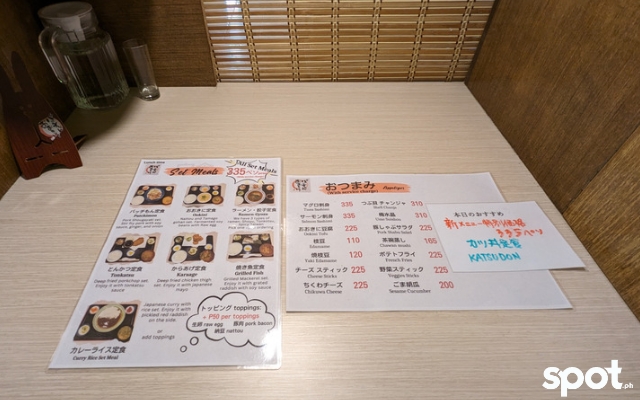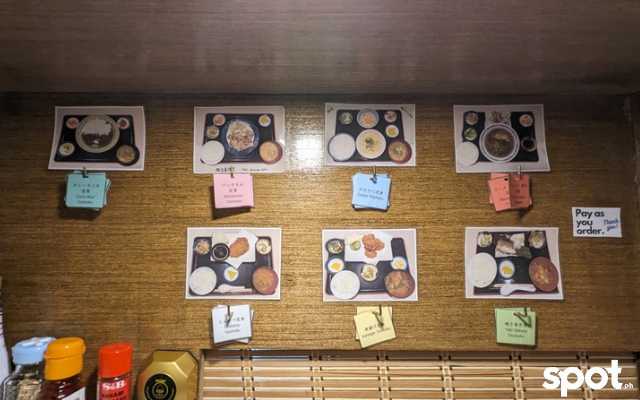 Tokunaga explains that the recipes are mainly her father's, so you can expect honest and hearty set meals here. A look at the menu shows you can choose from lots of different types of sets; for lunch, each one is at P335, while dinner is at P445 but that's with unlimited servings of rice and soup. We got to try a staple, karaage, and even a special that they're trying out, a katsudon bowl.
ADVERTISEMENT - CONTINUE READING BELOW
Recommended Videos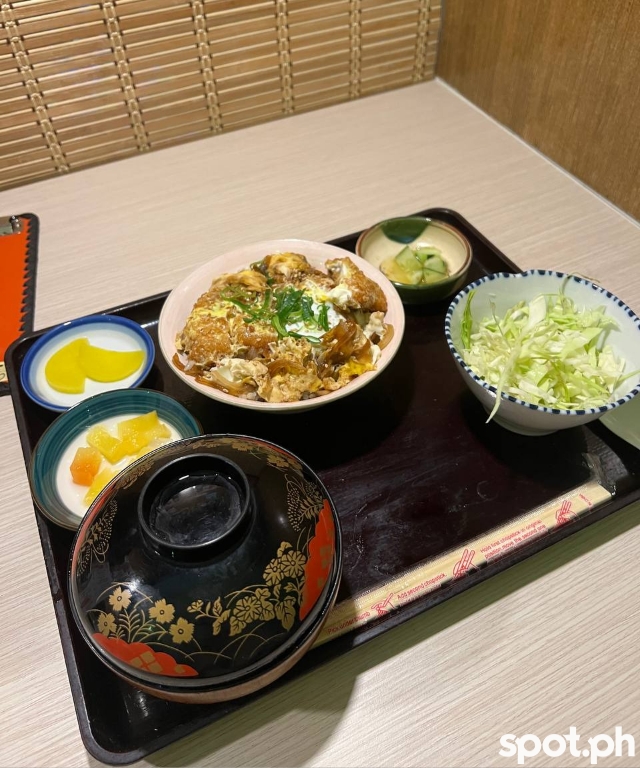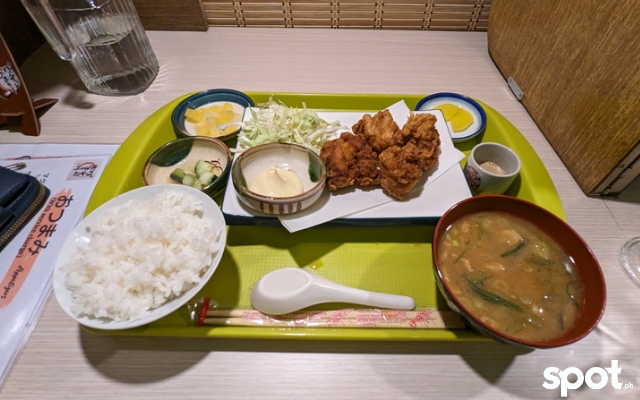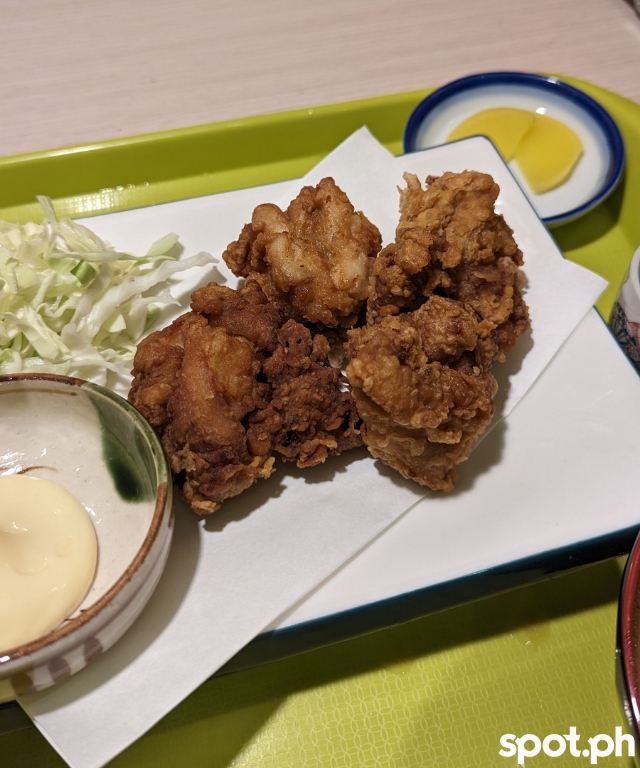 Our Karaage set came with a bowl of rice, a soup that had a salty miso base but was made more hearty with bits of carrot, meat, and even konjac jelly, and four uber crisp-outside-tender-inside pieces of perfectly fried chicken. Sides included cucumber in sesame oil, pickled radish, and a tofu. The Katsudon had the same sides around a filling bowl of hot rice topped with a pork cutlet blanketed by soft, velvety egg. The priced Katsu sauce was on the sweeter side but balanced well overall. While we came for lunch, we could definitely see why night diners would want to go for seconds and thirds (or more) on the rice and soup.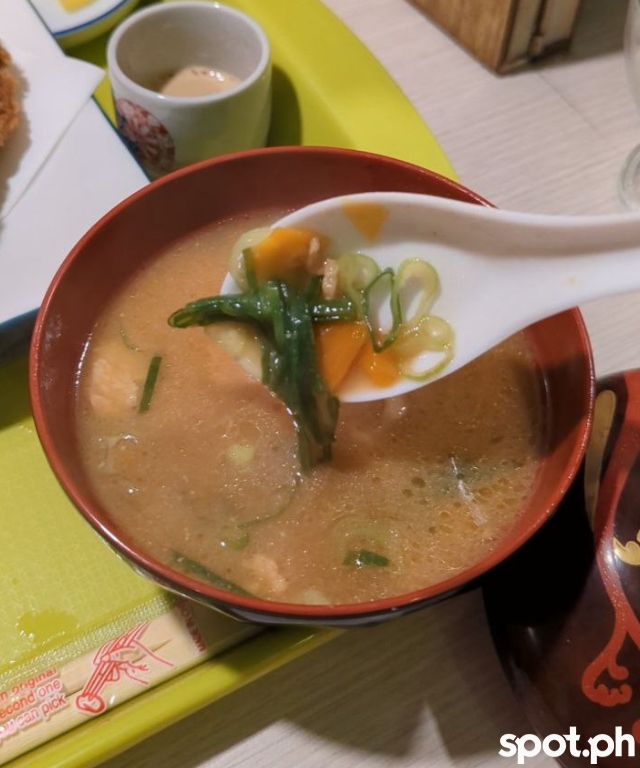 Other sets include the Patchimon special, which stars thinly sliced pork cooked in soy sauce, sake, and mirin, a curry set, a ramen gyoza set, and more. For the more adventurous or have a thoroughly Japanese palate, there is the Oookini set which comes with natto and pasteurized raw egg over the steaming hot rice.
Dining solo isn't the norm in the Philippines. With a spot like Patchimon Ookini, it gives people the chance to do so, in a space dedicated for them. It's a new, honest touch to the many personalities of Makati, and we hope there's more like it to come. 
This story originally appeared on Spot.ph. Minor edits have been made by Yummy.ph editors.