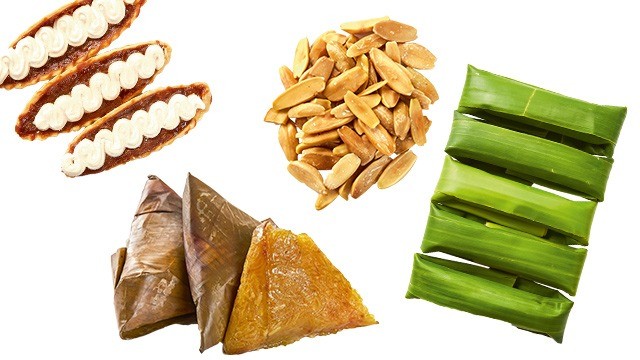 We asked some of our trusted food experts to share their pasalubong favorites from across the country. 
Baguio: Garcia's pure coffee
This family-run enterprise has been in business for over 60 years. Garcia's headliner is its Benguet coffee, an original blend of Robusta and Excelsa beans, which has been roasted dark brown. Very aromatic and moderately acidic, their beans "make for a good cup of old-school coffee," says JJ Yulo, food writer and founder of Pinoy Eats World.
Porta Vaga Mall, Upper Session Road, Baguio
City (074-4234513, 0917-5061777; www.garciacoffee.com)
Good Sheperd Ube jam
Joel Binamira of food blog Market Manila says, "I don't often wait for treats if they aren't ready to be purchased and wrapped up, but I have been known to wait up to an hour while the freshly made ube jam at Good Shepherd cools before being bottled. This is truly fine ube jam, and though I still wonder how they get such a consistently purple color without food coloring, it's a joy to eat by the heaping spoonful."
JB Gibraltar Road, Baguio (074-4242496)
Laguna: Sans rival
This is one of those unbranded town secrets that everybody knows about. It's three thick layers of meringue with buttercream icing in between. Department of Agriculture undersecretary Berna Romulo Puyat says, "I discovered it more than 20 years ago and the quality has remained consistent. It's the best sans rival I've tasted. You can store it in the freezer for months and it will stay crunchy."
San Francisco Terraces Subdivision, San Pablo City, Laguna (049-5623620)
Pampanga: Galan's chicharon and atchara
This recommendation from Angelo Songco, Capampangan owner of Healthy Eats restaurant, is meaty chicharon at its crunchy best—you could pop the cocktail variety in your mouth one after the other; the thick-cut Special Laman is a meal in itself. Wolf these babies down with their atchara to balance off the richness. Anselmo Galan, an expert butcher from Guagua, came up with these goodies in 1945. He passed on his techniques to his grandchildren, who run the business today.
060 San Roque, Guagua, Pampanga (045-4340745, 0919-2592489, 0927-8273297)
Granda's sans rival and silvanas
Butter never tasted this good! Granda's sans rival and silvanas are layer upon layer of French buttercream and crunchy cashew meringue. They're super light and melt in your mouth.
Don Honorio Ventura Street, Cabambangan, Bacolor, Pampanga (045-4360737, 0908-8880821; www.grandas-sansrival.com)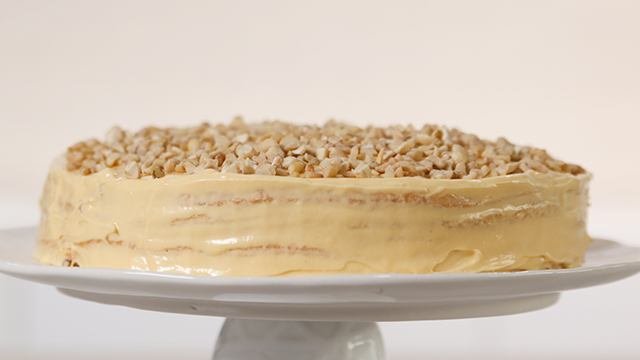 WATCH: How to Make Sans Rival
Posted in:
Baking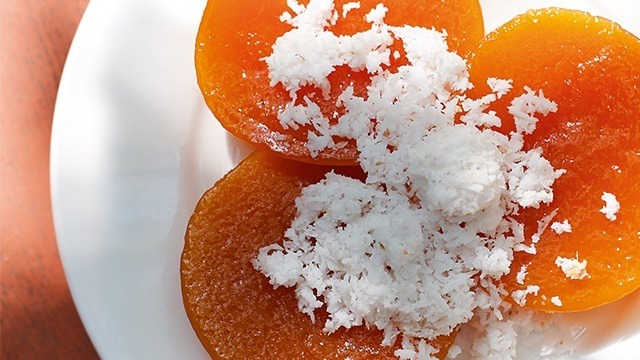 Isabela: Manang Irene Ramos's kutsinta and puto
Berna vouches for Manang Irene's native delicacies. She tasted them during a trip to Isabela and recalls being shocked at how delicious they were. She says, "Never in my wildest dreams did I think that they made good kutsinta and puto in Isabela! In my humble opinion, they're the best."
ADVERTISEMENT - CONTINUE READING BELOW
Recommended Videos
Manang Irene Ramos (0917-6826891) or Marina Concepcion (0917-6765409)
Binondo: Hopia
"What is Binondo without hopia? My picks are Ho-Land and Polland for the traditional monggo filling. If you like fancy, out-of-the-box flavors, head over to Eng Bee Tin and try their Buko Custard flavor. It comes with real coconut pieces," recommends Ivan Man Dy of Old Binondo Tours.
Ho-Land Hopia and Bakery, 551 Nueva Street, Binondo (242-9709); Polland, 209 Escolta Street, Binondo (243-2708); www.engbeetin.com
Pampanga: La Moderna baked items
An old-school bakery, La Moderna makes Masa Podrida, the Filipino version of shortbread; Sampaguita, creamy, sweetish flower-shaped goodies; San Nicolas, cookies delicately flavored with coconut milk and dayap, and stamped with the image of St. Nicolas de Tolentino, the patron saint of children; and Turrones de Casoy, crunchy nougat made from cashew, honey, and egg whites wrapped in edible oblea.
Plaza Burgos, Guagua, Pampanga (045-9000242, 0920-9024433)
Susie's tibok-tibok
JJ says, "A silky smooth carabao's milk dessert (kind of like maja blanca) topped with latik—this was the beginning of my education in Capampangan sweets. It's famous and deservedly so, and I've seen people squeal with delight over it."
MacArthur Highway, San Fernando, Pampanga (045-8880577)
Tarlac: Chicharon Camiling
A deep-fried pork belly delicacy, "It's crunchier and tastier than the others I've had," Berna shares. "It's so good with chopped tomatoes and onions, mixed with patis. Others mix it with buro. I can even eat it every day."
Camiling Public Market, Quezon Avenue, Camiling, Tarlac
Bohol: Cacao tablea
The 100 percent cacao tablea in Bohol is mighty fine, according to Joel. He says that as a cup of thick hot chocolate, it's the ideal "plunge pool" for broas, another Bohol pasalubong favorite.
Tagbilaran Central Public Market, Bohol
Osang's broas
"For at least 50 years, our family has visited Osang's (behind the Baclayon church) for cans and cans of broas to cart home," says Joel. "They are the finest, most artisanal broas in the Philippines, in my opinion. Anyone who still pipes by hand, bakes in a brick oven with charcoal, dries the ladyfingers on buri ribs over coal has got to win the prize. But beware, they have a limited supply and it's always highly sought after."
Baclayon, Bohol (038-5409072, 0920-3689970, 0926-6937322)
Cebu: CnT lechon and Rico's lechon
Undeniably one of Cebu's best pasalubong ideas, the lechon from both CnT and Rico's are so singularly flavorful that you won't need to put any type of sauce on the meat to start enjoying the roasted goodness. Plus, the skin is delightfully crisp, too!
CnT, 1377 V Rama Avenue, Cebu City (032-2544249); www.ricoslechon.com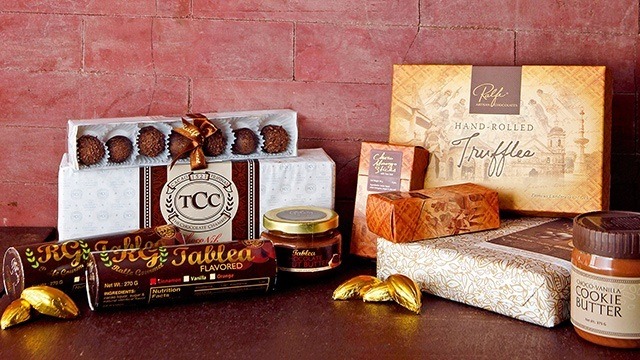 Ralfe Gourmet Chocolates
Berna says, "Raquel Choa is known as the Willy Wonka of Cebu. Her chocolates are world-class and she doesn't scrimp on ingredients. She has so many varieties of hot chocolate that it's so hard to choose which one is the best."
3349 Topaz Street, Casals' Village, Mabolo, Cebu City (0917-6287661; www.ralfegourmet.com)
Philippine Brand dried green mangoes
"Recently, I find myself buying more and more dried green mangoes that have a hint of tartness and aren't as purely sweet as their ripe siblings," says Joel. "There are at least three makers of dried green mangoes in Cebu and I like them all, but I buy the Philippine Brand from Profoods in groceries all over the city."
At groceries and supermarkets in Cebu
Yor's adobong chicharon
 JJ says, "Indulging in this follows one of my philosophies: If you're going to eat something not-so-healthy, might as well go for the best you can find. It's good even as ulam!"
369-EE Juana Osmeña Extension, Cebu (032-5121220; www.facebook.com/yorschicharon)
Negros Occidental: Casa Carmela bottled pitaw
There are a lot of good things that come from a bottle, and this is one of them: wild birds from the rice fields, cooked adobo-style. Deliciously flavorful, it's best when refried to a delicate crispness.
54 Lizares Avenue, Bacolod, Negros Occidental (www.facebook.com/Casa-Carmela-187094685123)
Pendy's Half Moons and dulce gatas
Little cakes covered in custard, Pendy's Half Moons go well with a strong cup of coffee. As for dulce gatas, JJ says, "Truth be told, this is my favorite pasalubong from Bacolod. It's like the love child of dulce de leche and pastillas."
25th corner Lacson Streets, Bacolod, Negros Occidental (034-4340269)
Sugarlandia barquillos
Damiana Macantan Mercado made barquillos in her kitchen to support her children. This was in the '30s. Using her mother's recipe, she churned out these crisp, sweet treats which generations of Filipinos would eventually come to know and love. Today, the folks over at Sugarlandia make about 5,000 pieces of barquillos every day—by hand!
36 Lizares and Yulo Streets, Bacolod, Negros Occidental (034-4350053; www.facebook.com/Sugarlandia)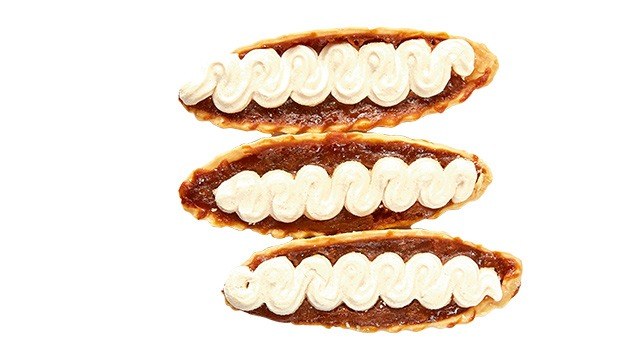 Virgie's caramel tarts
"These boat-shaped tarts, I find, are always best when you buy them from the source," says JJ. The crust is delicate, making a good bed for the creamy, buttery caramel topped with a meringue icing. "True to form, it's a prime example of the Ilonggo's love for all things sweet."
59 San Sebastian Street, Bacolod City, Negros Occidental (034-4341788, 034-4341588;
www.virgieshomemade.com)
Negros Oriental: Sans Rival Bistro silvanas
Berna says, "A trip to Dumaguete is never complete without eating and bringing home silvanas from Sans Rival Bistro. They're buttery, creamy, and crispy!"
San Jose Street corner Rizal Avenue, Dumaguete, Negros Oriental
Bailon's piaya
Crisp and thin, this is one of Bacolod's most popular delicacies. It's flat unleavened bread filled with muscovado sugar that's sweet and yummy. Don't make the mistake of opening a pack as it's easy wolf down five (even 10!) pieces in one sitting.
Davao: Malagos cheese
Olive Puentespina's artisan cheeses have been making believers out of even the toughest skeptics. Recently, her cheeses were featured in Madrid Fusión to rave reviews. Most popular are the blue goat cheese and feta, but it's best to bring home some of their fresh goat cheese, chèvre, and Blue Pepato, too.
Bolcan Street, Agdao, Davao City (082-2264446; www.malagosfarmhouse.com)
Cacao de Davao tablea and ready-to-eat chocolates
Everybody loves chocolate, and the ones from Elaine Lim's Cacao de Davao are particularly divine. Made from single-origin cacao beans from Davao, their goodies have no fillers, no preservatives, and no additives—just pure chocolatey goodness. Try something new and check out their durian-filled dark chocolate.
San Pedro Extension, Davao City (0917-2502226; www.facebook.com/cacaodedavao)
Lanao del norte: Cheding's spicy peanuts with banana chips
JJ swears by Cheding's. "It's salty, spicy, garlicky, and a little sweet because of the banana chips. In other words, dangerously delicious."
25-A Sabayle Street, Iligan, Lanao del Norte (063-2215164; www.chedings.com)
This feature was published in the April 2016 issue of Yummy magazine. Minor edits have been made by the Yummy.ph editors. 
ALSO READ: