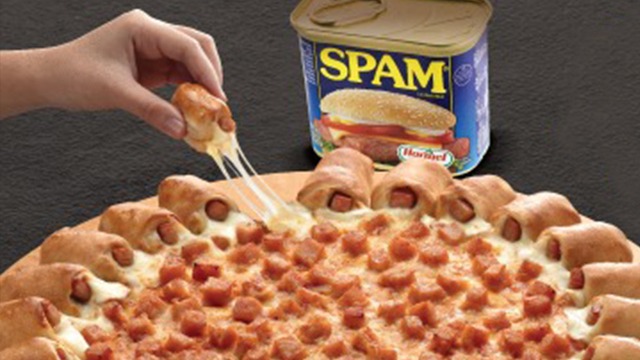 SPAM is a favorite among breakfast lovers, especially when it's fried until crunchy, paired with steamed rice and sunny side up egg. But aside from breakfast, there are numerous ways to incorporate it in our meals. Pizza Hut just came out with a new way to enjoy it with its new SPAM Cheesy Bites Pizza.
Pizza Hut's new SPAM Cheesy Bites Pizza is topped with squares of the famous luncheon meat, but what ultimately makes this pizza extra special is the "crust." The crust is made with pigs-in-a-blanket that's stuffed with a strip of SPAM and filled with melted cheese. The way to eat this "crust" is to "twist, pull, and pop" the cheesy SPAM bites.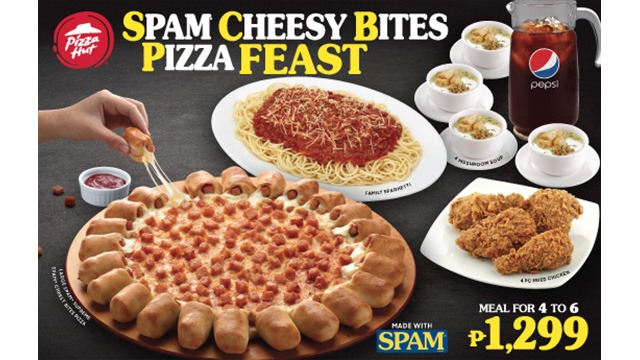 Pizza Hut's new SPAM Cheesy Bites Pizza costs P419 for six slices and P639 for 8 slices. But if you know more than three SPAM fans, Pizza Hut also offers a SPAM Cheesy Bites Pizza Feast. For P1,299, you can get one large SPAM Cheesy Bites Pizza, Family Spaghetti Bolognese, 4-piece Fried Chicken, mushroom soup, and a 1.75 liter of Pepsi, all good for four to six people.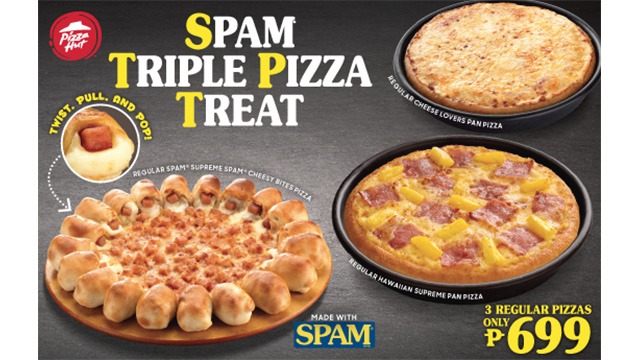 If you want the SPAM Cheesy Bites Pizza and extra pizza in two other flavors, Pizza Hut also has the SPAM Triple Pizza Treat. This pizza bundle includes a regular SPAM Supreme Cheesy Bites Pizza, Regular Hawaiian Supreme Pan Pizza, and Regular Cheese Lovers Pan Pizza for only P699. This bundle will come in handy if you want to throw a pizza party!
You can place your order via Pizza Hut's official website. For more information, follow Pizza Hut on Facebook.
ADVERTISEMENT - CONTINUE READING BELOW
Recommended Videos