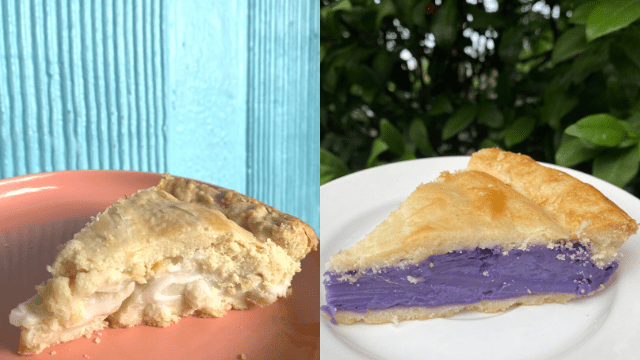 There's no denying that there is an abundance of buko pie choices in places like Tagaytay, Cavite, and Laguna. You've got your classics like Colette's, Cecilia's, Rowena's, and Orient: The Original Buko Pie just to name a few. You can also order buko pie from restaurants like Balay Dako and Queens Strawberry Farms, and, just in case you didn't know, even the museum Puzzles Mansion has its own buko pie too.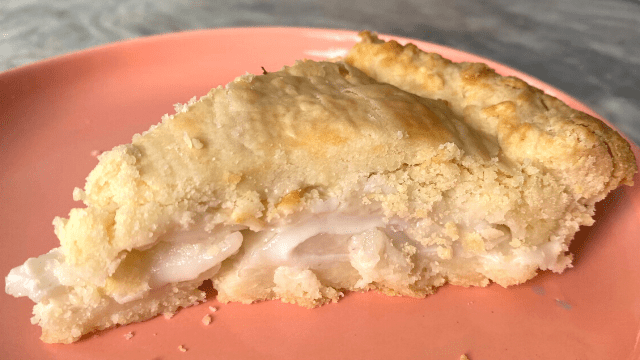 But during the pandemic, Platefuly came in as the newbie in the buko pie business game. Given that they only opened last September 2020 and that they opened in Tagaytay where competition is tough, the business is already making a name for itself. In its first seven months, Platefuly has sold over 50,000 boxes of their buko pie that eventually, they stopped counting.
[instagram url="https://www.instagram.com/p/CHmxvATJv6p/"]
Platefuly is a family passion project co-founded by Luisito Barcelon and his sister Liliane Barcelon, taking inspiration from their mother's homemade recipes and baking secrets. They started out, not with the buko pie, but with their meat pies. They sent hand pies to their close friends and relatives, who then fell in love with its distinct pie crust: sweet, buttery, flaky, and crumbles at a touch. This is a recipe that their mom developed for 14 years.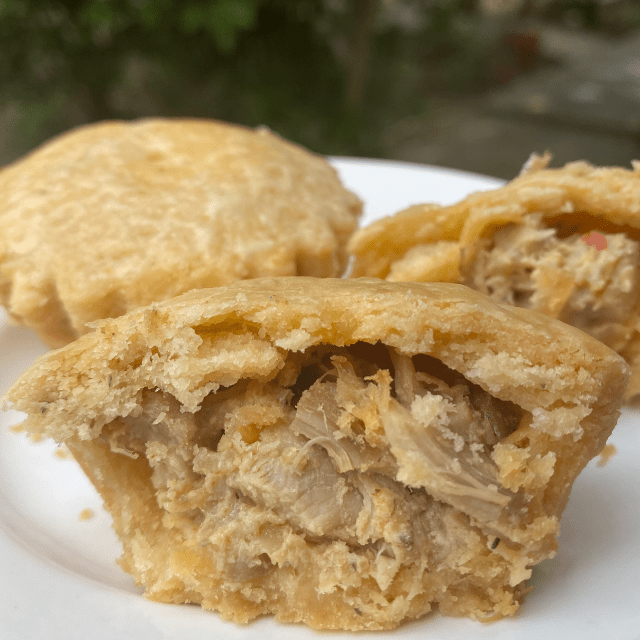 "At first, we collectively decided not to make buko pie, as it was already a saturated market in Tagaytay. We really focused on our signature hand pies, expanding the flavors from Classic Chicken, Savoury Chicken, El Paso Beef, to our new creation Greek-inspired Spinach hand pie. But as more and more customers were discovering our signature pie crust, we were getting requests for [a] bigger version of our hand pies and also to create our own version of buko pie," Barcelon shares with Yummy.ph.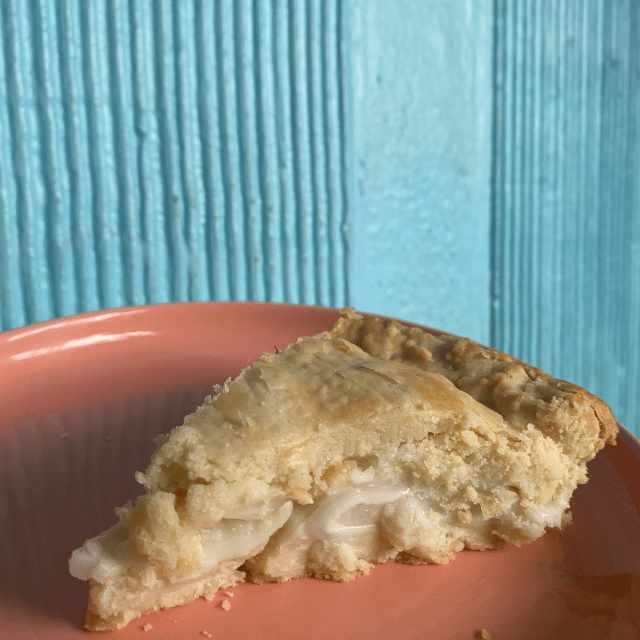 Even if Platefuly did start their pie journey with their hand pies, it was the birth of their Premium Buko Pie (P299), with the signature crust, of course, that catapulted Platefuly into the spotlight.
ADVERTISEMENT - CONTINUE READING BELOW
Recommended Videos
"In the beginning [September 2020] we would keep track of the pies that we have sold per week. But by March 2021, we have already produced more than 50,000 pies. Since then, we have been very busy as we continue to increase our production every month and release new products to our customers."
Another thing that sets apart Platefuly from other buko pies is the variety of buko pies to choose from. The other bestselling pies that followed the Premium Buko Pie are the Premium Ube Buko Pie (P320), Premium Buko Pandan Pie (P320), and Pineapple Pie (P320).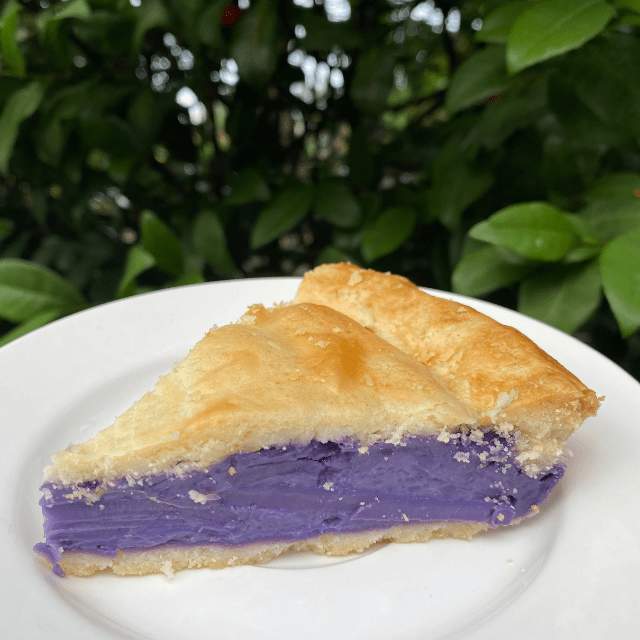 As for their signature hand pies, the bestsellers are the Classic Chicken, Savoury Chicken, El Paso Beef, and the Greek-inspired Spinach (a personal Yummy.ph favorite!). All of Platefuly's hand pies cost P300/box of six pieces.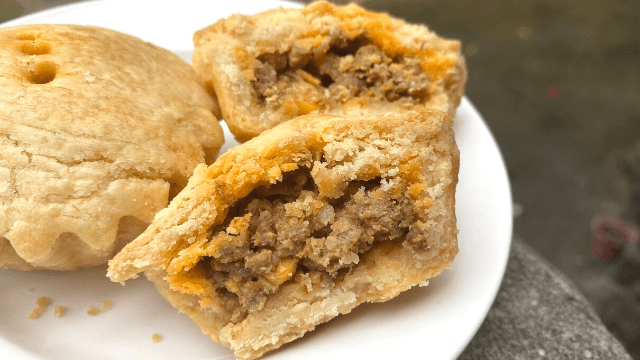 And for the Platefuly wild card, they do have best sellers that aren't under the pie category! If you love cheesecake, you should definitely try their Strawberry, Blueberry, Mango, and Triple Chocolate cheesecakes. This is also a family recipe that yields a creamy baked cheesecake with crushed graham crackers for its base!
These cheesecakes are available in jars (P195) and tins (P600), just do take note that the Triple Chocolate has an added cost of P15.
Here's the Platefuly price list: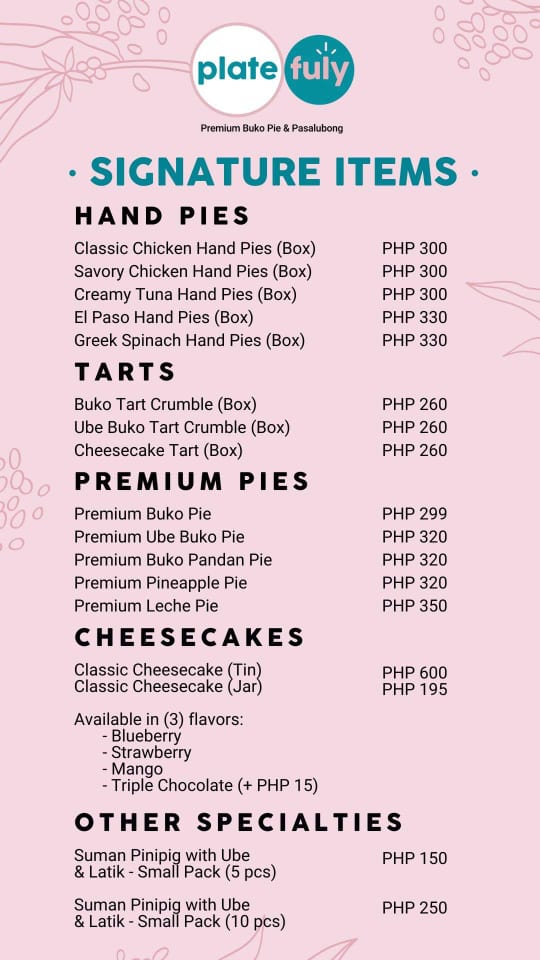 Platefuly has two physical stores. The branch in Tagaytay is located at 185 Tagaytay Nasugbu Road, Brgy. Maharlika East, Tagaytay City (near Army Navy Tagaytay and Yellow Cab Tagaytay).
The other branch is in Sta Rosa-Silang located along Sta. Rosa-Tagaytay Rd. Brgy. Pasong Langka, Silang, Cavite (look for Clean Fuel-Silang or Angelfields).
These branches offer free sampling, so make sure to drop by to know what the hype is all about!
*****